Choosing the right nicotine strength
If you're a smoker looking to switch to vaping, we recommend opting for the highest nicotine strength range (18-20mg) to keep cigarette cravings at bay. If you'd prefer not to start at maximum strength, use this guide based on your previous smoking habits:
I smoke fewer than 10 cigarettes per day:
6 - 10mg
I smoke between 10 & 20 cigarettes per day:
11 - 15mg
I smoke 20 or more cigarettes per day:
20mg
Many users then choose to gradually reduce their chosen nicotine strength over time in 3-5mg intervals.
We also recommend beginners opt for products made with a nicotine salt formula. This nicotine type is smooth on the throat and absorbed quickly by the body for a cigarette-like sensation.
Please be aware that some brands list their nic strengths as percentages on packaging but for consistency we will always display them as milligram per ml (mg or mg/ml). 6mg as a percentage is 0.6%, 10mg is 1% and 20mg is 2%.
Dispatched Today if ordered within
Add to Bag
Free UK Delivery
on all orders over £20
30,000+ Reviews
98% Positive Experience
Key Features
Smooth Mint E-Liquid by Webster's One Pound Wonder
Exclusive to The Electric Tobacconist
Standard freebase nicotine
Made in UK
Flavour profile: Sweet mint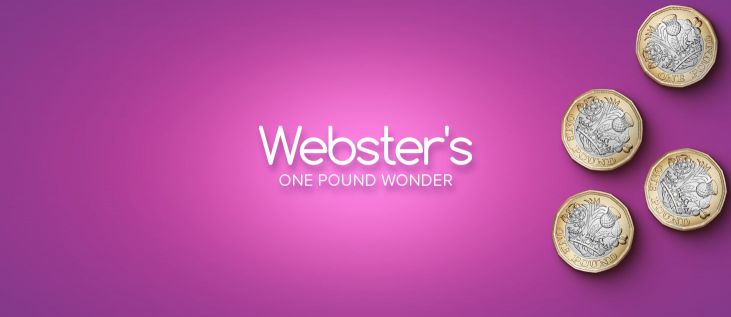 ⭐ Orders placed before 4pm usually arrive within 24 hours.
Royal Mail 24 Tracked
Orders over £20 | 1-2 Days
FREE
Orders under £20
1-2 Days
£1.49
DPD Next Day
Monday - Thursday
£4.99
DPD Weekend Delivery
Saturday & Sunday
£6.99
Same day dispatch
Order before 4pm Monday - Friday
Order before 11am Saturday
If you order by 4pm on a week day your order will dispatch the same day. Our Royal Mail standard delivery method means your order should arrive next working day from dispatch date (and this is the case 90% of the time), but please wait 5 working days before contacting us. If you need it quicker, you can select a faster delivery method (eg DPD Next Day) in the checkout under "Shipping Method". For more information, click the Delivery Tab.

The Electric Tobacconist Ltd abides by the Distance Selling Act (2000). If, once you have purchased items from us, you decide you no longer want them, then you have 28 calendar days in which to return them and we will refund them in full within 28 days of the cancellation date (including any postage and packing paid) as long as the packaging remains unopened. This excludes e-liquids, clearomizers and disposables.