10 Motives Refills
Motives refills are replacement cartomizers for your 10 Motives e-cigarette. The range of 10 Motives refills caters to everyone's taste - there really is a flavour for everyone. The refills fit discretely to the 10 Motives cig-a-like battery pack with ease, keeping assembly a simple two-step process. Shop the full 10 Motives refill range below.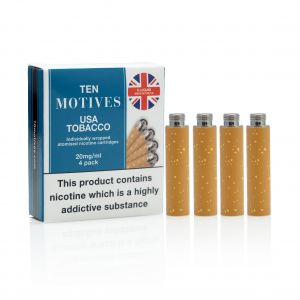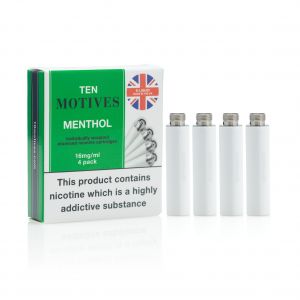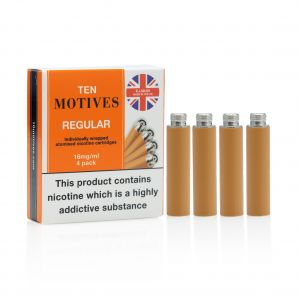 10 MOTIVES REFILLS
The range of Ten Motives refills available incorporates a choice of different flavours and nicotine strengths. The brand has produced eight flavours in total, many of which are available in a choice of strengths ranging from 11mg to 20mg. The all in one design of Ten Motives refills has been chosen because of the full-bodied flavour experience they offer. 10 Motives refills are cartridge style and simply slot into the V2 E-Cig battery kit. All flavours are subject to availability, so if you're favourite isn't available right away we'd recommend checking back at a later date.
Offering a choice of flavours means vapers can explore and get adventurous with their flavour choices. 10 Motives refills all slot with ease within the V2 Rechargeable E-Cig allowing you to switch between flavours easily if you fancy trying something different or sampling something new from the range. Tobacco and menthol refills are recommended for those who are just starting out!
The 10 Motives battery and refills are an excellent choice for ex-smokers who have recently quit, as well as those who are a little more accustomed to vaping! Choose the nicotine strength of the refills to fit your needs - ex-smokers benefit from higher nicotine content, but if you're trying to wean yourself off you can easily scale down.
FIVE PACK OR FOUR PACK?
In September 2018 10 Motives stopped retailing their refills in packs of five, replacing them with four packs instead. Packs of five 10 Motives refills were available for a limited at a multi-buy price, but these were of limited supply. Due to the number of cartomizers in each pack being reduced to four, the price of each refill pack has also been reduced too to compensate.
TECHNICAL DETAILS:
10 Motives refills are available in three nicotine strengths: 16mg, 18mg and 20mg. A 16mg cartridge is roughly equivalent to 25 standard cigarettes.
10 MOTIVES REFILLS AT THE ELECTRIC TOBACCONIST UK
At The Electric Tobacconist vape shop, we pride ourselves on selling genuine 10 Motives refills cheap so you can save money for other things that keep you happy! We also offer FREE UK delivery on orders over £20 so take some time to explore the range and find your favourite flavours.