VUSE Go Disposable Vapes
The VUSE Go disposable vape range acts as a reliable alternative to refillable vapes and cigarettes alike. Utilising luxurious nicotine salt formulations and large-capacity batteries, VUSE Go disposable vapes are easy to use, portable and unique.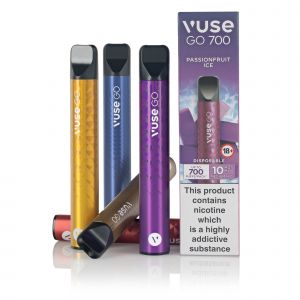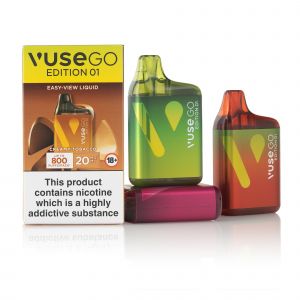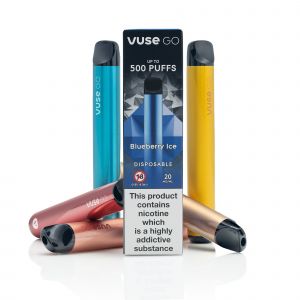 About the VUSE Go range
Brought to you by VUSE, the VUSE Go collection consists of a plethora of disposable vape devices that come pre-filled and pre-charged, so you can vape your favourite flavours in the most hassle-free way. The range includes a variety of flavours that cater to all tastes and preferences, from fruity fusions to authentic tobacco profiles. The internal e-liquid is formulated with nicotine salts, intensifying your draw with faster nicotine absorption and a smooth hit - this mimics the sensation of a conventional cigarette.
The Different Types of VUSE Go Disposable Vapes
The first and original VUSE disposable vape was the now-discontinued VUSE Go. This sleek device provided a puff count of up to 500 puffs, determined by VUSE's own laboratory testing and 370mAh battery, and was pre-filled with the premium VUSE e-liquid the brand is renowned for. Available in 10mg and 20mg nicotine strengths, the VUSE Go was an effective disposable vape for weaning ex-smokers off nicotine.
The VUSE Go 700
The VUSE Go 700 is a streamlined and improved version of the original VUSE Go, boasting a 395mAh battery that generates enough power to deliver up to 700 puffs - 200 more than its predecessor! It maintains the same metallic finish that catches the eye of any vaper, with the addition of geometric patterns for an ultra-stylish look. Unique to nearly every standard disposable vape on the market, the VUSE Go 700 utilises airflow control on the base of the device, which allows you to finetune your draw to the max! Furthermore, VUSE has expanded their flavours, now providing almost a dozen more delectable tastes - in 10mg or 20mg strengths - you won't want to miss.
The VUSE Go Edition 01
Hyper compact and portable, the VUSE Go Edition 01 adopts a colourful, glass-like finish that allows users to vape in style! Perfect for travelling, this device is small enough to fit in your bag or pocket, allowing you to vape on the go. The Edition 01 utilises a 540mAh battery that offers a whopping count of 800 puffs, lasting longer than a regular disposable vape. The collection features six exquisite flavours that cover all bases, from Creamy Tobacco to Strawberry Kiwi.
VUSE Go at The Electric Tobacconist
You can redeem our 5 for £20 or 10 for £38 disposable vape offers and purchase VUSE Go with free Royal Mail delivery when you spend a minimum of £20 on your order. Major payment methods such as PayPal & AMEX are accepted. For other popular disposable vape brands, check out Elf Bar or Crystal Bar!
Frequently Asked Questions
How many puffs are in a VUSE Go?
The VUSE Go 700 delivers 700 puffs, as the name suggests. The Edition 01, on the other hand, features an 800 puff count that can last you significantly longer than any other disposable vape on the market.
Can you refill a VUSE Go?
Unfortunately, the VUSE Go range consists of disposable vapes designed for single use. Therefore, once your disposable vape runs out of e-liquid or charge, you would throw this away to be recycled. Attempting to refill a disposable vape is not recommended!
How do I use a VUSE Go disposable?
Fortunately, VUSE Go disposables are easy to use. All you need to do is remove the packaging and protective seals and inhale from the mouthpiece to get started - it's that simple!