← Back
Vuse Go Review: Performance & Flavour Rankings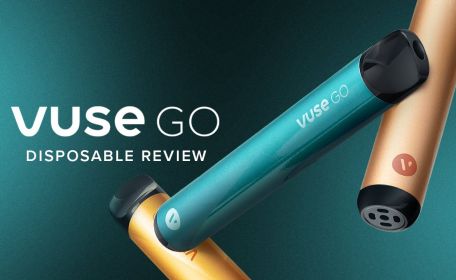 Manufactured by British American Tobacco, Vuse (formerly known as Vype) is a popular vape brand established in 2013. Well-known for their pre-filled pod mod kits, such as the ePen and ePod devices, Vuse's vision is simple yet effective: they are devoted to introducing better smoking alternatives for the future. Their world-leading investment in the science behind vaping enables them to produce distinctively pleasant and effective vaping products for the masses.
Fast forward to 2022, Vuse have decided to give disposable vaping a go! In this post, I'll be reviewing the performance and tastes the Vuse Go has on offer so that you can use this as a guide to selecting your favourite flavour. Let's get cracking!
What is the Vuse Go?
This year saw the introduction of the Vuse Go disposable, which comes in six different flavours and boasts a 500 puff count. This range of flavours is available in 20mg strengths and includes Watermelon Ice, Mango Ice, Blueberry Ice, Creamy Tobacco, Strawberry Ice, and Mint Ice. Each Vuse Go contains nicotine salt e-liquid for a smooth and satisfying drag that delivers a fast rush, replicating the feel of a traditional cigarette. Flavour profiles mostly feature classic flavours like fruit, ice, and tobacco, as this is Vuse's bread and butter.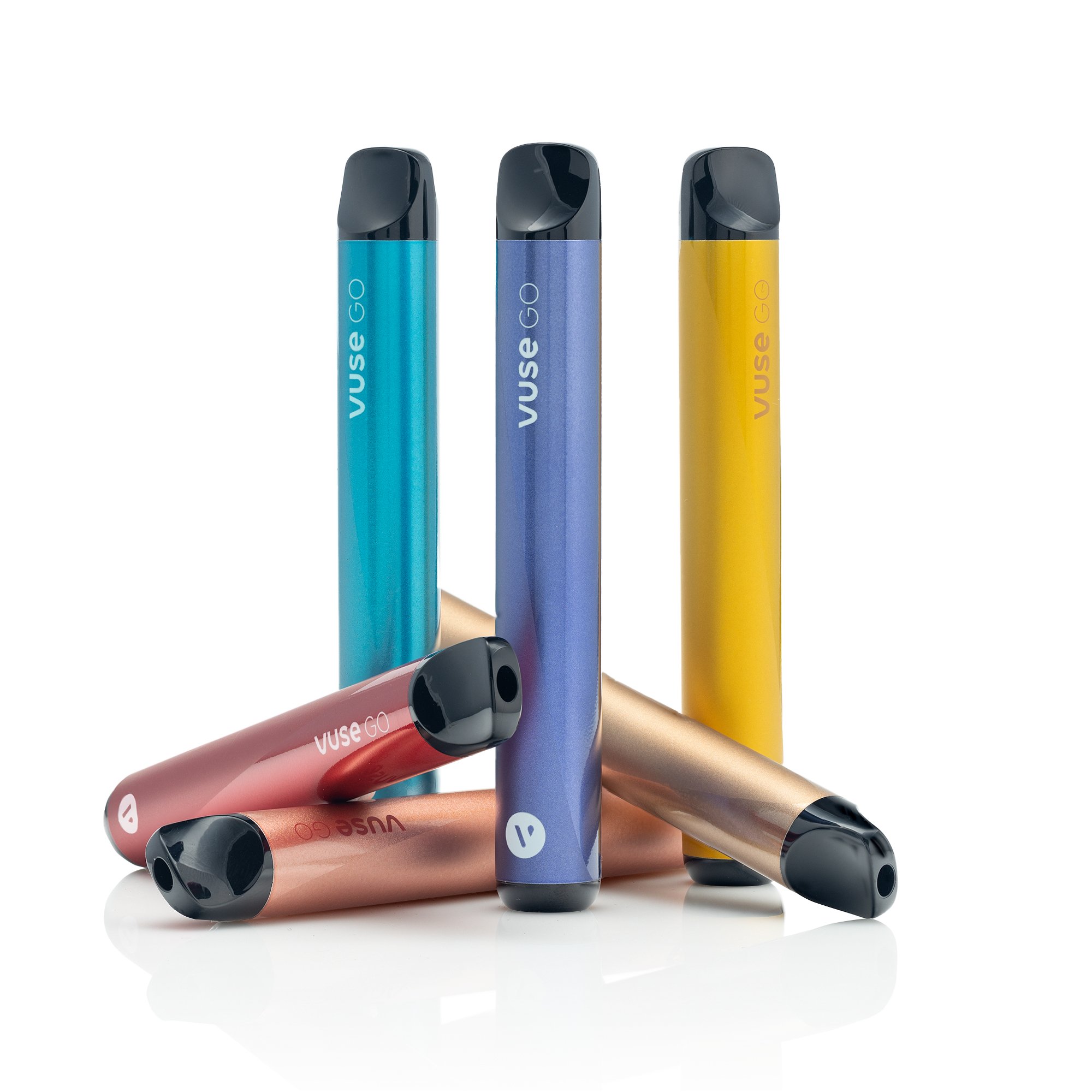 Performance
On the initial pull, I noticed that, in contrast to other disposable vapes, the Vuse Go isn't too light and airy but isn't too tight either - it provides the ideal pull with a comparable sensation to smoking a cigarette. For this reason, I can understand why recent ex-smokers, in particular, find them to vape pretty well. There is enough flavour to savour, but not too much that it overpowers your taste buds with sweetness or sharp menthol. The puffs provided were consistent with the advertised general estimate of 500 puffs, but let's be honest, no one has time to sit and count every single pull. Needless to say, I am delighted with the overall flavour, performance and lifespan of the Vuse Go. Here's my rundown on the six flavours!
Flavour Review
6th Place: Mint Ice - Because of my own tastes and preferences, I ranked this last, but it's a best-seller for a reason! I will admit, the blast of ice you receive when you first inhale is a wonderful jolt to the senses and would be ideal for folks who prefer a bolder menthol taste. Personally, I like a sweet and subdued mint flavour, such as spearmint, because it's mellow. The main thing I enjoyed about this disposable was how Vuse captured the earthy and botanical essence of peppermint, which is surprisingly uncommon in the vaping industry - the authentic notes of this flavour feel soothing and satisfying to the taste buds. If you prefer a stronger menthol that refreshes your palate with each puff, the Mint Ice Vuse Go is the one for you.
5th Place: Creamy Tobacco - Tobacco flavours are often earthy, but this disposable presented a sweeter aspect of tobacco that I really enjoyed - it's still a genuine and authentic tobacco flavour, just with a touch of sweetness to delight the taste buds. While this particular disposable would be perfect for the right user; I'm just personally not fond of tobacco flavours, hence not making it to my top 3. That said, the sugary caramel and warm vanilla undertones really stood out, and it was a pleasant surprise.
4th Place: Mango Ice - As soon as I inhaled this disposable, the flavour reminded me of delicious tropical juice. It has a really fruity flavour with exotic notes throughout. I put this in fourth place since the flavour was more on the sweeter side, and I don't have an extremely sweet tooth. However, I'm sure this will appeal to individuals who prefer exotic, saccharine flavours, and will transport you to a tropical island paradise.
3rd Place: Blueberry Ice - Upon inhalation, the pleasant tang of sweet blueberries hits you right away, followed by an icy blast of menthol that lingers on the palate after exhaling. The menthol elevates the fruity flavour of this disposable, while the blueberry overtones help to moderate the intense surge of ice, providing a harmonious balance of the two notes.
2nd Place: Strawberry Ice - I ranked this in second place because I adore juicy strawberry flavours, and this disposable was no exception! This was certainly close to taking the top spot. The icy notes carried this disposable, since they paired well with the fruity base of this flavour. The taste matched more of an authentic strawberry flavour than a candied type of strawberry, which makes this disposable much more appealing to those who favour a realistic taste.
1st Place: Watermelon Ice - The winner of this review! This sweet symphony of fresh watermelon notes and a minty menthol rush is housed in the Watermelon Ice Vuse Go disposable. The watermelon adds a slight confectionery tone that stands out the most, while the menthol helps to tone down the sweetness and provide a refreshing experience to the taste buds. These two flavours unite in seamless matrimony, forming a shining example of the ideal fruit-menthol flavour combination.
What Do Our Customers Think?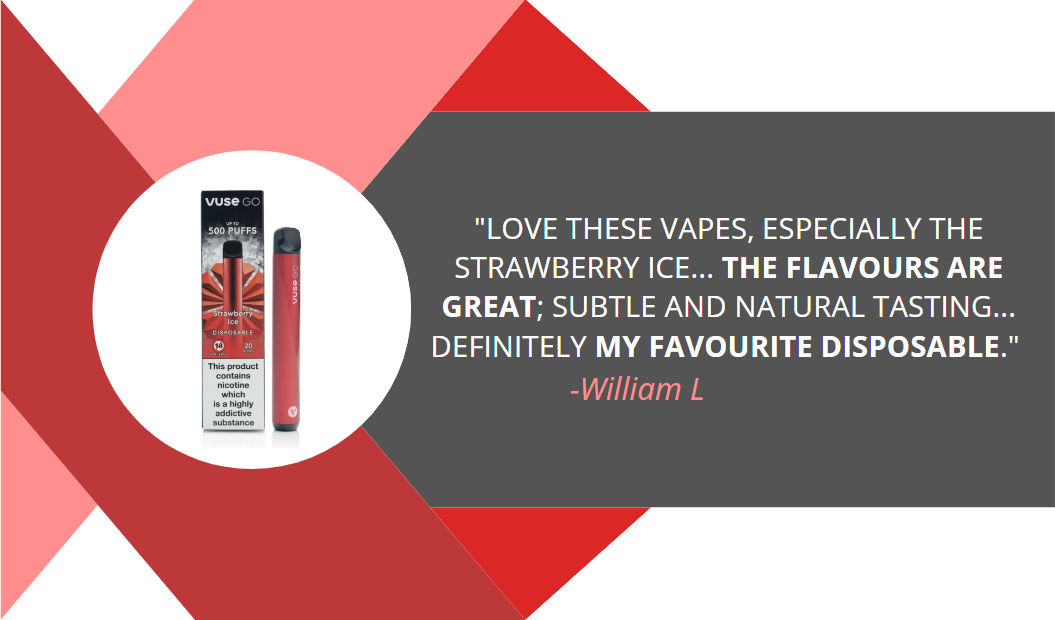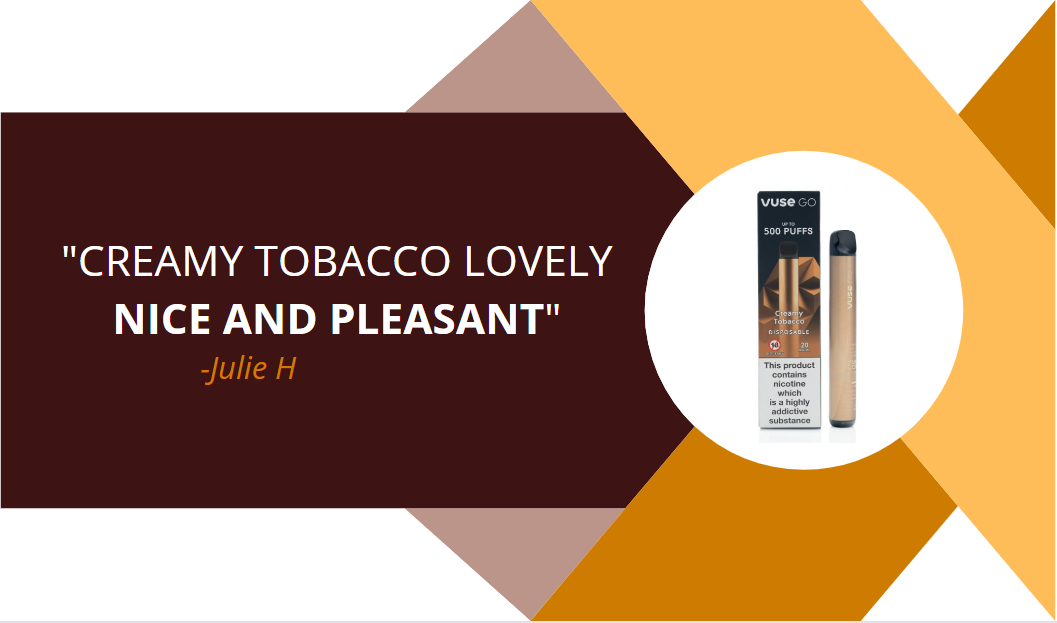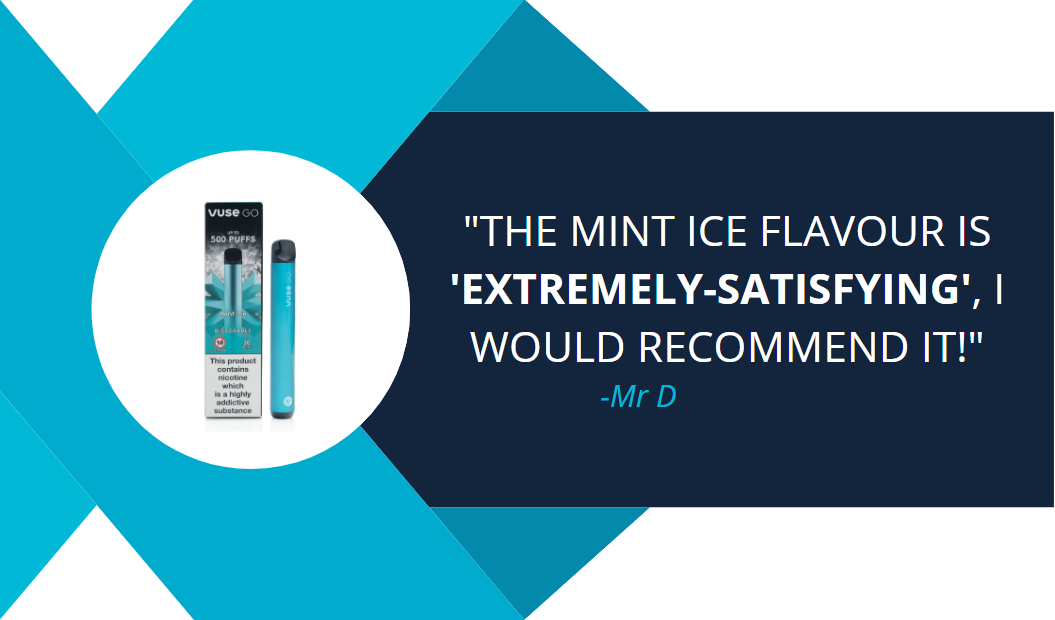 Read More Reviews
Who is the Vuse Go Good for?
The Vuse Go is designed for those who have recently stopped smoking and want to start vaping, which is why they have featured simple yet effective flavours. Many ex-smokers are drawn to its ready-to-use factor since there is virtually no assembly necessary - simply open the packaging and inhale! The flavours available match those of the ePod range, so if you're already a Vuse Go user looking to elevate your vaping experience, the Vuse ePod device and pods is a great place to start - it's cost-effective and there are more flavours to choose from.

The Vuse Go is also one of the less expensive disposable choices, making it more cost-efficient than usual for both novice and expert users. For the time being, the Vuse Go is only offered in 20mg nicotine strength. However, 10mg strength will be available shortly, which will be ideal for occasional vapers as well as users looking to reduce their nicotine intake.
Summary
So now that you have read through my evaluation of this product, do you feel more inclined to try out the Vuse Go? Ultimately, I was impressed with these disposables as they had a decent selection of flavours to choose from, lasted a long time, and maintained flavour and vapour production up to the end. I would suggest the Vuse Go to those who have quit smoking and want to try a user-friendly vaping product.
Pros
Has a near-silent draw
No assembly required
Nicotine salt formula resulting in a smooth and satisfying hit
Good range of flavours on offer, particularly Watermelon Ice
Stylish look with a quality finish
Cons
Only six flavours to choose from
Have to keep replacing them every now and then
Shop VUSE GO