← Back
Moving on from Disposables: The Best Alternatives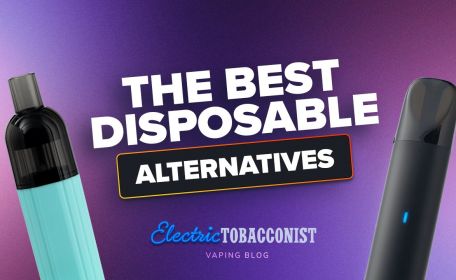 The main component that makes disposable vapes so loved within the vaping community is their ready-to-use factor. However, there comes a time when you grow tired of having to replace your disposables frequently, not to mention the amount of money you're required to spend. Thanks to ever-developing technology, there has never been such a wide variety of different vape devices on offer as we have now. From prefilled pod mods to refillable vape kits, this post will guide you through all the alternatives to disposable vapes, as well as provide device recommendations that you're more than welcome to check out!

Aspire R1
To kick things off, we have the Aspire R1 OneUp device. This kit can be refilled with an e-liquid of your choosing, giving you access to thousands of flavour options, but it is ultimately disposable: once the internal coil expires, the whole device is thrown away.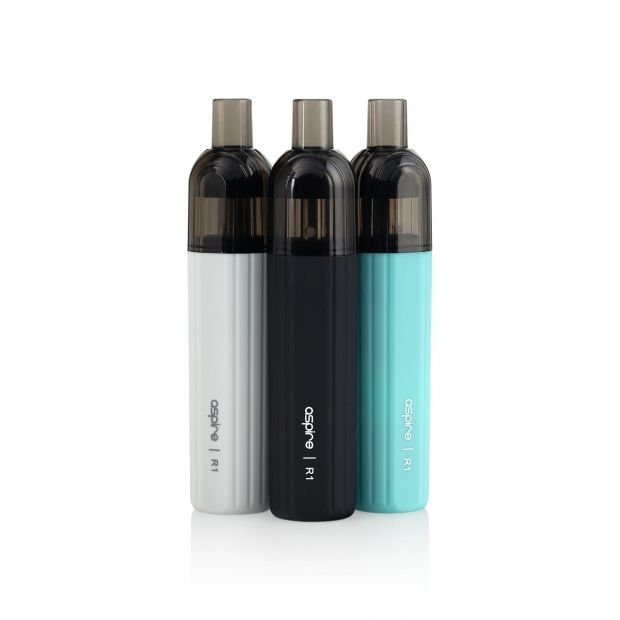 If you've been a disposable user for a while and find it hard to step away from them, the Aspire R1 kit works well as a transition device. Although this is technically a disposable kit, the fact that you get eight refills from it and the ability to recharge means that you are using it for considerably longer than you would a standard disposable vape.
Only e-liquid needs to be purchased with this kit, resulting in a much more cost-efficient experience. Four e-liquids from our "4 for £10" multi-buy deal is more than enough to fill your R1 kit multiple times - it's possibly even enough to last you throughout a second R1 kit once your first one depletes. You also get to experiment with different e-liquid flavours and nicotine strengths, giving you the freedom to adjust your vaping experience to suit your tastes and preferences in a disposable format.
Prefilled Pod Mod Kits
Prefilled pod mod kits cater to all types of vapers, especially those just starting out, as they require very little maintenance. Designed to make vaping as simple as possible, prefilled pod mods are sought after due to their portability and compactness - allowing users to vape on the go - and the fact there is hardly any assembly required. Simply insert your chosen pod and begin vaping!
Elf Bar Mate 500 Kit
Targeted at users who enjoy the Elf Bar disposables range, the Elf Bar Mate 500 is a pod mod system that gives you access to all the decadent flavours you know and love via replaceable cartridges. Now, what makes this device a great alternative to a disposable?
To answer your question, it is significantly more cost-effective since you wouldn't have to spend money as frequently as you would when replacing disposables. It's also better value for money because you get two P1 pods per pack, which is the same price as purchasing one disposable (one P1 pod lasts a similar amount of time and provides an identical puff count as an Elf Bar disposable). Furthermore, as the Mate 500 kit is reusable, you are making considerably fewer, if not any, trips to battery disposal centres as there is a decreased need to recycle and dispose of your vaping products.
Much like a disposable vape, the Elf Bar Mate 500 kit hardly requires any assembly, which makes setting up that much easier and time-efficient. Simply press on the base of your P1 pod until you hear a click, and wait 5-10 minutes for the coil to saturate with e-liquid. Once this has been done, insert your pod into place and inhale to unlock a world of flavour.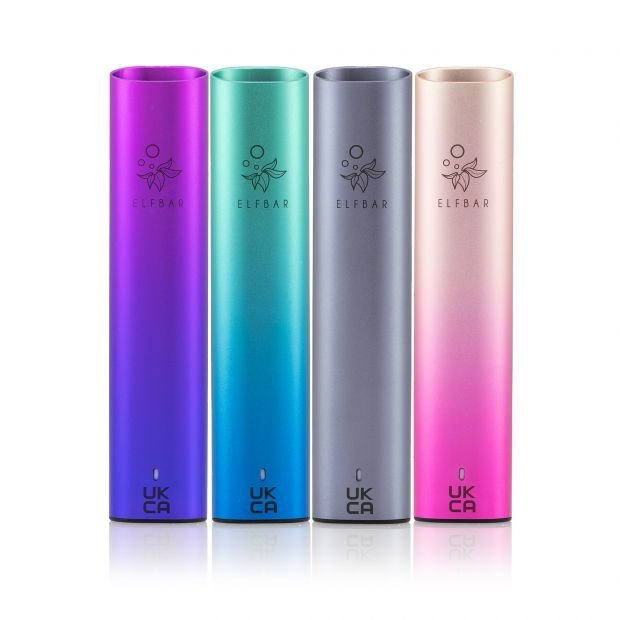 Blu 2.0 Kit
Another example of a prefilled pod mod system would be the new and improved Blu 2.0 kit. Designed for those transitioning from smoking to vaping, this device and its pod counterparts emulate the sensation of smoking a real cigarette. The range of pod flavours on offer mostly caters to those who prefer authentic flavours - however, there are a few fruit-based flavours too.
Much like the Elf Bar Mate 500 kit, the Blu 2.0 kit is a much more cost-efficient alternative to disposable vapes. As you get two Blu 2.0 pods per pack, this lasts you longer than a standard disposable would - essentially, better value for money! Again, as this device is reusable, you won't have to worry about recycling or frequent visits to battery disposal centres.
As previously mentioned, the Blu 2.0 kit is a prefilled pod mod; therefore, there is hardly any set-up required. Simply insert your cartridge into the device and inhale to begin vaping - it's that easy!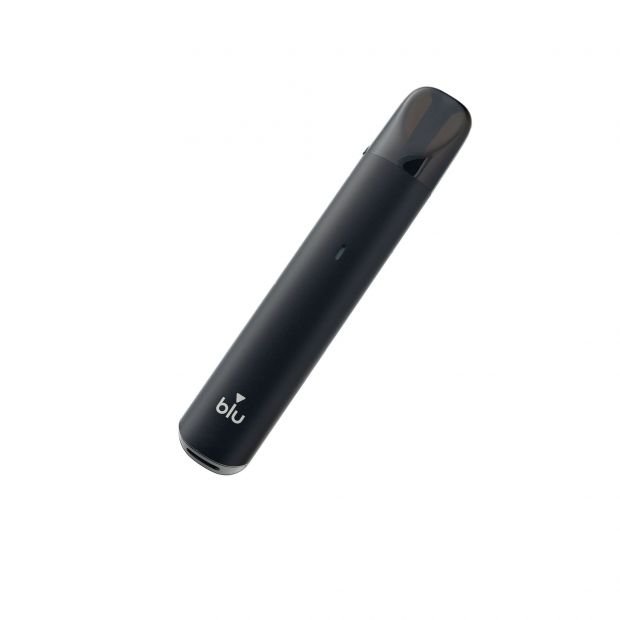 Refillable Pod Mod Kits
A portable and compact design makes refillable pod kits a popular choice for many vapers. Refillable pod kits are cheaper to maintain than prefilled pod mods, as buying e-liquid is cheaper than buying prefilled cartridges. With little-to-no assembly required, simply fill your pod, wait 5-10 minutes until the coil is fully saturated, and then you can begin your vaping journey!
UWELL Caliburn A2S
The Caliburn A2S is a refillable pod kit with a whole host of features that appeal to all types of vapers, especially users who are familiar with the basics of vaping. The Caliburn range is well known for its incredible flavour delivery across a variety of their devices, and the A2S kit is no exception. Although there are a few extra steps, getting started is still quite simple. Select your preferred e-liquid flavour, fill your pod, wait a few minutes, and enjoy!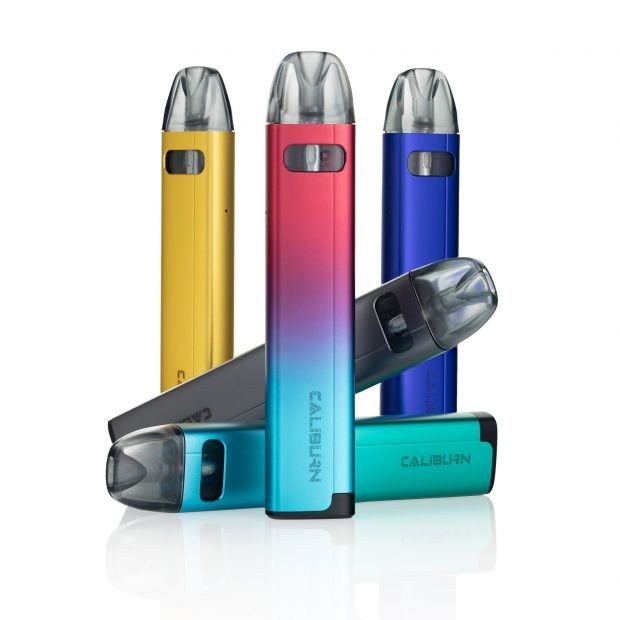 This device is a cost-effective alternative to disposables because buying e-liquids, which are less pricey, every couple of weeks is much cheaper than purchasing prefilled pods or disposables every so often. Utilising a 2ml pod capacity and a more powerful battery than a standard disposable, the Caliburn A2S kit takes roughly the same amount of time as a disposable to deplete. The only difference is once the A2S runs out of battery, you can recharge this via the USB-C charging cable, whereas once a disposable vape has run out, you have to throw it away.
What makes this device most appealing is its refillable aspect. You can explore many different e-liquid flavours that you enjoy and alternate between these any time the pod runs out of juice. Disposables do not offer the same flexibility, often resulting in a growing boredom of vaping the same flavour. Most disposable brands have a fixed range of flavours available, which can become quite repetitive to switch between. As there is a much larger variety of e-liquid flavours and brands, you'll have more options to experiment with.
Innokin Sceptre II
Another efficient refillable pod kit would be the Innokin Sceptre II device. Housing an array of features, this kit appeals more to experienced users since it uses replaceable coils. However, even if you are a beginner, the coils utilise push-to-fit technology, which makes replacing these much more user-friendly and less time-consuming than traditional screw-fit coils. Even though the assembly of the Sceptre II requires a few more steps, Innokin has ensured that setting up is as easy as possible. A coil should come pre-installed; therefore, all you need to do is fill your pod with your favourite e-liquid flavour, wait a few minutes for the coil to saturate (this process is called priming), and begin vaping!
What makes the Sceptre II so attractive to many users are the customisable features it has. For example, the airflow dial on the side of the kit - whether you're a mouth-to-lung or direct-to-lung vaper - enables you to fine-tune your draw to suit your vaping needs. The Sceptre II also utilises different power settings that allow you to choose between a more discreet and light vape (normal mode), or a more intense flavour and thicker clouds (boost mode). The ability to intricately adjust your draw - as well as flavour and vapour production - can elevate your vaping experience massively.
Out of all devices mentioned above, the Sceptre II has the largest battery, coming in at a whopping 1400mAh - which is significantly larger than the average disposable vape. This means that this device can last a lot longer between charges, possibly even longer than the whole lifespan of a disposable - this way, you spend a lot more time vaping. As previously mentioned, the advantages of a refillable pod kit include the ability to explore many different e-liquid flavours and alternate between your favourite ones.
Summary
So, now that we've talked you through our favourite alternatives to disposable vapes, which one have you set your heart on? Feel free to use this post as a starting point on your journey to moving away from disposables, or you can browse through The Electric Tobacconist UK online shop to find the device that suits you best.
Shop Now