OK Vape Cartomizer Refills - No Indexed
OK Vape refills are compatible with the OK Vape cigalike. Designed to be simple, satisfying and cost-effective, these handy cartomizers offer a similar feel and sensation to traditional tobacco smoking.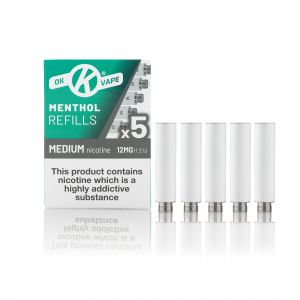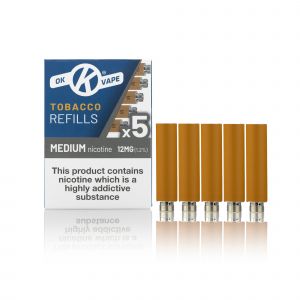 OK Vape Refills
OK Vape Refills are cartridges used with the OK Vape cigalike, found in the Essentials Kit and Classic Kit. These refills, also know as cartomizers, come prefilled with e-liquid, making them a hassle-free way of vaping that's particularly suited to newcomers. To use a cartomizer, simply screw it onto your battery and inhale on the mouthpiece!

Three flavours are currently available: menthol, tobacco and tobacco menthol. These choices are designed with real ex-smokers in mind, offering a familiar taste and sensation to traditional smoking. Most flavours are available in a range of nicotine strengths, ranging from low (6mg) to high (20mg); the ideal nicotine content for you depends on your normal intake and history with smoking. High strength refills are suited to heavy smokers, while low strength refills are best for occasional or social smokers. Depending on strength, each refill is roughly equivalent to 25 traditional cigarettes.

OK Vape Cartomizers at Electric Tobacconist UK
If you're looking to stock up on refills for your OK Vape cigalike, you're in the right place. We offer all flavour and strengths directly from the supplier with exclusive deals when you purchase several packs at once. We accept all major forms of payment including PayPal, and any order totalling £20 or more qualifies for free shipping in the UK.