← Back
6 Things We Learned from Vape Jam 2016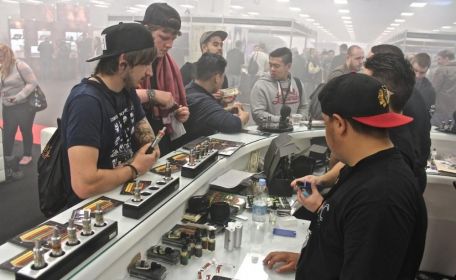 Fifteen thousand vapers, three days, one location. This is Vape Jam.
Vape Jam is a vaping convention/exhibition held in the prestigious ExCel centre in London. With brands and attendees from all over the world, Vape Jam is quickly becoming a major event in any knowledgeable vaper's calendar. Find out what we learned at Vape Jam 2016.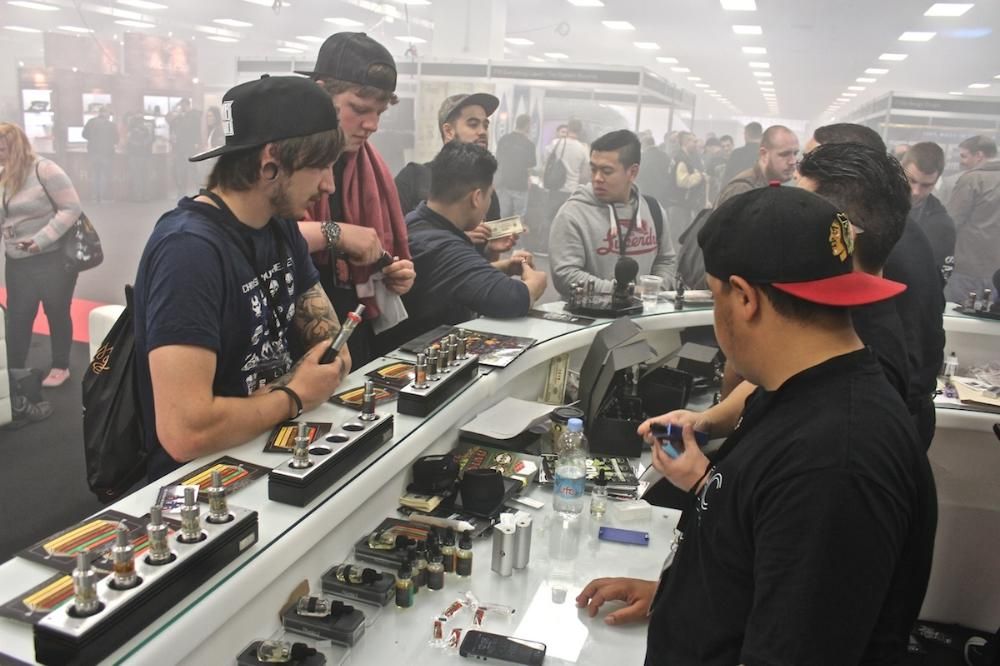 1. The Great British vape scene is alive and well
Fifteen thousand people from around the world attended Vape Jam 2016. That's no small potatoes and an obvious increase in size on last year. That's not far off the twenty-three thousand that attended Shoreditch's prestigious London Coffee Festival the weekend after. I was also pleased to see many British e-cig brands attracting a lot of interest to their stands, in particular
Vampire Vape
had a small army of staff on hand to keep up with orders.
In other words, the vape community is growing strong, except...
2. No one wants to talk about the TPD
Given that legislation which literally threatens the existence of vaping is right around the corner, the TPD, I was surprised to see that it was barely mentioned at the event. It looked a lot like people were simply sticking their fingers in their ears and hoping against hope that the problem will go away by itself (spoiler: it won't).
The highly anticipated
GrimmGreen Q&A on vape advocacy
never happened, no fault of his, just a bit of disorganisation by people behind the scenes. But if we can't even organise a Q&A, how on earth are we supposed to organise an effective resistance to industry-threatening legislation? The old battle cry of any movement is "get organised". Based on what I saw at Vape Jam, we're not quite there yet.
I did see the
Vapers in Power
guy give a talk about his 'protest party' which takes part in elections in order to protest legislation like the TPD. Sadly, and kind of typically, he lost his audience when a nearby booth announced that they were about to launch a mad giveaway.
3. E-cigarette brands are just about getting the hang of online marketing
For the biggest giveaway of the event, Vape Jam organisers pulled out an interesting trick — prizes weren't assigned at random, but were given to those who mentioned Vape Jam or certain vape brands the most on social media. In many ways this is a smart move, and turning fans into spokespeople for your brand has always been one of the key aims of any savvy marketer.
But when prize after prize was announced, a common pattern started to emerge…. They were all going to women!
This isn't much of a surprise, women are more active than men on social media by almost any measurement, and they are particular dominate when it comes to mobile use. And I don't begrudge these women their prizes by any means! But it was kind of odd given that 80% of the audience were men and 100% of the prizes went to women, some of them not actually there to receive their prize as they were too busy with their mobile, presumably.
4. Hip-hop and vaping… is it your cup of tea?
I'm still not quite sure how I feel about the way that hip-hop and vaping come crashing together at events like this one. I enjoy hip-hop myself, and Lethal Bizzle's performance on Sunday evening was clearly popular.
But Ruthless, who dominated the convention with their enormous ads which could have come straight out of MTV, seemed ruthlessly… how can I put this… American? It obviously appealed to a section of the audience and I don't doubt that their branding works a treat across the pond, so fair play to them. But part of me worries that the merging of hip-hop and vaping alienates at least as many people as it attracts. Easily the most cringeworthy moment of the event was when the DJ asked everyone if they were "rocking 15 meg", only to be told that 15 megabytes is an internet speed, not an e-cig.
5. Has 'elf and safety gone mad?
As I was entering the event, I overheard one vaper complain that "we can't do anything any more". And to an extent he was right. Vaping was banned on the boulevard leading into the convention, but to absolutely no effect — plumes of vapour from the expo made the entire boulevard resemble an indoor fog, making the vaping ban a moot point that served only to annoy vapers attending the event.
At the giveaways, arguably the highlight of the event for many vapers, the comperes were quickly informed that they had to stop throwing e-juice into the crowd, presumably because of some kind of injury risk, and instead had to place e-juice into people's caps instead — which if you ask me is discriminating against non-hipsters!
6. We need Vape Jam!
Overall, Vape Jam 2016 was a resounding success and reflected well on a growing industry, even if it wasn't without a few minor growing pains. Events like this are vital to vaping as it gives people a chance to bond with one another and build a stronger community. Even though he wasn't able to give his talk, the fact that 'vape celebrities' like GrimmGreen came all the way over from California is great news for the industry and was really appreciated by attendees.
I'm optimistic for an even bigger and brighter Vape Jam 2017!
Did you attend Vape Jam 2016? What did you learn from the event?