← Back
The XROS Factor: A Hands-On Review Of The Vaporesso XROS 3 Mini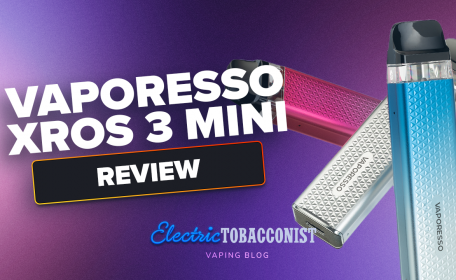 Established in 2015, Vaporesso is one of the most popular brands within the vaping industry, gaining more traction with its renowned collection of MTL devices - the XROS range. With the recent release of the XROS 3 Mini kit, I can review this in detail to see if it's worth the hype!
Design
At first glance, the Vaporesso XROS 3 Mini is quite a compact device with a stylish look. Thanks to its rounded edges, it has an ergonomic shape, which fits snugly in my hands. Furthermore, the 3D diamond pattern on the front lets me comfortably grip the device when vaping. I like that its small and lightweight, as this makes it portable and easy to carry in my bag or pocket.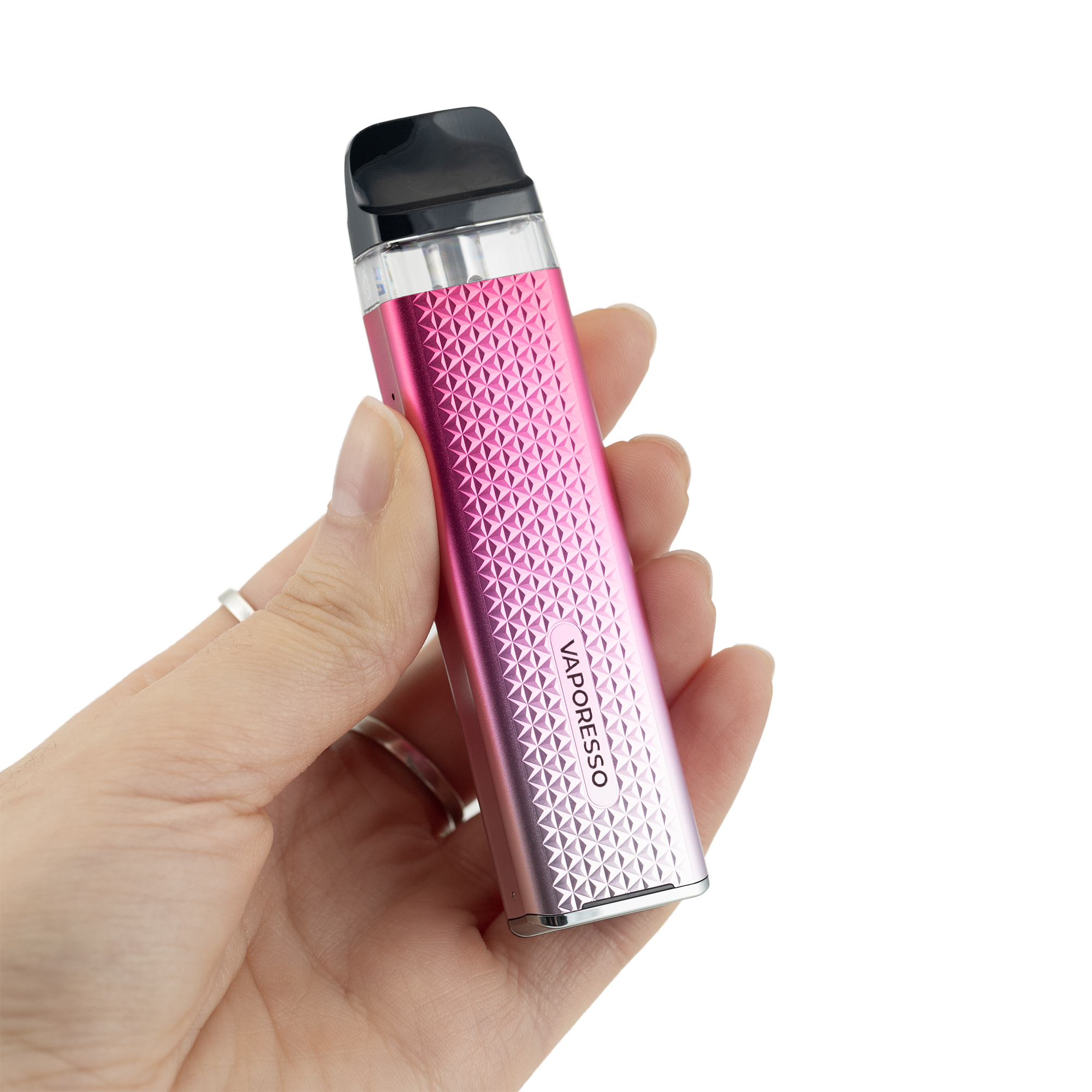 The different finishes on each face of the device give it a premium look and feel and are pleasing to the eye. For example, the diamond-patterned panel adopts a shiny finish, whereas the rest is matte. The XROS 3 Mini maintains an elegant and minimalistic appearance, with no power button or airflow control.
Pods
When unboxing, I can see that the XROS 3 Mini comes with one 0.6ohm XROS pod. In addition, the mouthpiece on this pod is different compared to older models - it sits more comfortably on the lips. Luckily, all kits and pods in the XROS family are interchangeable and compatible; therefore, it wasn't difficult to get my hands on a different resistance.
I also like that all the pods have the coil built-in, as I don't have to worry about messy coil changes - swap the pod once you notice that the flavour tastes off. The pods connect to the battery via magnets which makes replacing these that much simpler.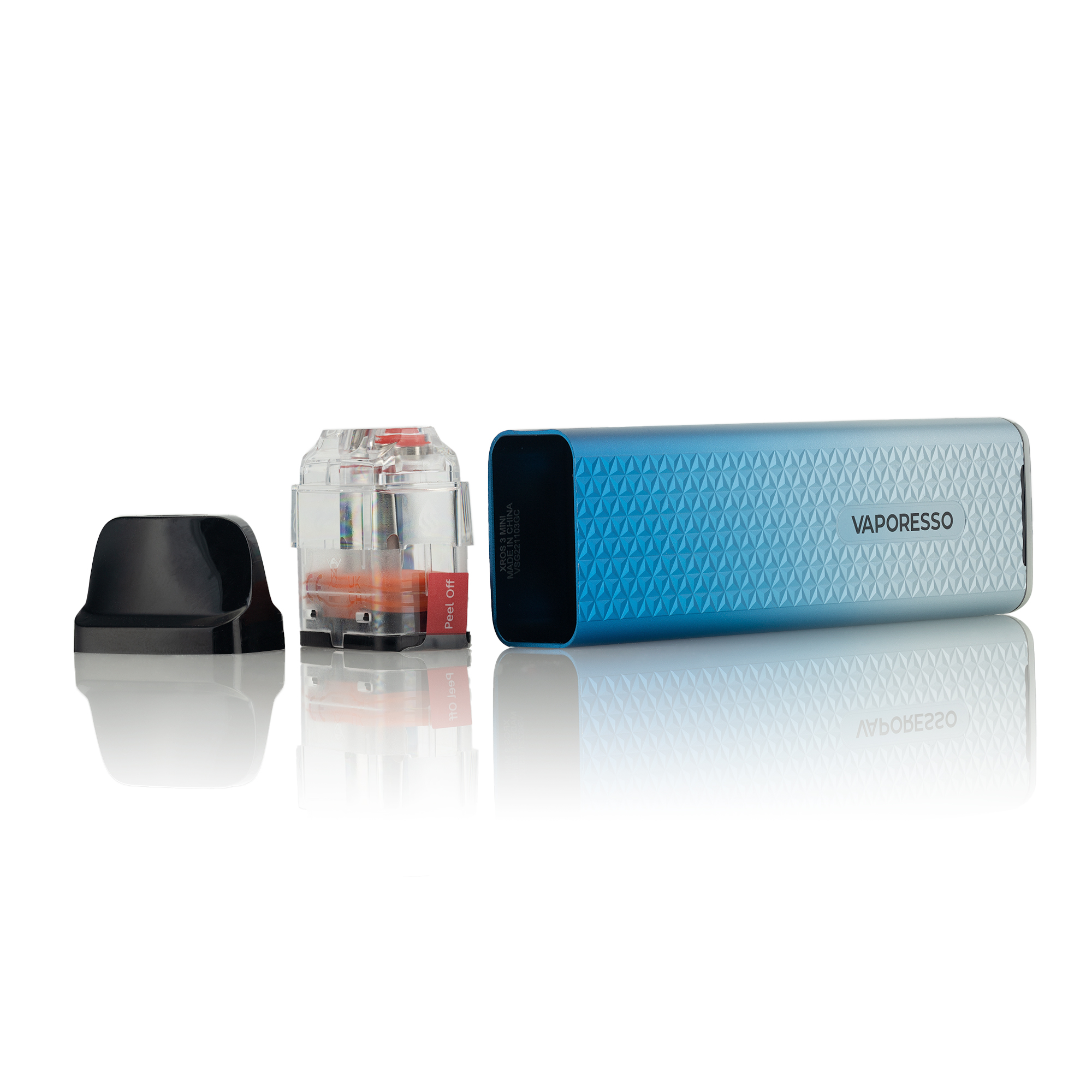 Filling the pods is also very straightforward. The drip tip comes off quickly by removing it at a diagonal angle. Once you've removed this, you'll expose the red rubber fill hole, so you can insert your e-liquid nozzle to fill your pod. As the pod is transparent, your e-liquid level is always visible, so you know when to refill without removing the pod from the battery. I had to fill the pod twice a day at most, but this will vary between users. I'm a fairly heavy vaper, so tend to refill my devices more often than the average user.
Battery Life
Considering the small size of the XROS 3 Mini, a 1000mAh internal battery is pretty impressive! This is the same capacity as the other XROS models; however, these are significantly bigger (physically) in comparison. A full charge lasted me roughly 24 hours before depleting completely. The LED light serves as a battery level indicator, which kept me in the loop at all times. The charge level corresponds to different colours, which are:
Green: 70-100%
Blue: 30-70%
Red: 0-30%
The XROS 3 Mini utilises USB-C charging, and it took around 45 minutes to reach 100%. This is a reasonable charging time considering the amount of usage you get out of the device. However, the charging port is at the bottom of the device, so I recommend taking the pod out when plugged in, as it would have to be laid flat for a while which can cause dry hits if your pod is running a little low on e-liquid.
Performance
I used freebase and nicotine salt e-liquid with the XROS 3 Mini to test the different vaping styles (mouth to lung & restricted direct to lung) and draw feel. I used the 1.0ohm pod, which doesn't come with this kit and the 0.6ohm pod, which does come with it. The strengths of both e-liquids used were 18mg for the freebase and 20mg for the nicotine salt juice.
I found that the 0.6ohm pod is better for direct-to-lung vapers as the draw is looser than average. We'd class this kind of set up as restricted direct to lung, as it isn't super airy and cloudy compared to a kit designed to be so. I was impressed that the XROS 3 Mini worked so effectively with freebase e-liquids, which I'm not personally a fan of; they give a really satisfying hit, especially with this pod. I didn't get along with the lower resistance entirely because it drains the battery slightly more and uses up your vape juice noticeably faster (lower resistances use more power and e-liquid). This isn't a criticism exactly, as the same applies to any sub-ohm/direct to lung kit!
Next, I tried out the 1.0ohm pod: this performed really well with my favourite e-liquid type, nic salts, and it preserved the battery life and juice for a lot longer. As a mouth-to-lung vaper, I enjoyed the draw being tighter, smoother and warmer. The flavour delivery and vapour production were spot-on. I had to refill this pod twice a day at most, compared to the 0.6ohm pod which I had to fill 3 times in a 24 hour period.
Unfortunately, I couldn't fine-tune my draw as the XROS 3 Mini has no airflow adjuster, but I was ultimately more than happy with the default airflow. The pods have good longevity, and they perform just as well now, 3 days later, as they did when I first used them. This device works best for MTL vapers.
Pros
Vaporesso are a long-standing brand with a great reputation
Pods last a long time
Great flavour delivery
Vapour production is efficient. You can get more vapour depending on the resistance of the pod
Simple to use
Compact and pocket-friendly
Charges quickly
Premium look and feel. It has an ergonomic shape and a nice texture.
Cons
No airflow control
0.6ohm pod drains the battery and juice more
No power button
Conclusion
My verdict on the Vaporesso XROS 3 Mini kit is that it's a more compact and user-friendly version of its predecessors. This device requires hardly any assembly, and its features are limited and straightforward, ensuring easy use. Furthermore, due to its compactness and build quality, the XROS 3 Mini is portable and durable, so there's nothing to worry about if you're travelling or vaping on the go.
Overall, this device delivers everything you need in a vape without affecting the build quality and design, providing a trifecta of great flavour, dense vapour and ease of use.