← Back
A Beginner's Guide: How To Use The Ploom X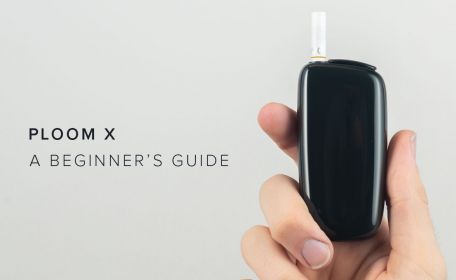 What is the Ploom X?
Acquired by the JTI Group, Ploom has been working towards creating a 'modern heated tobacco device that responds to the discerning needs of today's adult consumers seeking choice'. They have achieved this thanks to their newly introduced Ploom X device - the next generation of world-leading heated tobacco products.
The Ploom X is a smoking alternative that heats tobacco to deliver a similar sensation while eliminating up to 95% of some toxic chemicals detected in cigarette smoke. This cutting-edge technology intends to assist smokers in switching from traditional cigarettes by emulating the feel and flavour they're used to.
Contents: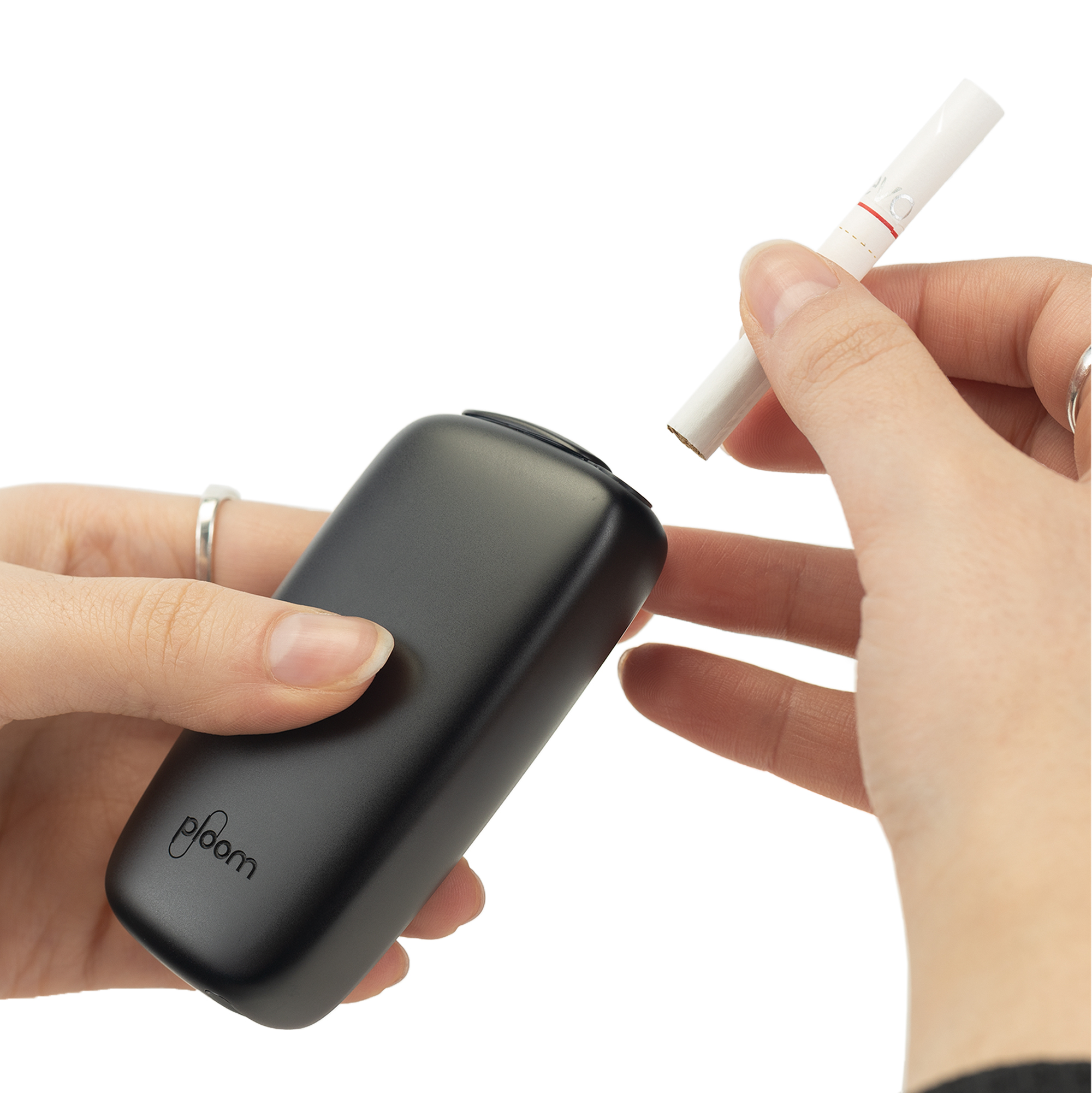 What's in the Box?
To start your heated tobacco journey, you'll need a Ploom X. Once you open the box, this should be the first thing you see. The Ploom features a sleek and simple ergonomic design, as well as a powerful battery that lasts a long time.
The starter kit includes the following items:
The Ploom X device: this is the primary compartment, which we'll go over momentarily.
A USB-C Cable: this is required to charge your device.
An AC Adaptor: allows you to charge your Ploom X from the mains socket.
One set of cleaning sticks: for cleaning and general maintenance.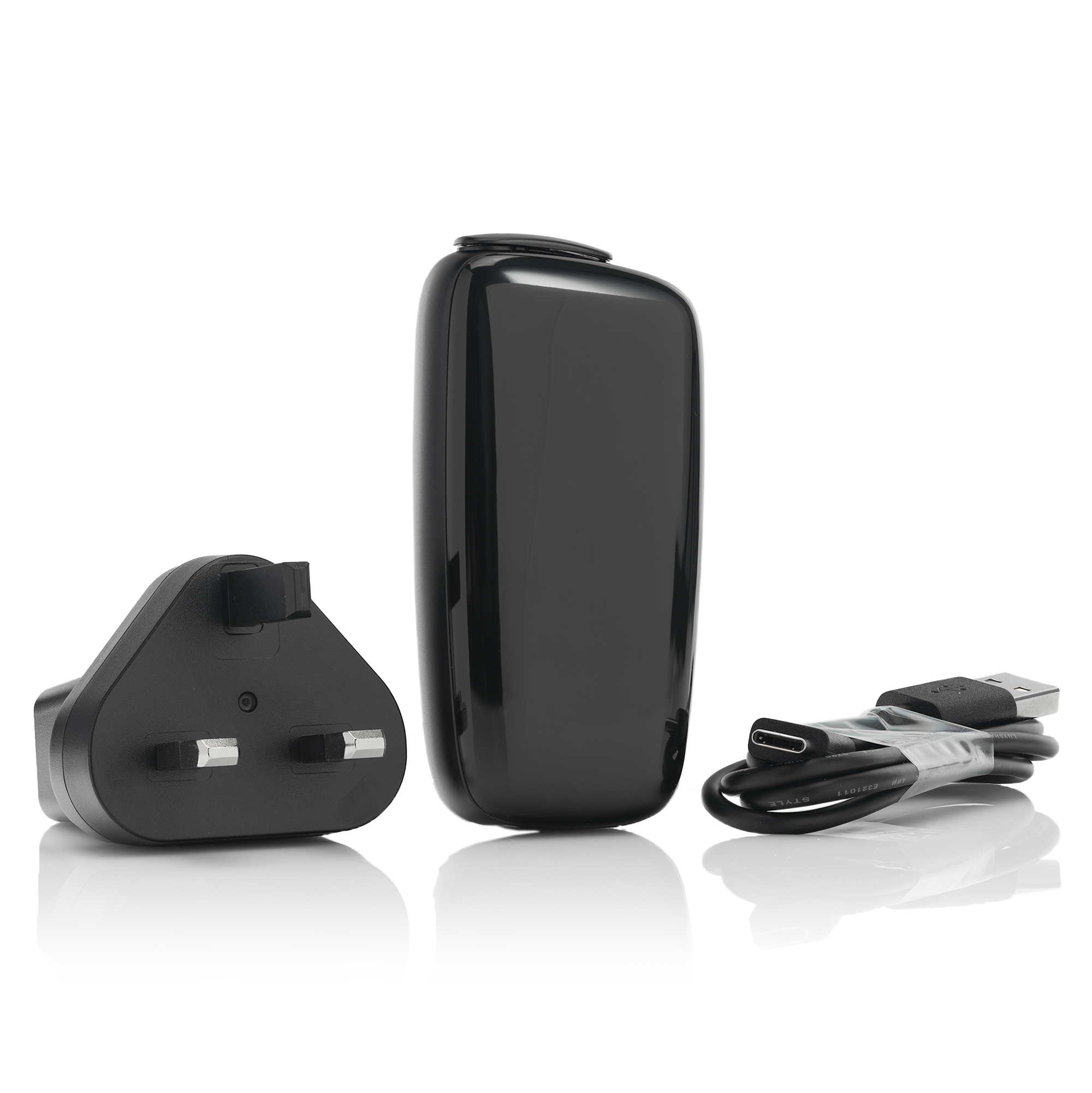 How To Use Your Ploom X
First, ensure your Ploom is fully charged by flicking the cap open and checking the battery level. I waited until my Ploom reached maximum capacity before using it. Then, plug it in to charge if the kit is running low on battery.
To use the device, lift the top cover and insert an EVO stick, ensuring that the airflow holes below the filter are visible. After that, press and hold the power button until the kit vibrates. Then, wait around 20 seconds for another vibration to signify that your EVO stick is ready to use.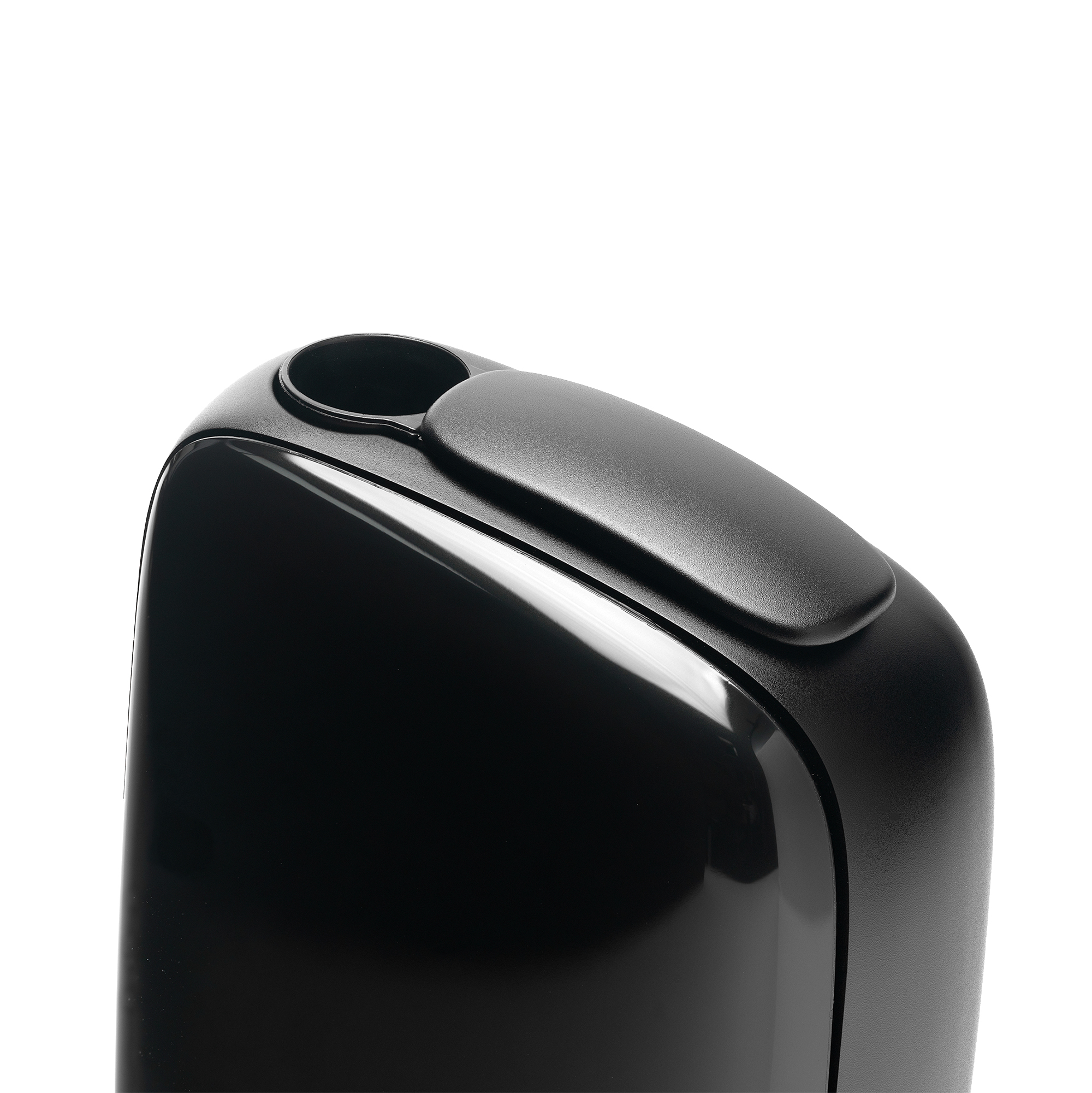 Each session should take about five minutes to end. The Ploom X communicates this by vibrating when you have 20 seconds remaining and vibrating once more for a moment longer when it's time to quit puffing and discard the EVO stick.
That's all you need to know to use this device efficiently. On the front is a battery meter that displays the charge level each time the cap is open. The battery meter also displays the heating progress and provides a visual indicator of how much time remains until the current session is over.
How to Clean The Ploom
Remember how I mentioned cleaning sticks came with the kit when unboxing? Now is when they come into use. The Ploom X is inherently tidy because there is no heating blade (which is used by other heat-not-burn devices). Ploom designed the cleaning sticks to remove any remaining dirt and tobacco from the heating chamber, although there won't be much to clean. Place your cleaning sticks into the heating chamber and clean it carefully, being cautious not to damage the contacts.
Staff Advice
I had some staff members, as well as myself, try out the Ploom X so that we could give our opinion on the device and which EVO stick flavours we got on with the best.
Starting with my experience, I found the Ploom X very easy to use. Setting up was relatively easy to do. All this involved was opening the top cap to reveal the hole and pressing down on the front panel to trigger the heating process until it vibrated. As someone who used to smoke menthol cigarettes (before switching to vaping), I found that the Green EVO sticks gave the most authentic and balanced flavour of earthy tobacco and fresh mint, which agreed well with my palate. Although the Ploom X produces a distinctive tobacco smell, this is still very subtle compared to other heat-not-burn products I've tried.
Joe: "The Ploom X is much more compact than I expected. It's also extremely intuitive to use; once the device is charged, getting started is as simple as inserting an EVO stick and holding the front panel down until the device's haptics indicate it's heated. I tried the Mauve, Green and Purple Option Sticks. In my opinion, Mauve had the best all-around taste, with just the right amount of mint and a sweet hint of fruit. I was pretty impressed by the warmth of the draw, which was almost indistinguishable from a real cigarette."
Keanu: "Although I've never been much of a smoker, I can see the appeal of the Ploom X. It gave me the same feel and satisfaction as a conventional cigarette due to its warmth. It also heats up quite quickly, so I didn't have to wait too long to use it. Personally, I found that the EVO sticks with a crush-ball mechanism (specifically the Purple Option flavour) delivered a much more balanced taste of rich tobacco and sweet fruit that I thoroughly enjoyed."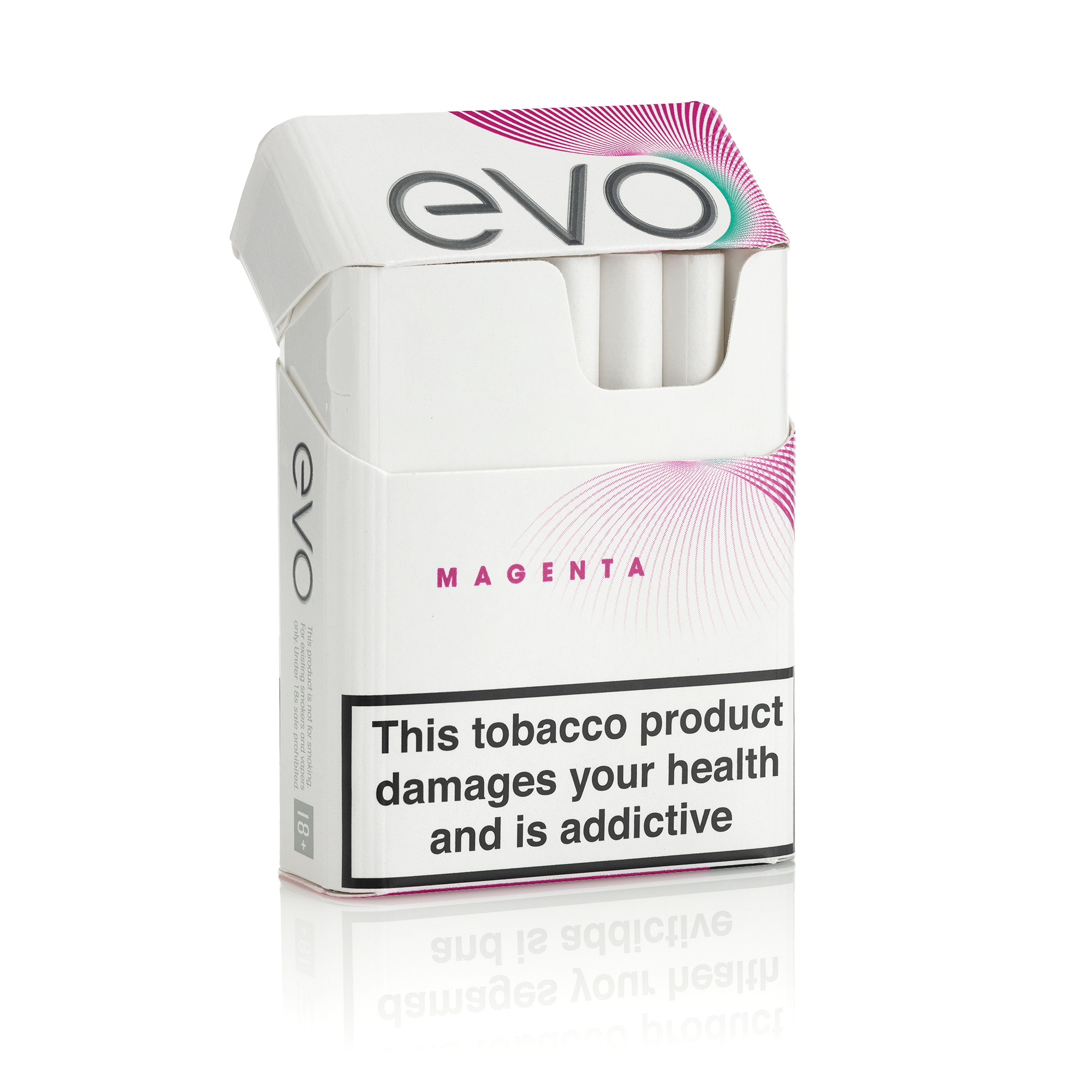 FAQs and Troubleshooting
How do I switch off my Ploom?
Merely pull the EVO stick out of the chamber and close the sliding cover when your session finishes or you're ready to stop using the device. Closing the cap is critical since it ends the heating process (if the session has yet to end naturally). If you do not do this, the Ploom will continue to heat until the end of the five-minute session. Your EVO stick may also be rather hot after removing it, so we recommend leaving it on a tray to cool before totally disposing of it.
My Ploom X isn't charging. What should I do?
There are several possible reasons for your Ploom X not charging:
It's possible that your USB cable needs to be correctly connected. Make sure to check that you've properly plugged everything in.
Your USB cable could be defective. Try a different charger or power outlet. Using the original Ploom X cable that came with your kit is ideal, but you can use a different one if required.
You may need to reset your Ploom X. To do so, shut the sliding cover and remove the front panel. Then, with a blunt object, push and hold the small button until your device vibrates, then replace the front panel.
If none of these solutions remedied the problem and your purchased your Ploom here at The Electric Tobacconist, don't hesitate to contact our Customer Support team for further assistance.
My EVO Stick is stuck. How do I get it out?
Here's what to do if a fragment of your tobacco stick becomes trapped within the heating chamber:
Please wait for your Ploom X to cool down and turn it off by closing the top cap.
After a few minutes, pop open the top cap and use a pair of non-metallic tweezers to remove the stick. It is critical that the tweezers are non-metallic, as using metal can be dangerous.
Remove the stick and any leftover tobacco as carefully and softly as possible to avoid scratching or damaging the interior of the heating chamber.
My Ploom X isn't working. What should I do?
Here are a few suggestions to help you troubleshoot your Ploom X kit:
Firstly, check the battery level. If this is low, connect your device to a charger.
Reset your Ploom (see instructions above).
Ensure your device is clean (using cleaning sticks) as stray tobacco can lead to connection and draw issues.
If none of these work, please get in touch with our Customer Support team, as they can assist further.
When I use my Ploom X, the EVO Stick goes below the perforation line. Is this normal?
Yes, this is quite normal. The Ploom X device contains four gripping ribs at the top of the heating chamber that assists in keeping the EVO Stick in place while you use the Ploom. If the stick moves, you must ensure you've inserted it correctly. Also, please ensure that the tobacco stick has been pushed to the printed line and aligns with the top of the device.
How long does an EVO Stick last?
A session is equal to one EVO stick, which lasts 5 minutes. You can take as many puffs as you want within these 5 minutes, depending on your draw length. Be aware that as a session progresses the EVO Stick may become warmer; if you're finding flavour or feel is no longer pleasant, the sessions can be ended early.
Is Ploom vaping?
Ploom is not vaping, nor is it a cigarette. Instead, the Ploom X is a heat-not-burn device that uses HeatFlow technology, enabling you to savour tobacco without burning it. As a result, Ploom delivers an authentic experience, like smoking, without the hassle of unwanted odour and ash.
Can you use EVO Sticks with other heated tobacco devices like the IQOS?
Unfortunately not. Ploom makes EVO sticks for use with the Ploom X device only.