← Back
IVG E-Liquid Review: An In-Depth Look at the Best IVG Vape Juices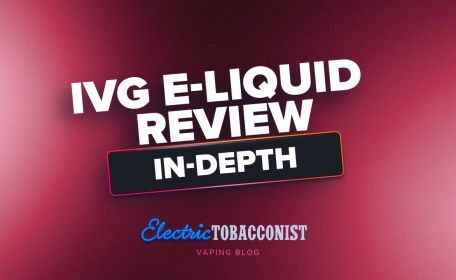 Our IVG vape juice review gives you the lowdown on these popular UK-made e-liquids.
Great quality and amazing taste are what IVG (I Vape Great) is all about. This leading premium British e-liquid brand has won dozens of awards and was established just four short years ago, in 2016. It now has global reach and fans of IVG e-liquid are all over the world.
Headquartered in Preston and with offices in the United States, the Middle East and South America, the company says its mission is to offer vaping products for adults that will help to get them off hazardous smoking so they can live healthier — and happier — lives.
IVG's creative vape juice blends include a fantastically fruity range. It also features different combinations of VG and PG as well as nic salts, delicious desserts and traditional tobacco, menthol and lots more to ensure you get great taste and never grow bored of your vapes.
Our customers here at Electric Tobacconist love IVG and can't get enough of the expansive range. So to help them choose more — and for newcomers keen to sample the goods — we've put together this IVG vape juice review for you to peruse and then order those you like.
---
The Electric Tobacconist IVG E-liquid Review
IVG's wildly popular standard 50:50 (freebase) e-liquids include all kinds of zany flavour combos. Here's a sample.
Freebase E-Liquids
Rainbow Blast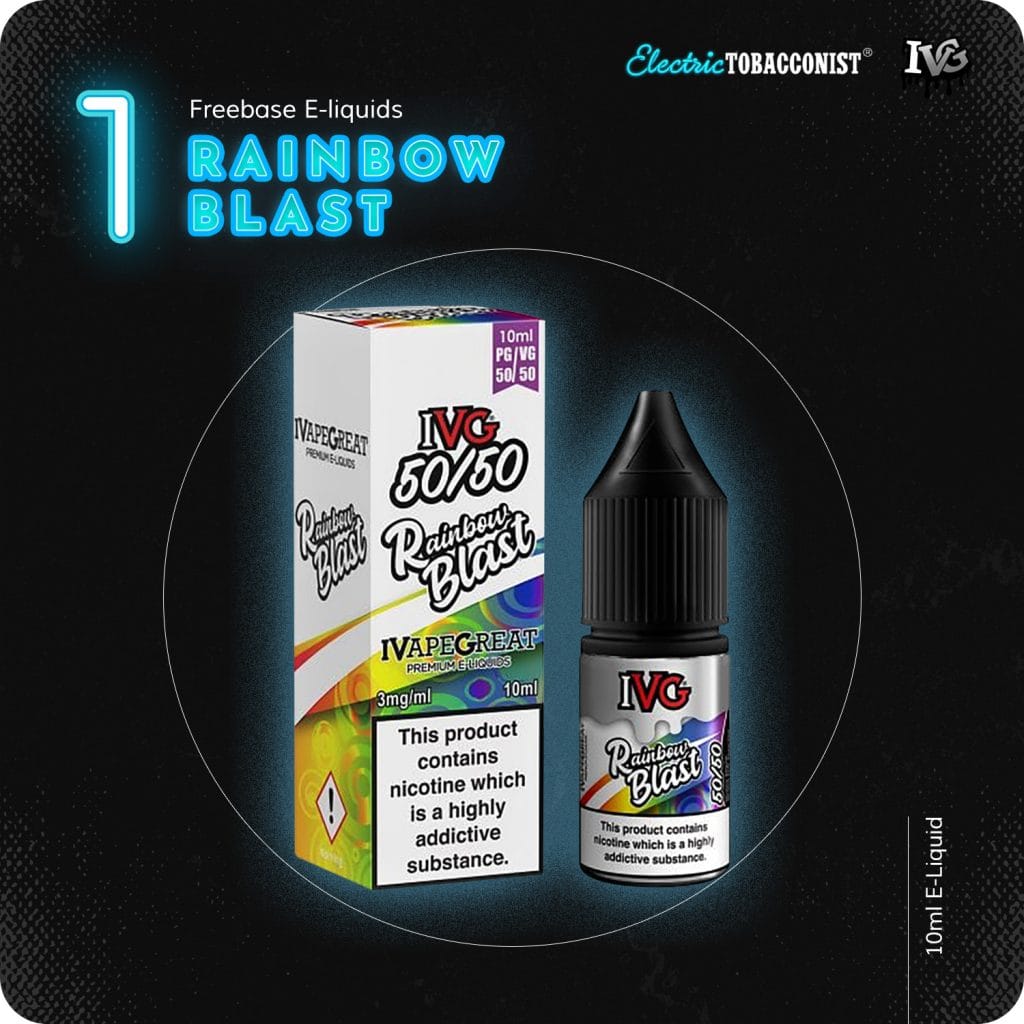 This is a 10ml vape juice bottle housing an explosion of fruity flavours to wow your taste buds. You'll enjoy a tart mix of strawberry, orange and lemon and a great menthol rush on the finish. What a vaping blast!
Buy Your IVG Rainbow Blast Now
Blackberg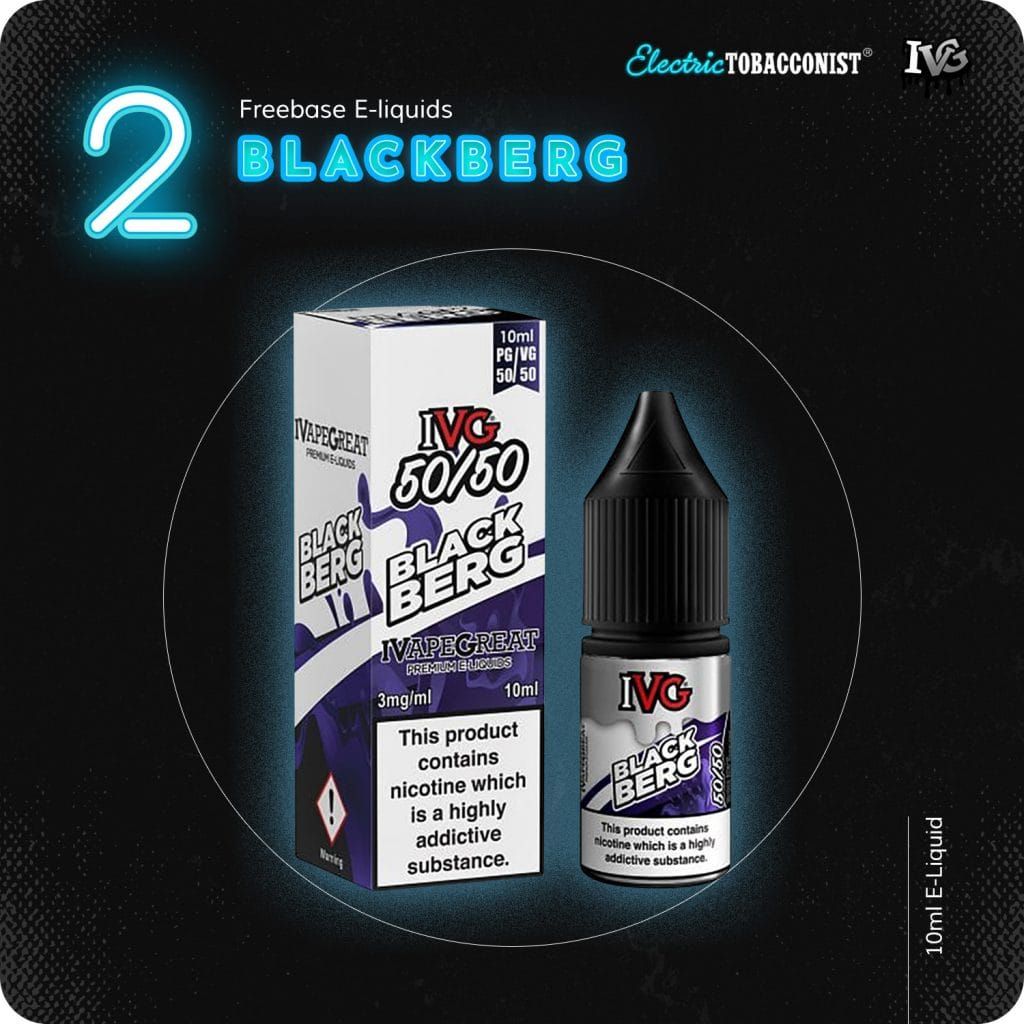 What's lurking under the surface of this IVG vape juice? A great taste sensation! Savour a sweet blend of blackcurrant and blueberry followed by a glacier-level ice wash at the end. It's the perfect fruit-menthol combo to delight and refresh.
Order Your IVG Blackberg Now
Summer Blaze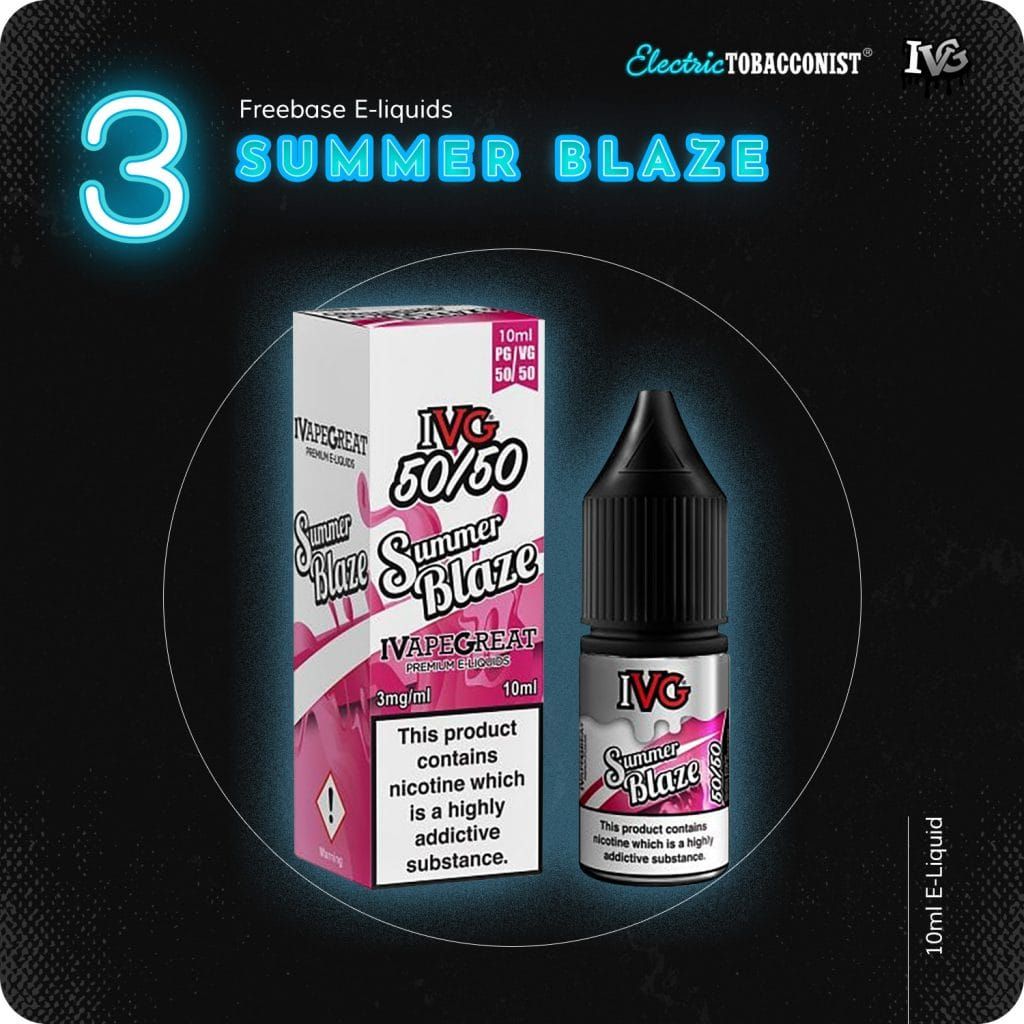 Our IVG Summer Blaze review couldn't be more full of praise for this awesome vape juice based on Sicilian lemonade and mixed fruits. It's lemon on the inhale and strawberry and blueberry on the exhale — how sweet! Now it can be summer all year round.
Get Your IVG Summer Blaze Now
---
50:50 Dessert Flavours
We include these lush 50:50 dessert flavours in our IVG vape juice review because they're just what you need after a great big dinner.
Jam Roly Poly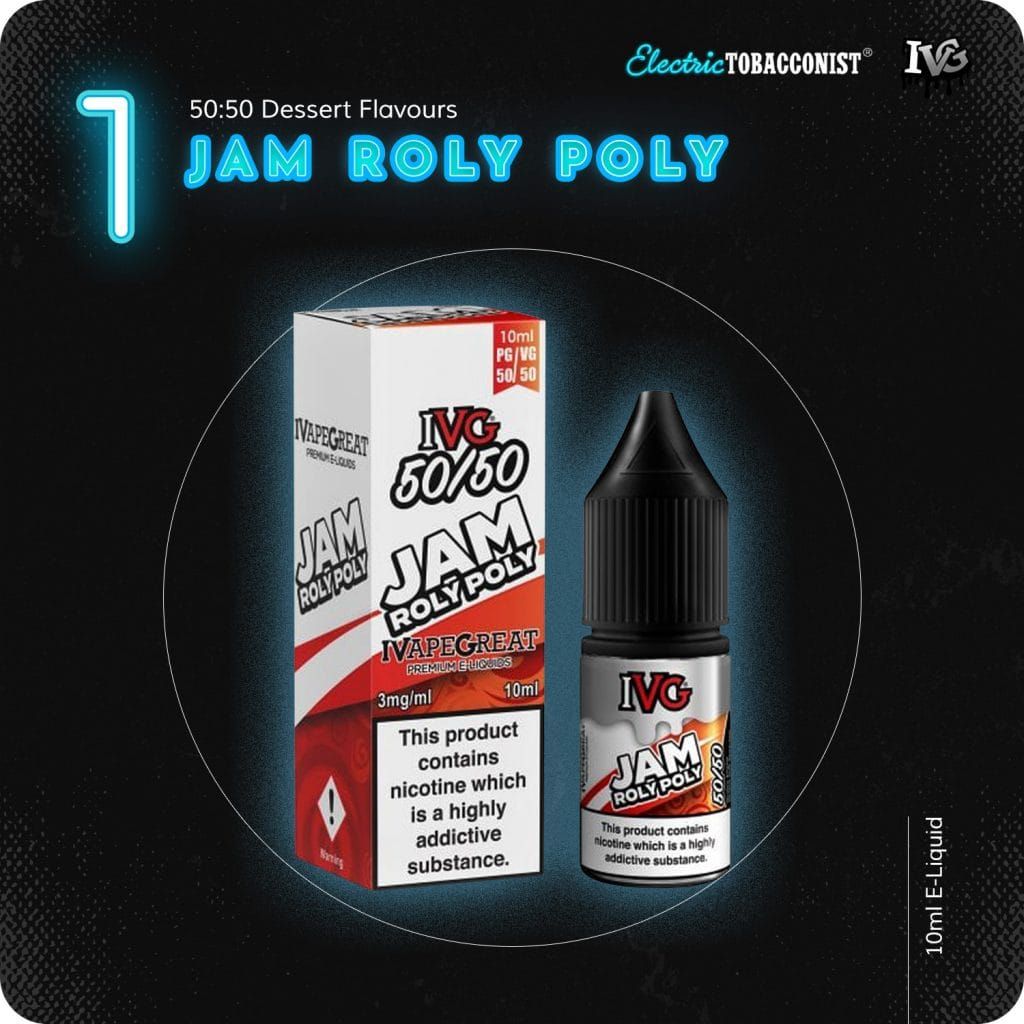 Can you have your cake and eat it? With IVG's Jam Roly Poly e-liquid, sure you can. Expect everything you would from the beloved British dessert — only in vape form. It has notes of strawberry jam, sponge cake and cream — tasty!
Order Your IVG Jam Roly Poly Now
Apple Berry Crumble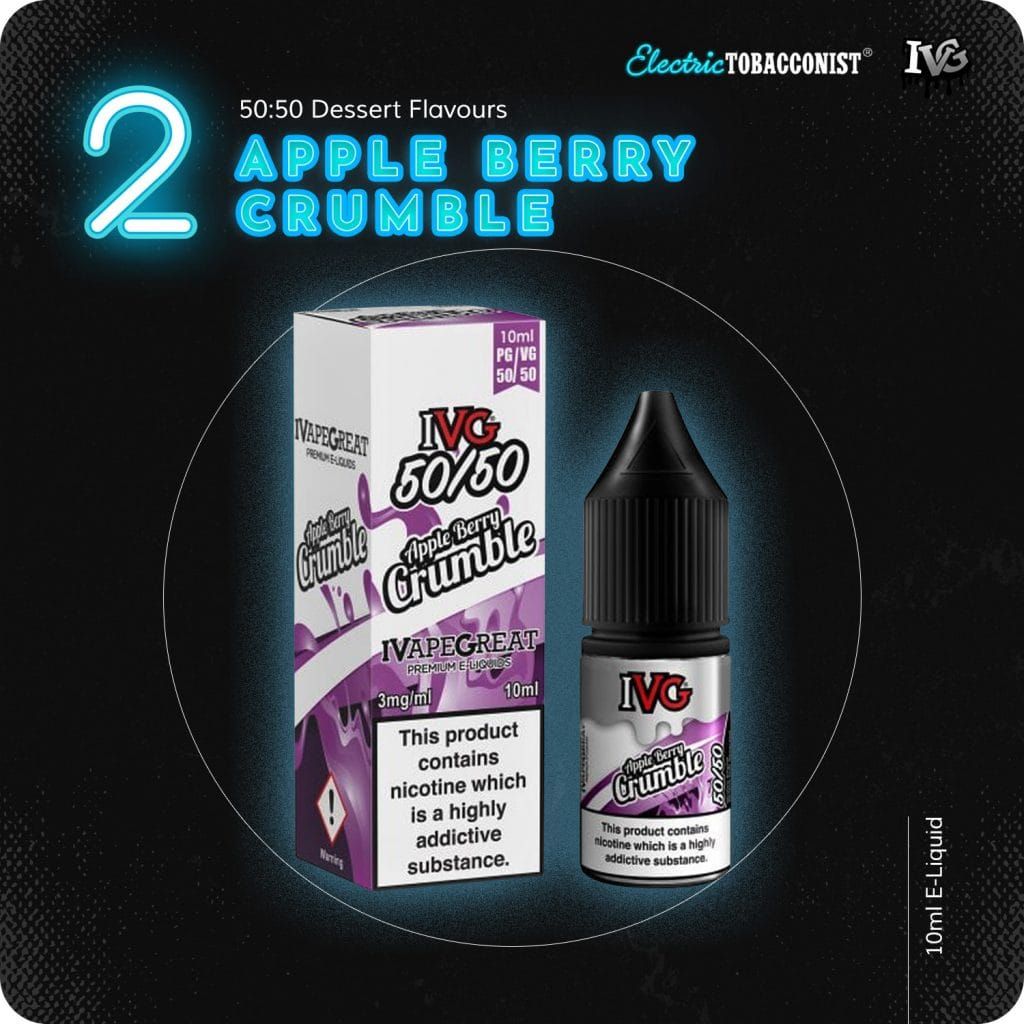 Another classic British after-dinner confection, IVG's Apple Berry Crumble is sure to leave you satisfied. You'll love the pastry, apple and blackberry combination that's got tons of flavour and sweet dessert goodness.
Purchase Your IVG Apple Berry Crumble E-Liquid
Cookie Dough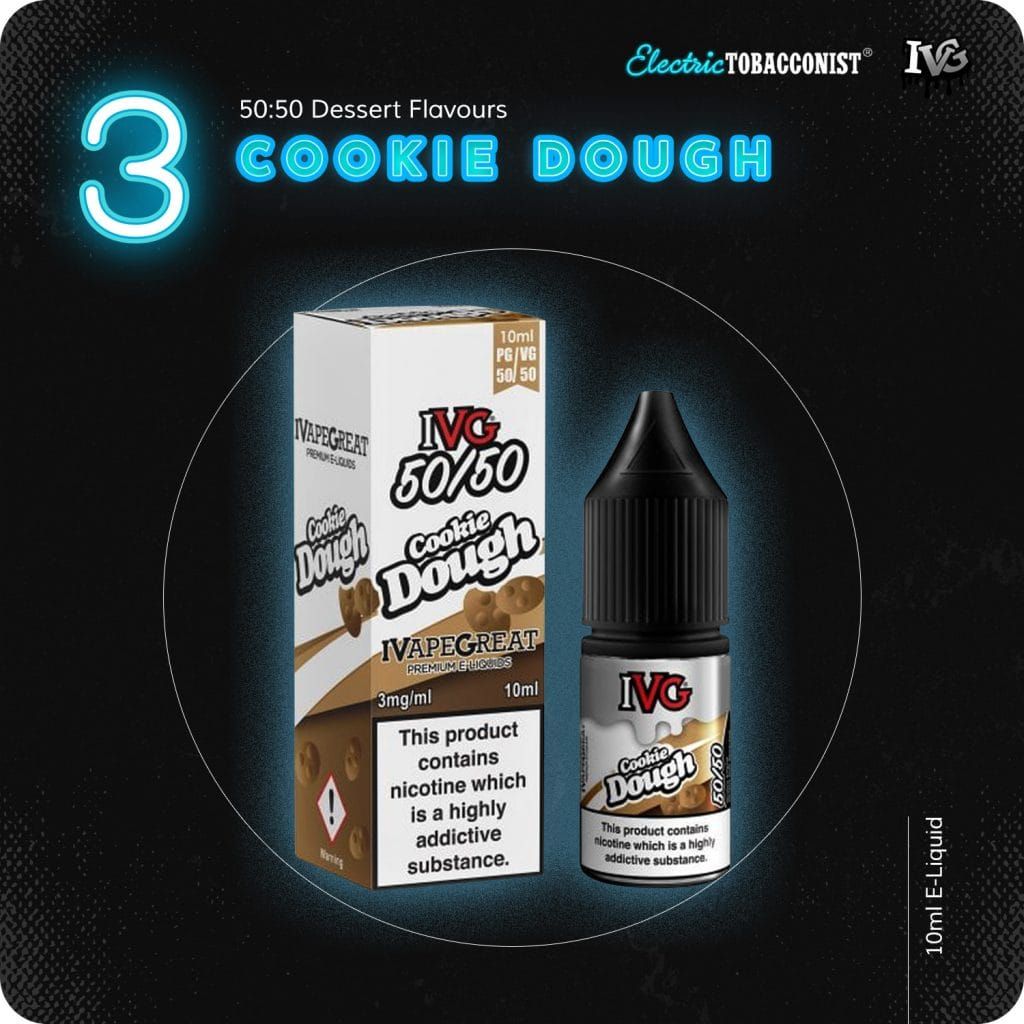 Take a bite out of this fantastic e-liquid and you won't look back. IVG's Cookie Dough vape juice is packed with buttery vanilla cookie and a satisfying milk chocolate flavour that's totally delish! Chomp on it anytime you feel peckish for a vape.
Buy Your IVG Cookie Dough Vape Juice Now
---
Nic Salts
We continue our IVG vape juice review with the brand's range of nicotine salt e-liquids. They're ideal for heavy smokers trying to quit by vaping because you get the quick nicotine rush you want but without the harsh throat hit.
Citrus Lemonade
Sweet lemonade, grapefruit and orange juice combine in IVG's Citrus Lemonade to deliver a refreshing and tasty vape juice blast you'll love. You'll also get a big and smooth nicotine hit to keep you happy.
Get Your Hands on Some Citrus Lemonade E-Liquid Now!
Fresh Mango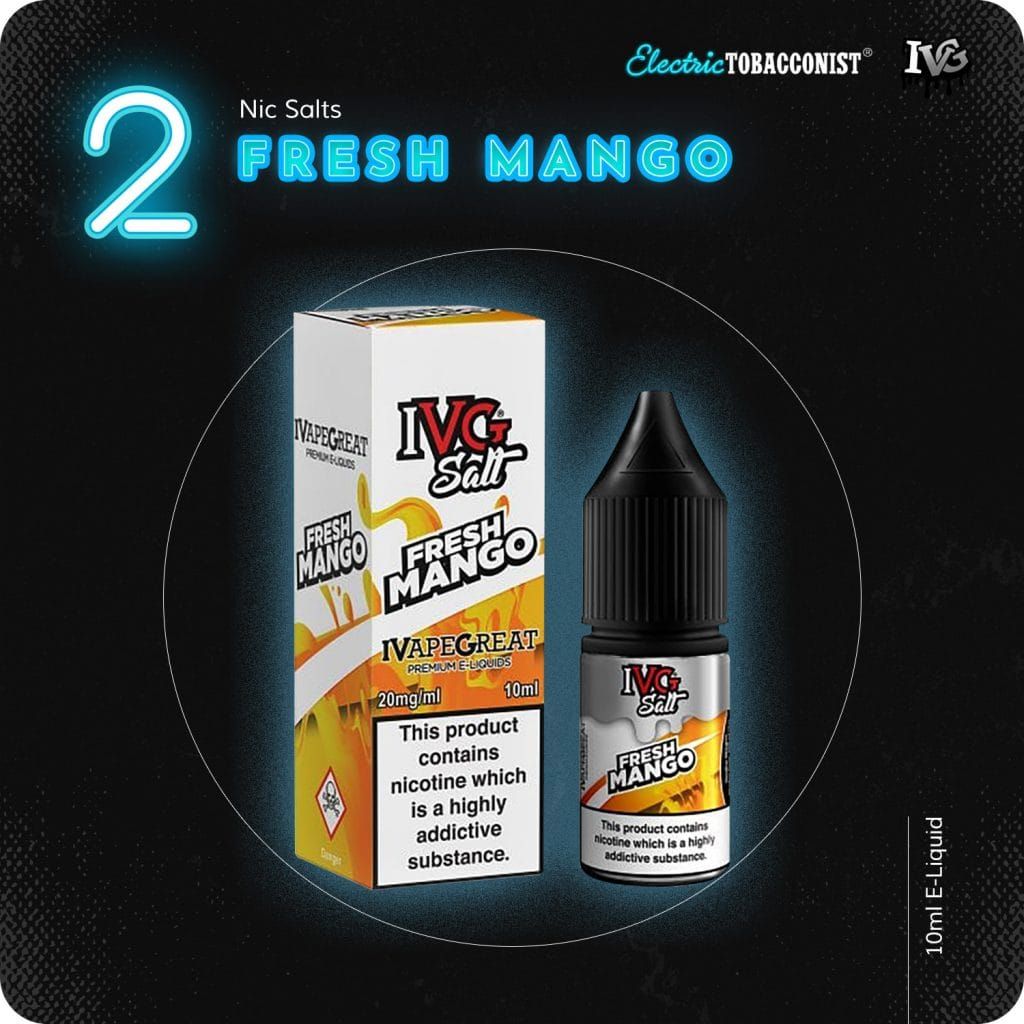 Tropical and mouth-watering mango — and the taste is so real and fresh you'll think this awesome vape juice has just been picked. Its zingy flavour means it's perfect for vaping throughout the day.
Buy IVG's Fresh Mango to Add to Your Vape Juice Collection
Cinnamon Blaze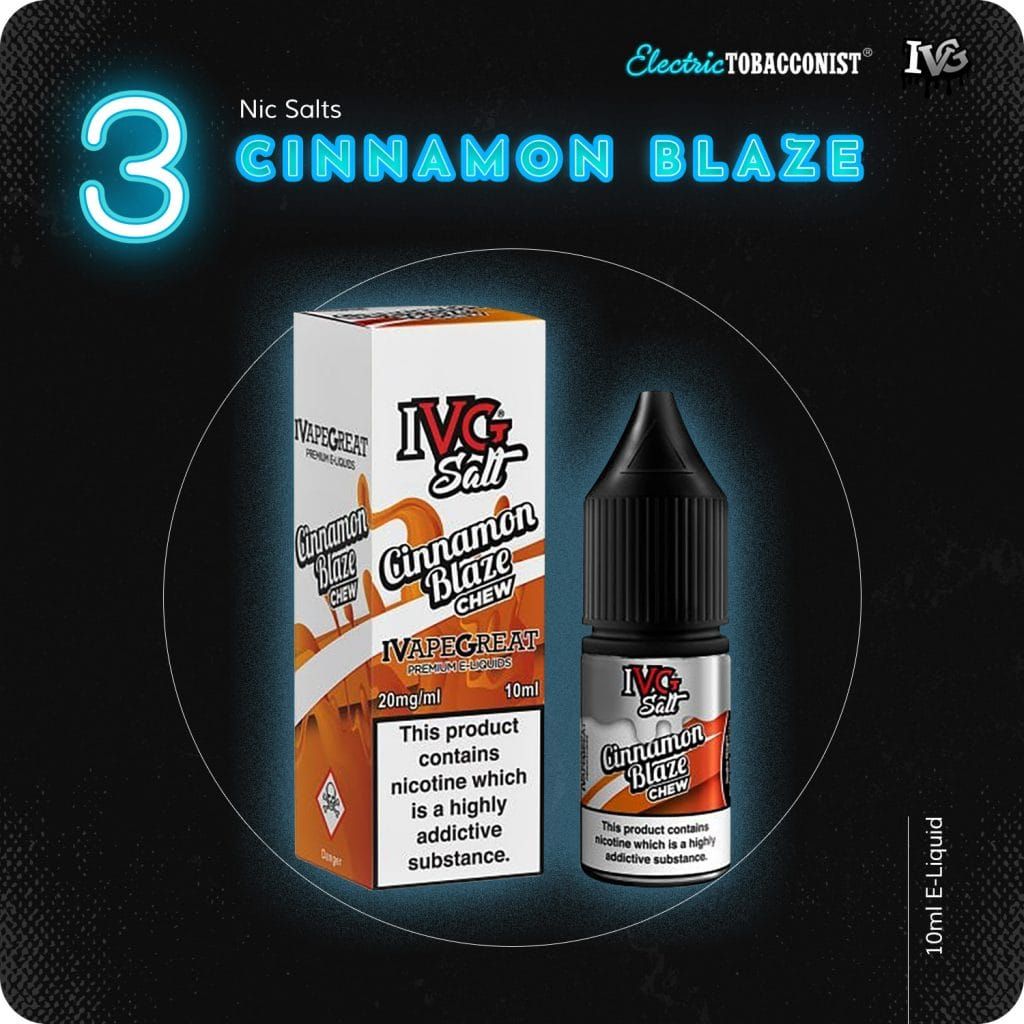 Warming and comforting cinnamon notes paired with sweet candy forms the base of this great nic salts e-liquid from IVG and will leave those who love spicy treats truly satisfied. It's great for evenings and on cold autumn and winter days.
Treat Yourself to Some IVG Cinnamon Blaze Today
What Are Our Customers Saying About IVG E-Liquids?