← Back
The Best Pod Mods and Vape Pod Systems of 2018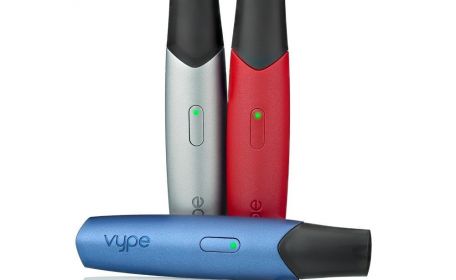 Pod mods are quickly becoming the next big thing, but which devices are the best?
The pod mod market is quickly growing, with a new kit becoming available nearly every week. It can be tricky to spot the best amongst the crowd, so we're going to help you do just that.
Looking to quit? Many find pod mod systems to be an excellent cigarette deterrent. Small in size, pocketable and often providing a substantial nicotine hit, if you're looking to kick the habit you're in the right place.
'Pod Mod' refers to a vaping device which utilises refill pods, instead of having multiple detachable parts like a tank, coil and mouthpiece. Using the device is as easy as clicking a refill pod into the kit and vaping - it really is that simple. This setup removes the need for fiddly e-liquid spills or pesky coil changes; just switch out your pod and you're ready to go.
It's this simplicity which could explain the insurmountable popularity of pod mods in the vaping community. Incredibly accessible to new starters, and popular amongst experiences vapers due to their situational value as an easy-to-use backup device, there really is no wonder that you've found yourself looking for the best pod mod around.
Without further ado, here's our pick for the best pod mods of 2018 so far. Each has been selected for its unique features to cater for a diverse range of vapers.
---
The Vype ePen 3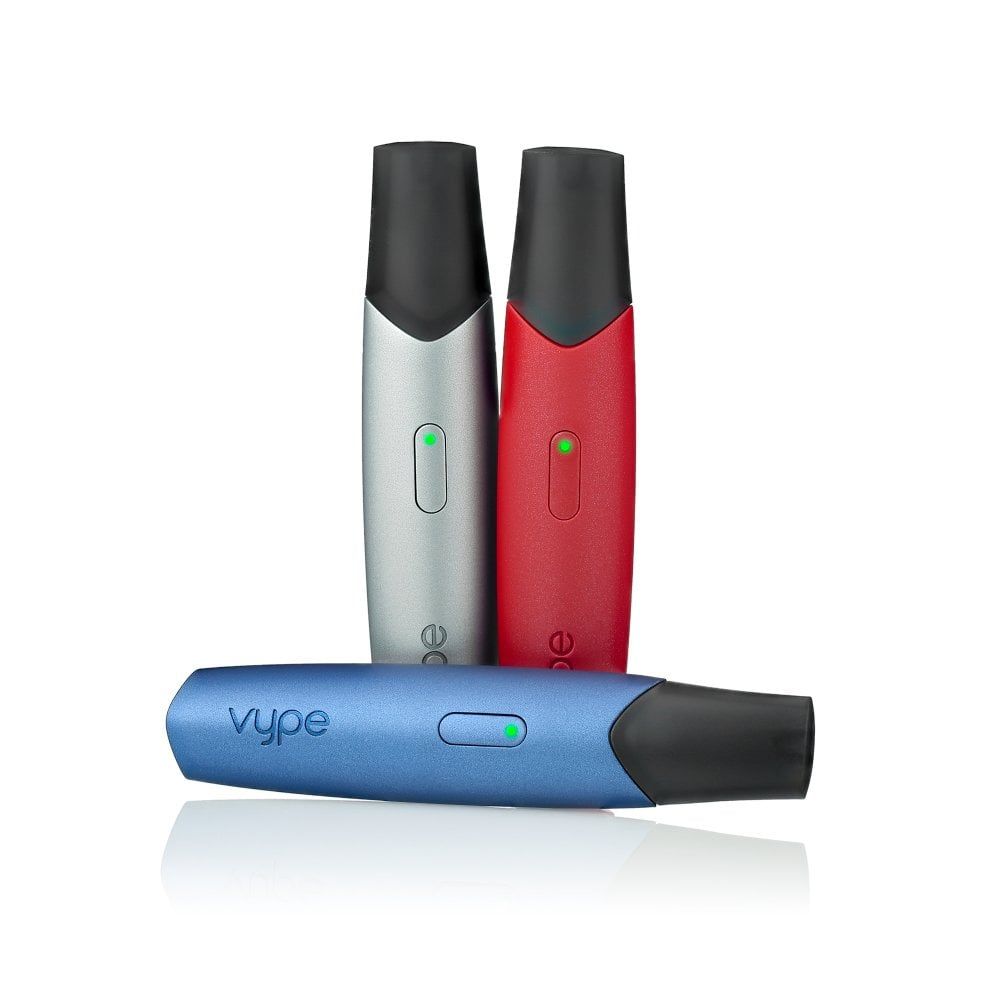 Vype are known for their high-quality kits and broad range of devices to cater to all different needs. When it comes to the ePen 3, Vype hit a home run.Pod mods are designed to be lightweight for fast on the go use, but this can often come at a cost for battery life and vapour production. The ePen 3 makes no such compromise, and performs like a classic vape pen while also being ergonomic and simple to run.Praised for its long-lasting battery, sturdy build and tasty flavour cartridges, the ePen 3 earned its place on this list. The ePen 3 doesn't need bells and whistles; reliability is the key selling point with this capable device.

Notable Features
- An all-rounder that's an excellent introduction to pod mod kits
- Large cartridge capacity – 2ml of e-liquid in each refill cartridge
- Long-lasting 650 mAh battery
- Comes in a range of colours, from bold red to discreet slate
- 16 unique flavour pods, with the choice of 4 nicotine salt pods
---
The Hexa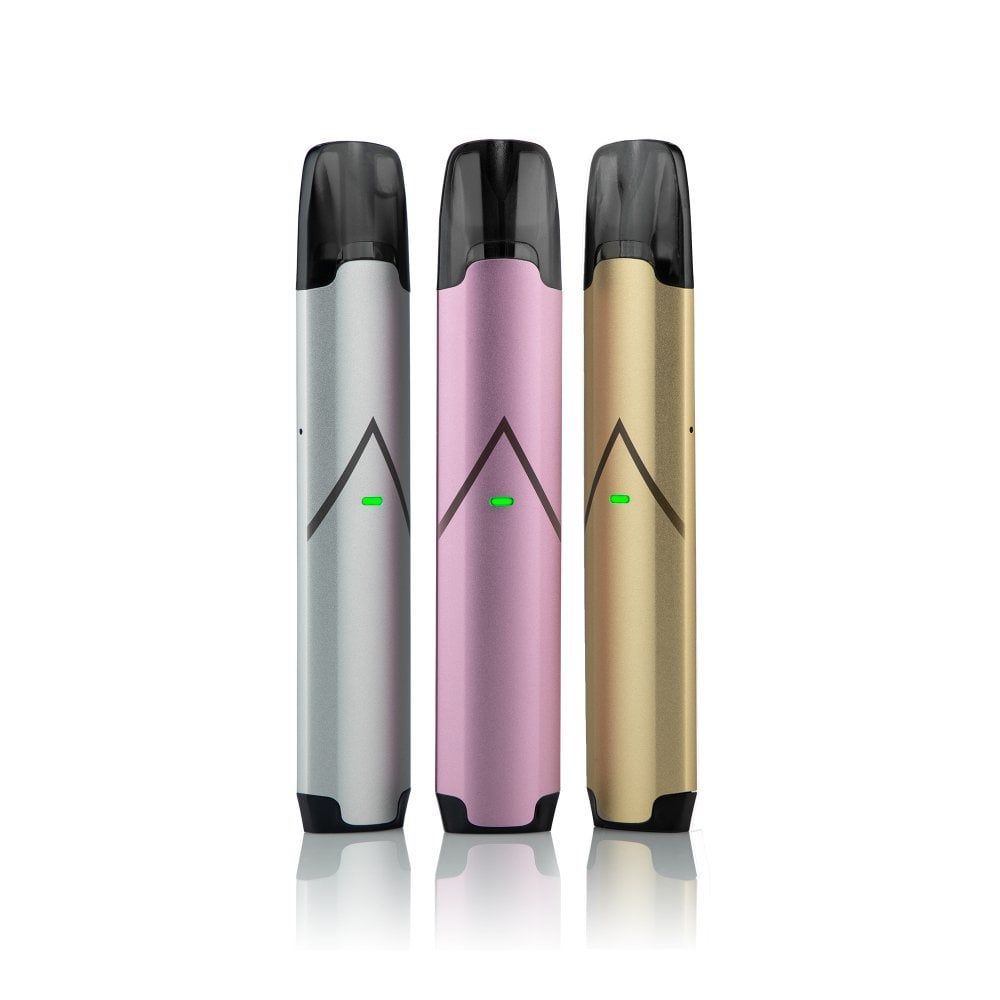 Named after the brand itself, HEXA have made their vaping debut in style with the Hexa pod mod.
This innovative device doesn't just follow the crowd; it boasts several unique features that many have found give it a competitive edge in the battle of the pod mods. The Hexa utilises a unique coil design termed 'FEELM' which uses a combination of metal and conductive ceramic, instead of the classic metal wire build. This clever change improves flavour, reduces the chance of leaking and makes vaping more efficient, meaning a longer battery life.
The Hexa also has a luxe feel to it, which makes it feel very well-built and pricier than it actually is. It has a few small quality of life features which aren't deal-makers, but you'll certainly come to appreciate them. The charger and pods are magnetically held to the device, as an example, and the body is made from aluminium, which naturally is a little more sturdy than a plastic-bodied competitor. The design is minimalist and therefore fairly discreet, so it'll be preferred by those who don't want an attention-grabbing device.
Perhaps the main downside to this device is the range of pods available. There's only 4 flavour options available: Blueberry, Menthol, Tobacco Menthol and Tobacco. If you're a lover of these flavours this kit should be top of your list. If you prefer a larger range, one of our other options are better suited to you!
Notable Features:
- Unique coil design for efficient and flavourful vaping
- HEXA pods are crafted with a blend of nicotine salts and freebase nicotine
- Sleek, contemporary design
- Fast charge time – only 45 minutes
- Pods taste great, but are limited to 4 flavours (currently)
---
The JustFog Minifit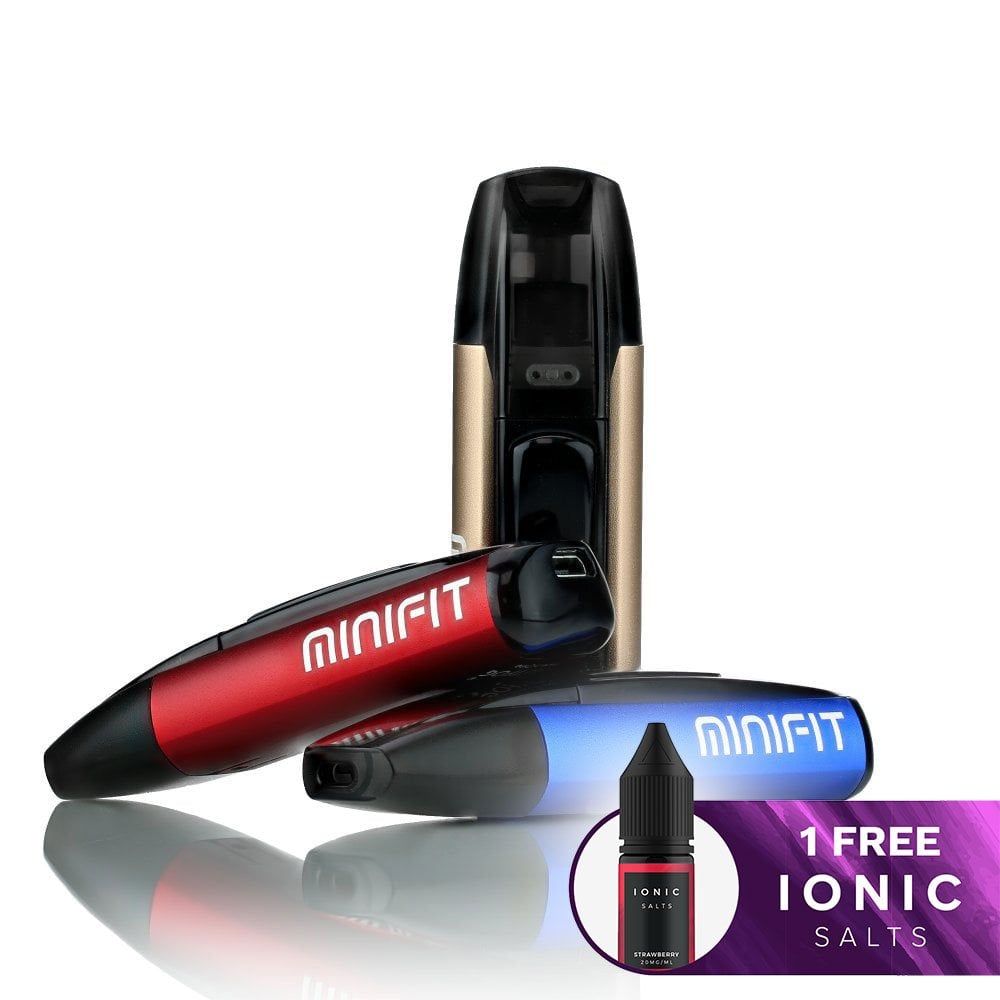 The Minifit by JustFog has a marked difference from the rest of the mods on this list: it uses an open pod system, meaning it will need to be manually refilled with e-liquid.
Don't panic – the Minifit has a plethora of great features that make it an excellent pod device, and for some may be more appealing then the closed pod systems featured so far. The use of the interchangeable pod system means spare coils and tanks are a thing of the past – you can switch your pod out for another with a simple click. This, in turn, opens up a world of customisation – perhaps on Monday you feel a refreshing menthol liquid is just what you need. Come Tuesday, you fancy a sweeter deal – Lemon Tart sounds great.
The Minifit makes this a reality, by allowing you to pre-fill any pods with your favourite liquids to swap out as you see fit without the flavour hangover. E-liquids are best enjoyed in their own right – when mixed together in a single tank the outcome isn't always quite as pleasant. With the Minifit, you'll never have that problem again!
We'd like to stress here – this kit is mini. Looking at the product photos it's difficult to gauge it's actual size. If you extend your little finger now, its full length is pretty close to that of the Minifit.
Notable Features:
- Open pod system allows for use of your chosen e-liquid
- Comfortable mouthpiece with excellent airflow
- Maintains a constant voltage output even at low battery
- 3 LED battery indicator ensures you won't be caught out while on the go
- Really, really small
---
The BO One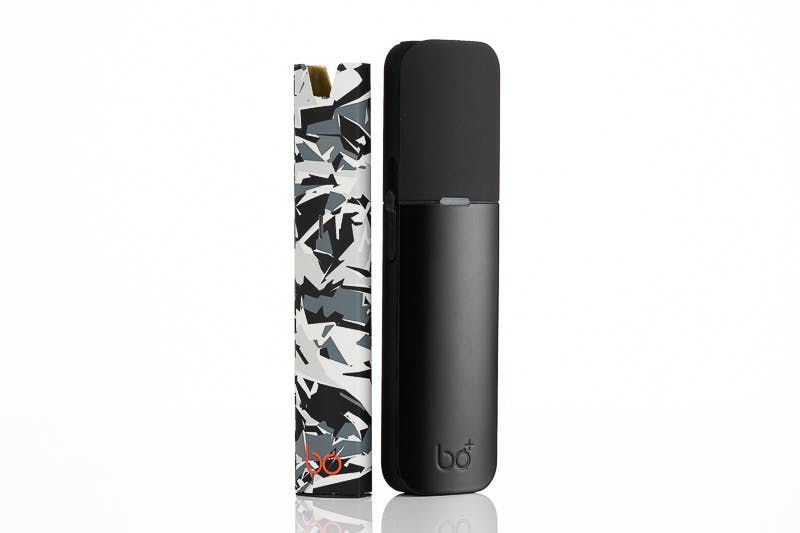 The slimmest option on our list, the Bo One is a super-compact pod mod device which could easily be mistaken as a USB stick. Discreet and highly mobile, this lightweight kit is actually a stick of dynamite.
The Bo One earned its place on our best of 2018 list due to its incredibly small frame. With a width of only 15mm, this device fits into your hand like a ballpoint pen. Considering this, the integrated 380 mAh battery provides a respectable 12 hours of use, so should take the average vaper through the day. It can also be fully charged in less than an hour with the included magnetic USB charger, so bringing the Bo One back to life can easily be achieved by plugging it into your PC at work.
Perhaps the best feature of the Bo is its extensive refill pod collection. Refill caps are available in a range of 17 unique and tasty flavours (seriously, give 'Red Light' a try) and come in 3 nicotine strengths to suit your individual needs – from 18mg to nicotine-free!
Notable Features:
- Tiny in size; 10cm in length compared to a 7cm standard cigarette
- Pods come in unique flavour blends as well as the classics
- 1 hour charge time which should see you through a whole day on average
- Pods are available in 2 nicotine strengths as well as a nic-free option
- Also available in some slightly more colourful limited-edition variations
---
Special Mention: STIG Pods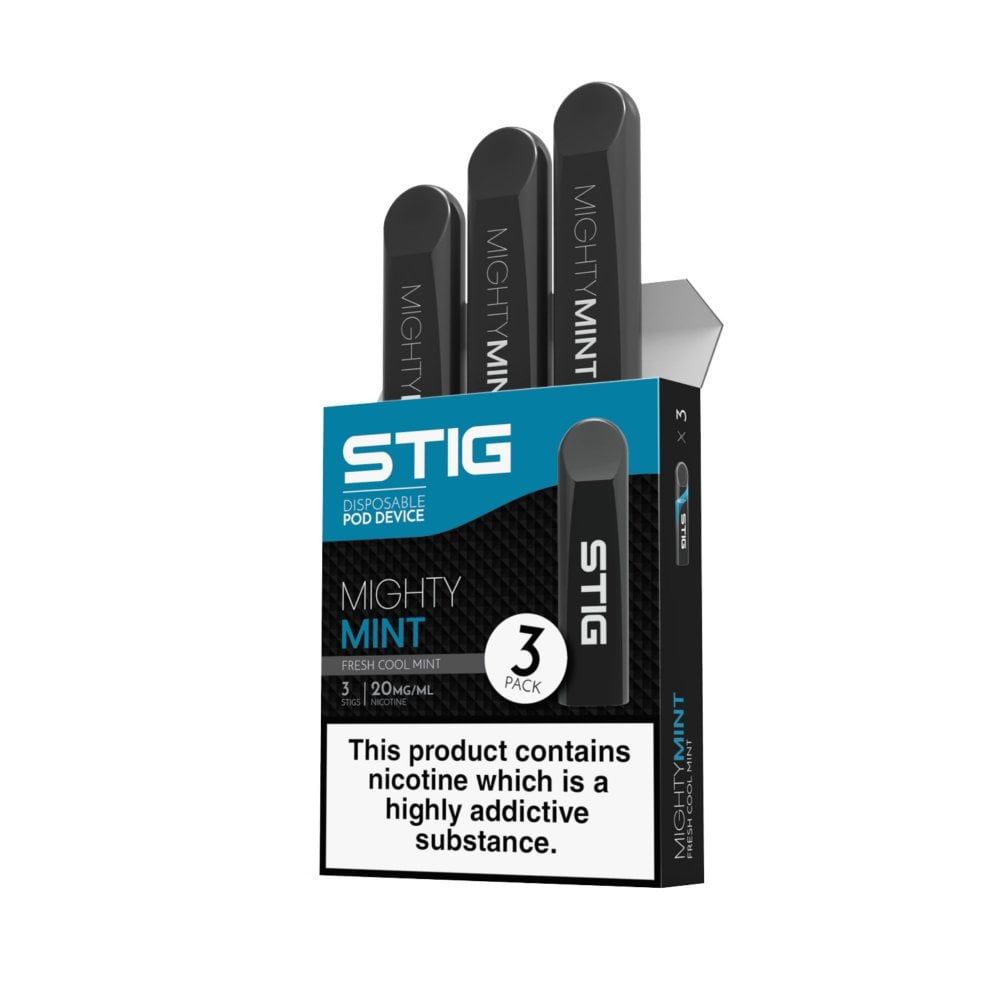 Last on our list are STIG Pods, from the reputable V-God. These unique pod devices are completely disposable once used.
In the spirit of Stobtober, these ingenious pods are an excellent pick for smokers who are looking to make the switch from cigarettes to vaping for good. These sleek handheld pods come fully loaded with liquid and are ready to use out of the box; no charging or assembly required. Bringing convenience to a whole new level, each STIG Pod provides an impressive 270 puffs, which is close to a standard pack of cigarettes – and there's three in every pack!
STIG Pods are currently available in 4 defined flavours, each with its own unique design. In terms of performance, they don't really differ from any of the other devices on our list. They can't be recharged, so try not to get too attached to each pod.
Notable Features:
- Fully disposable – similarly to a pack of cigarettes, pods are ready to use from the box (no need for a lighter, too.)
- Activated on inhale, no buttons or switches
- Contains 20mg nic salt e-liquid, provides substantial nicotine hit with every draw
- Attractive design & packaging, plus feels great in your hand.
---
A wide collection of pod mods are available at the Electric Tobacconist vape shop – not just the five featured in this article. With fast delivery, which is free in the UK on orders over £10, we're the one-stop-shop for all your vaping needs.




Published 22nd of October, 2018. Reviewed and updated 25th of January, 2019.