← Back
Electric Tobacconist: The Tobacco Products Directive — Our Opinion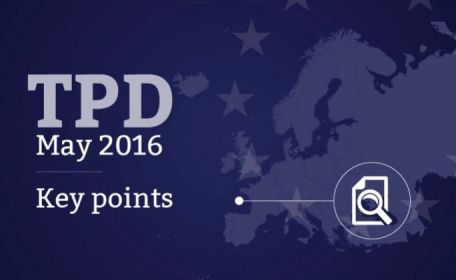 While all of the UK's e-cigarette retailers should be ready for the
Tobacco Products Directive
by now (it will be implemented on 20th May), some consumers are still unaware of the changes that are about to affect the vape industry across Europe. Fortunately, Electric Tobacconist has all the information you need to know. We'll summarise what changes are being made via the TPD legislation, how it will affect vapers, vape culture and the cost of vaping. Finally, we'll discuss what this legislation means for the future of the vape industry — and how other countries could benefit from the example set here in the UK.
A Breakdown of the Tobacco Products Directive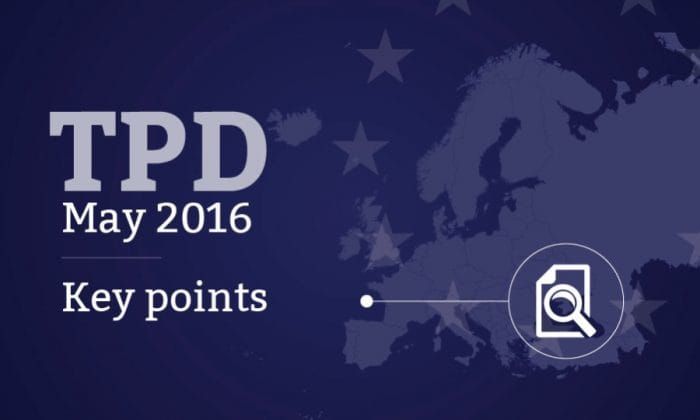 The TPD has been in place since May 2016. Fortunately, here in the UK, retailers have had until 19th May 2017 to implement the
necessary changes
. The major changes that will affect you as a consumer are as follows:
E-Liquid bottles will be limited to a maximum of 10ml (NOT including nicotine-free liquids).
E-Liquid tank capacity has been capped at 2ml (for disposables, cartomizers and clearomizers).
New packaging will warn consumers of the addictive nature of nicotine.
The production of vape liquid cannot include any harmful substances.
E-Liquids will be limited to 20mg of nicotine as a maximum.
E-cigarettes must be resistant to breakage and leakage, and must be easy to refill without spilling any liquid.
All products must undergo systematic compliance testing, overseen by the Medicines and Healthcare products Regulatory Agency (MHRA), which maintains the power to remove harmful/dangerous products from service.
How Does the Tobacco Products Directive Affect You?
While the TPD is not as extreme as the
regulations being enforced in America
by the Food & Drug Administration, it is still going to have an effect on consumers. We predict this will happen in two ways: by limiting convenience and increasing cost. Don't be alarmed; the extent to which your vaping styles will be disrupted seem fairly minimal. Unfortunately, though, if you mix your own vape juice, or use e-liquid with a strength over 20mg, you might need to adapt your taste after 19th May. Convenience is going to be limited by the
reduction of tank sizes
, as well, due in part to the smaller vape juice containers. Smaller tank sizes ultimately mean you need to refill/replace your e-cigarette more often. Not such a worry for disposable/cartomizer e-cigarettes, but it could limit a sub-Ohm vaper. We'd suggest investing in an
e-cigarette carry case
, so you have a safe place to keep your e-liquids while on the move. You could also try nicotine-free e-liquid, as this can still be sold in larger bottles. Because of the new limit to the of size e-liquid containers, the cost of vaping will rise slightly (you can no longer save money with larger bottles). While still remaining a cheaper and healthier
alternative to tobacco cigarettes
, we understand that some vapers might not be able to afford any changes in price. Fortunately, there are a variety of cheap and enjoyable e-liquids available and produced here in the UK — even
e-liquids for as little as £1!
If you only use electronic cigarettes with a nicotine strength above 20mg, you might be surprised how easy it is to reduce the amount of nicotine you require. We realise these products were aimed at people transitioning from traditional cigarettes. However, the
NHS recommends electronic cigarettes
with a nicotine level just below 20mg. It's an achievable goal, even for those used to a stronger vape.
Electric Tobacconist: Our Opinion
Electric Tobacconist's view on the TPD can be explained in two ways. Firstly, we feel that the reasoning behind some of the regulations doesn't make sense. Within this context, it has been frustrating to watch an industry forced to unnecessarily adapt. Regulations that could have a profound effect on
high street vape shops
and online retailers have gifted many of us with sleepless nights. Fortunately, what could have been the most crippling changes to the e-cigarette industry (those
aimed at producers
, not retailers) have been handled in a
very positive way
by the UK government. Furthermore, we embrace any regulations that demand higher standards and more reliable technology for consumers. Hopefully, the UK will continue this considerate approach to vaping. Here at
Electric Tobacconist
, we are firm supporters of developing safe, transparent, economical business practices that help producers and consumers alike. In this sense, we feel the TPD is a step in the right direction. We're glad that Britain can continue to benefit from the use of e-cigarettes.
With a vape pen to suit any taste, Electric Tobacconist's huge store of products will satisfy your vaping requirements. Spend £10 or more and receive FREE delivery today!