← Back
Review of the New NJOY Recharge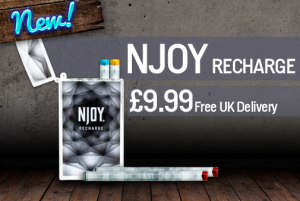 The
NJOY Recharge
arrived at Electric Tobacconist Towers this week and it got us very excited indeed! Whilst much of the market is moving towards the Tank model of electronic cigarette (NJOY are due to launch their own version in the next eight weeks), there is still massive UK market for the 'cigalike' e-cigarette. The 'cigalike' is the colloquial term for an electronic cigarette which looks like its analogue predecessor.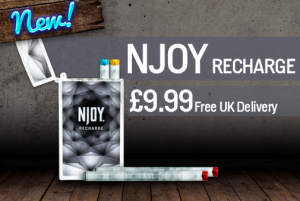 NJOY have had considerable success in the UK and particularly in their home country of the United States with their
NJOY King
e-cig, not least because everything about it broke down barriers from stubborn smokers refusing to even try an e-cigarette. Indeed products such as this are often overlooked as a reason why e-cigs are now so popular. After the introduction of the NJOY King, which looks, feels and tastes so similar to a cigarette, it became an easier transition to move onto products such as tanks and e-liquids, but many people found it hard to make the direct jump. However, we are in danger of writing off the product we are reviewing here, and that would be unfair. As previously mentioned, there is still a market for people who want a small e-cigarette to take out with them, and the NJOY Recharge is aiming to capitalise on this. This brand new rechargeable cigalike product comes in a smart plastic box which is slightly smaller than an iPhone. The look and feel, unlike the NJOY King, does not resemble a traditional cigarette at all, apart from in shape. It is covered in a small grey graphic and the LED lights up white, making it a much easier product to vape in public (yours truly knows a thing or two about being asked to step outside to 'smoke' when using the NJOY King!). Now for the important bit: the flavour. Not only have NJOY released some sweeter alternatives such as Vanilla, but the excellent Bold tobacco and Menthol flavours have carried over perfectly, meaning more people are likely to experience these very realistic flavours. The tobacco flavour in particular is arguably as close as an e-cigarette of its type has ever come to replicating the authentic taste of burning tobacco. To paraphrase Mark Twain, reports of the death of the 'cigalike' have been greatly exaggerated...