← Back
The Ultimate Guide to Starting Vaping
The e-cigarette's origins lie in the heady days of the 1960s, but back then no one was interested. Now, it's a different story, and vaping has exploded in popularity and is helping to keep people off cigarettes and save lives.
These days it's almost impossible to avoid e-cigarettes and the fast-growing world of vaping. It seems as though everywhere you turn there's an image advertising vaping or someone is vaping on the street beside you or another vape shop has popped up in town. Turn on the telly to watch some Formula One and there are now even 
vape ads all over the cars
. Everyone appears to be at it, and especially smokers trying to get off their unhealthy habit and save cash as well as — possibly — their lives. It's quite astounding when you think of it — at least it is to the team here at Electric Tobacconist. Just a few short years ago, almost no one in the UK was vaping, or really had a clue what e-cigs were about, and now around 3.2 million of us are regularly vaping, 
according to a YouGov survey
and analysis of the data by King's College London. We've taken to it like a parched duck to water and it seems we cannot get enough of the many and growing number of vaping devices as well as the incredible array of e-liquid flavours that now range from everything from vanilla to roast beef and lots more. Most people — it should be said — take up vaping because they're smokers and are all too aware of the real risks their use of tobacco poses to their health. The above survey shows that of the current number of British people who vape, more than half have quit smoking while 40% are trying to stop smoking, by using vapes to get their nicotine hit instead. If you're among that group — a smoker who is really trying hard to quit — at the stage where you're considering switching to an e-cigarette but not really sure what it's all about or what you should do, this blog is for you. We're going to look at vaping and how you can make the change — and great improvements to your life.
How Did Vaping Come About?
Vaping might seem something ultra-modern and even hip and cool, but actually, it's been around for quite a while, albeit in dormant form. The story begins back in the early 1960s when a scrap-metal dealer and heavy smoker in the United States came up with a design for smoking without the smoke. Herbert A. Gilbert, of Beaver Falls, Pennsylvania appropriately called his design "the Smokeless" and it came at a time when Americans were puffing their way through an almighty over half a billion cigarettes a year. This era was still the heyday of Hollywood and smoking was frequently glamorised in films — and no actor or actress would be seen dead without a cigarette in their hand, puffing away like a runaway train. [caption id="attachment_1889" align="aligncenter" width="540"]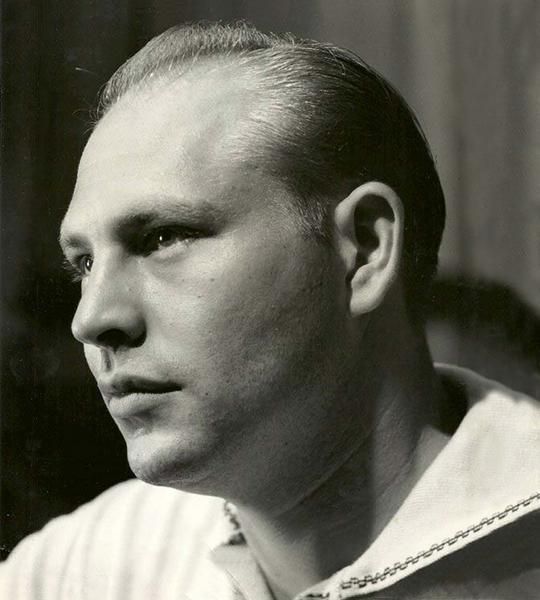 Father of the Vape:
Herbert A. Gilbert developed the first electronic cigarette in the 1960s, but his device was not brought to market, due to a lack of interest among manufacturers. (Photo courtesy of Herbert Gilbert)[/caption] Gilbert's invention was far ahead of the time, however, and despite approaching manufacturing firms to take his idea to market, no one was interested and "the Smokeless" was never developed or given a chance to catch on. Decades later, and on the other side of the world, another man who was also a heavy smoker and whose father had died from a tobacco-related disease, was tinkering with the idea of creating an electronic cigarette that would be better for smokers' health. His name is
Hon Lik
and he comes from Shenyang in northeastern China. And while he successfully brought his design for the first modern e-cig to market in the early 2000s, he later sold his patent to British cigarette giant Imperial Tobacco, for whom he currently works, promoting e-cigarettes around the world. Hon has credited Gilbert, who is now 87, with the inspiration he needed to create and develop his e-cigarette. More than half a century after Gilbert's patent was filed, the global vaping industry has
a projected worth
of around $61 billion, but the only thing the inventor has received
is "the satisfaction of saving millions of lives".
[caption id="attachment_1890" align="aligncenter" width="700"]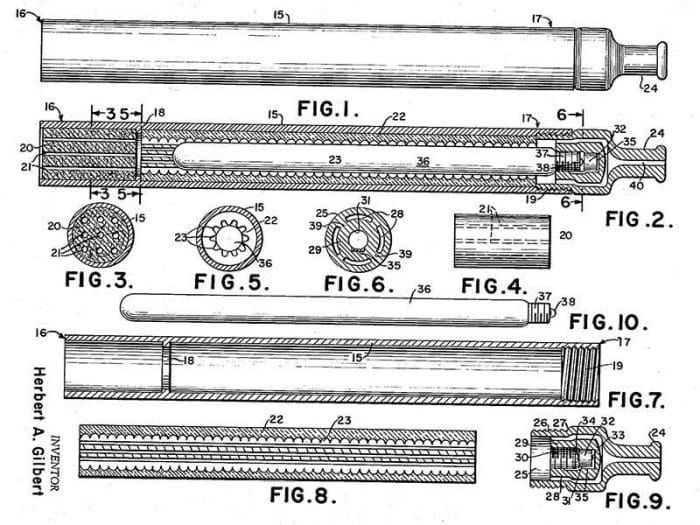 First Vape:
Plans to develop Herbert A. Gilbert's vape design from 1963 went up in smoke. (Image: United States Patent and Trademark Office)[/caption]
E-Cigs Deconstructed
Although the ever-expanding range and types of vape gear may appear perplexing to someone starting out and wondering what the best e-cig is for them, actually they're all quite similar and mostly have the same kind of components — and work in much the same way. The principle of e-cigarettes — from that initial design in the 1960s up to now — is that a battery heats a substance containing nicotine (or none) and a flavour and this is carried via vapour to a mouthpiece from where people inhale it into their lungs and get the satisfaction they need — but little or none of the harm of conventional smoking. Depending on the type of e-cigarette, the e-liquid may be in a cartridge that can be replaced when it runs out or the entire device might be disposable, so when there's nothing left, you just put it in the bin. Many of the more sophisticated models will have a microprocessor to control the various functions, as well as to display information on an LED panel. There may be a switch or button you need to use to activate the battery and get the vaping process going, but not all e-cigarettes have these as some are automatic and start when you draw on the mouthpiece. Most batteries in modern vape gear are chargeable, and vape kits will typically come with the necessary charging cable, which you simply connect to a USB port, such as in a laptop. [caption id="attachment_1891" align="aligncenter" width="700"]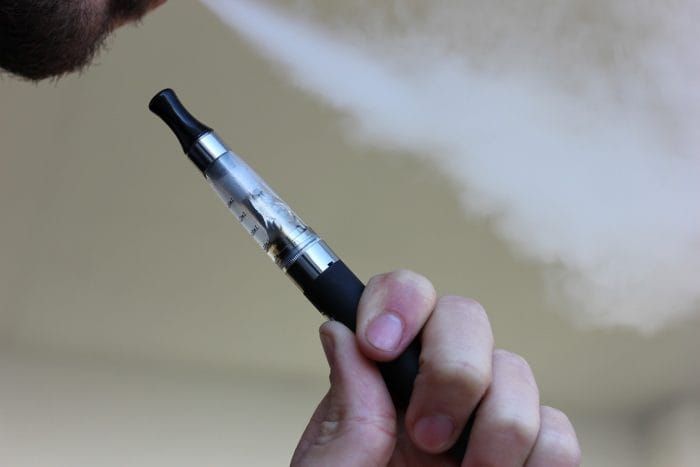 Modern-Day Vape:
The design might look fresh and new, but it harks way back to the Swinging Sixties. (Image by
Lindsay Fox
from
Pixabay
)[/caption]
What's the Best E-Cig for a Novice?
Now that you know something —or a lot — about vaping, how it all started and what it is, it's time to have a look at the best e-cig for the average person starting out — maybe a longtime smoker and wants to quit. How do you know, amid the huge range now available, what's the best e-cig for you? Our advice is to start simple. That way, you're not going to be overwhelmed by more sophisticated or technologically advanced vapes and risk being turned off by them and revert to smoking, because they're too hard to use. Browse the various vape kits at your local vape shop or online vape store and you're sure to find one that's suitable for a beginner and has everything you need — from the e-cigarette to the charger and various flavours and nicotine strengths of e-liquid. Vape kits are also called e-cigarette starter kits and you'll find they probably average around £20 — some a little more, others less — even under £10, if there are promotions on. While the best e-cig for you is crucial in your stop-smoking battle and to help you stay off cigarettes, of equal importance is the level of nicotine in your e-liquid. You may have a great new e-cigarette, in place of your combustible one, but if the strength of nicotine in the e-juice refill is not a match for what you're used to from tobacco, you may encounter problems. Say you're a heavy smoker and easily get through more than a pack a day. Then you switch to vapes but find the nicotine strength too low. You're most likely not going to be satisfied as you won't be getting the kick or rush you're used to, so you might cave in and light up again. Casual smokers — who may only have a cigarette or two at social occasions like family gatherings or parties — should choose low- to medium-strength nicotine in their e-liquids; any higher and they might risk feeling nauseous and dizzy because of too much nicotine.
Vaping Your Way off Nicotine
In the UK and across Europe, e-liquid for vaping is controlled by European Union legislation and currently comes in these strengths: 1-5mg, 6-10mg, 11-15mg and 16-20mg. You can also buy nicotine-free e-liquid, which many people who have never smoked enjoy for the different and exotic flavours. Some people giving up smoking by vaping like to gradually reduce the amount of nicotine in their refills until they're down to none, so e-liquid is a great and relatively easy way to wean yourself off nicotine over a period of time. [caption id="attachment_1892" align="aligncenter" width="700"]

Fruity!:
Many popular e-liquids come in a variety of fruit-based flavours, but it's also important to bear in mind the nicotine content. (Photo: Shutterstock)[/caption] Smokers who have tried vaping and haven't liked it because they weren't getting a high dose of nicotine, might like to try
nicotine salts
. This is a type of base that the liquid is built on and allows for higher concentrations of nicotine to be used — and so is more satisfying for people who have been smoking for a long time. The other usual bases for e-liquids, found in the more usual e-juice refills, are
propylene glycol and vegetable glycerin
.  Each has its own properties — including different viscosities. If you're not sure what you're buying, don't be afraid to ask, whether at a physical store or an online vape shop. And just because you now have a great new vape with e-liquid you love, it doesn't mean you can puff away to your heart's content. This is often a rookie mistake, and it can mean you're taking in way too much nicotine, which can make you feel unwell. So the key is to pace yourself, don't vape nonstop — and enjoy!
Get the best
vape kits
in the UK and across Europe today at the Electric Tobacconist online vape shop. We have a huge range of vape kits for you to explore and find one for yourself — at prices you'll love. Plus, enjoy fast shipping to mainland UK and around Europe, and it's free over certain amounts. Get your vape kit now!