← Back
Why the Tobacco Products Directive is Not the End for E-Cigarettes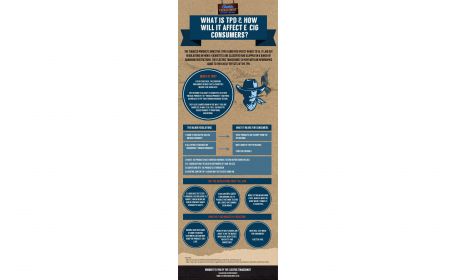 The Tobacco Products Directive (TPD) means that e-cigarettes are now subject to stricter controls and extensive testing — but it's not all bad news.
In 2014, the European Parliament decided that the e-cigarette industry needed to be more tightly regulated. They pushed to change the way e-cigs are classified and, as a result, vaping has a host of new rules to abide by.
The TPD came into effect on May 20th, 2016 and has been met with a mixed reaction. A lot of people think that the regulations will hinder the sales and innovation of e-cigarettes in the UK, but others are more optimistic. The Electric Tobacconist falls into the latter camp: while the details of the directive are certainly questionable, the rules have been set, so it's time to get on with it and keep vaping alive.

An Overview of the Regulations Concerning E-Cigarettes
One of the main regulations is that electronic cigarettes can no longer be advertised to the public. Print, television and online adverts are forbidden.
The size of e-liquid refill containers is now limited to 10 ml, meaning vapers will have to change cartridges more often. Single-use cartridges must not exceed 2 ml, including the tanks of disposable cig-a-likes.
The nicotine content of e-liquid has also been restricted to 20 mg/ml. Those who are using e-cigs to quit smoking may find that this isn't strong enough, so will have to vape more frequently.
One of the things that will affect small e-cigarette companies most is the need for extensive product testing. E-cigs must now provide a nicotine dose at consistent levels, with fewer spikes in nicotine output.
Owners of e-cigarette shops that are worried about having to pay licensing and testing fees need not fret. Only manufacturers and importers of e-cigarette products are required to submit a notification of a new product. The costs of notification are as follows:
Notification fee: £150
Annual Fee: £60
Substantial Modification Fee £80
There was a feeling among some vapers that Britain's vote to leave the EU would put a stop to the TPD regulations. Others disagree, suggesting that if Britain keeps its access to the single market, the rules would still apply to the UK. Regardless of that outcome, the regulations will still be in place during the Brexit negotiation process.
How the E-Cig Industry is Fighting Back
It would be easy for the e-cig industry to roll over and admit defeat by raising prices and reducing innovation, but that's not going to happen. Even now, there are dedicated companies working around the clock to bring out new and exciting products. As is the way with all products, companies will find a way of bringing costs down so the consumer gets the best deal.
A number of new products, including plenty of e-liquids, will be arriving on the market over the coming months. They will all have been rigorously tested, meaning they'll provide an even better vaping experience for the consumer.
The Benefits of the TPD
The Tobacco Products Directive may affect sales of our favourite e-cig brands, such as Vype and KangerTech. It may even reduce product innovation in an industry that prides itself on encouraging creative start-ups. However, the TPD could have some long-term benefits.
The fact that vaping products now require more research and testing means that we'll be inundated with solid facts about e-cigs. More studies like those from Public Health England will help change the perception of vaping, leading more people to ditch tobacco in favour of e-cigs.
We'll also be blessed with safer products, thanks to the extensive testing requirements for new products. Leakages — although uncommon as it stands — will become even rarer. Plus, a steadier flow of nicotine means a better vaping experience.
The Electric Tobacconist is optimistic about the future of vaping and you should be too. Regulations like the TPD might seem unfair and heavy-handed, but the long-term future of e-cigarettes may yet benefit from this ruling.
Don't let the TPD stop you from vaping! The Electric Tobacconist stocks hundreds of e-cig products, from Vype to Innokin. And don't forget — if you spend over £10, you'll get free delivery.