← Back
Vaping Saved My Life [Infographic]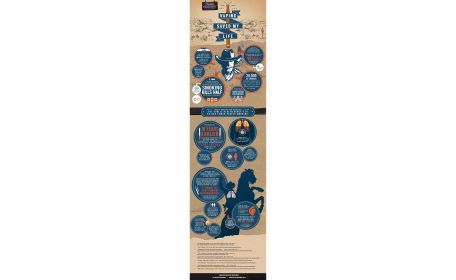 Groundbreaking research out of UCL demonstrates that
20,000 smokers traded their cigarettes for e-cigarettes
in the UK in 2015. It's predicted that at least the same number again will stop smoking thanks to vaping in 2016. In total, the Office for National Statistics has found that 863,000 current vapers are ex-smokers.
Smoking kills about half the people that do it, taking
ten years off the average smoker's lifespan
. But vaping, which contains neither the carbon monoxide or the tar which makes smoking so lethal, is estimated to be around
95% less harmful than smoking by Public Health England
. This is why some scientists consider vaping to be "the greatest public health breakthrough since antibiotics" — we have a real chance to save so many of the lives that are lost to traditional tobacco products.
Our "Vaping Saved my Life" Infographic

It's not just Public Health England who think that vaping has the potential to save lives. The
Royal College of Physicians (RCP) has issued a report saying that smokers should be "encouraged" and "reassured" that vaping
is much less harmful than smoking. They came to three main conclusions on e-cigarettes:
E-cigarettes are not "a gateway" to smoking

E-cigarettes are not re-normalising smoking

E-cigarettes can help smokers quit tobacco completely
Professor John Britton, who advises the RCP on tobacco issues, said that e-cigarettes have the potential to prevent premature death and disease caused by smoking. He went on to stress the fact that even long-term vaping is likely to be nowhere near as harmful as the long-term inhalation of carbon monoxide (smoking).
British Charities Agree that Vaping can Save Lives
Two well-respected charities, the British Heart Foundation (BMF) and Cancer Research UK, welcomed the RCP's findings. Dr Mike Knapton of the BMF said that the
70% of British smokers that want to quit
could try to do so by using e-cigarettes. He said that e-cigarettes are "an effective way of reducing the harm (caused by smoking)".
According to the
Office for National Statistics (ONS), 863,000 current e-cigarette users are ex-smokers
. That's an enormous number of people who have dramatically cut their risk of an early smoking-related death thanks to vaping. In addition, a further 720,000 people have managed to quit both cigarettes and e-cigarettes, showing that vapers are not simply swapping one addiction for another. Since e-cigarettes have become popular, smoking rates have started to fall faster than at any other point in the last ten years.
Vaping Is More Than Harm Reduction - It's a Lifestyle
Put simply, vaping has saved lives. E-cigarette sales (i.e. not just vape kit sales, but sales of associated products such as e-liquids) have outstripped the sales of NRTs (nicotine gums and patches) because not only are they more enjoyable, but they are also more effective. For some, vaping becomes a part of your identity. This is because vaping can be a little intimidating from the outside, so it helps if you have someone who can teach you how things work. In turn, some vapers go on to teach others how to vape and so a community is born. As pointed out by Professor Gerry Stimson, you can go to a growing number of vaping exhibitions and festivals, but you can't go to an NRT fest.
Has vaping saved your life?
Share this Image On Your Site
*E-cigarettes are not tobacco products and they contain no tobacco.
Follow @ElectricTobacco for the latest vaping news and deals.