← Back
Vype Roundup: What Are the Best Vype Starter Kits, Liquids and Refills?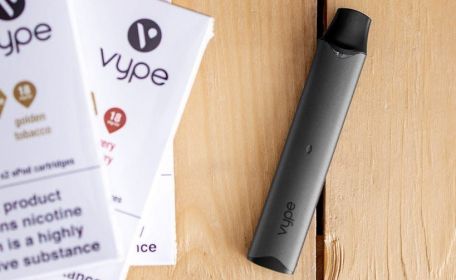 Vype is one of the most well-known vape brands in the vaping scene, but how do these devices stack up? Discover Vype's range of starter kits along with the liquids and refills available in our Vype roundup.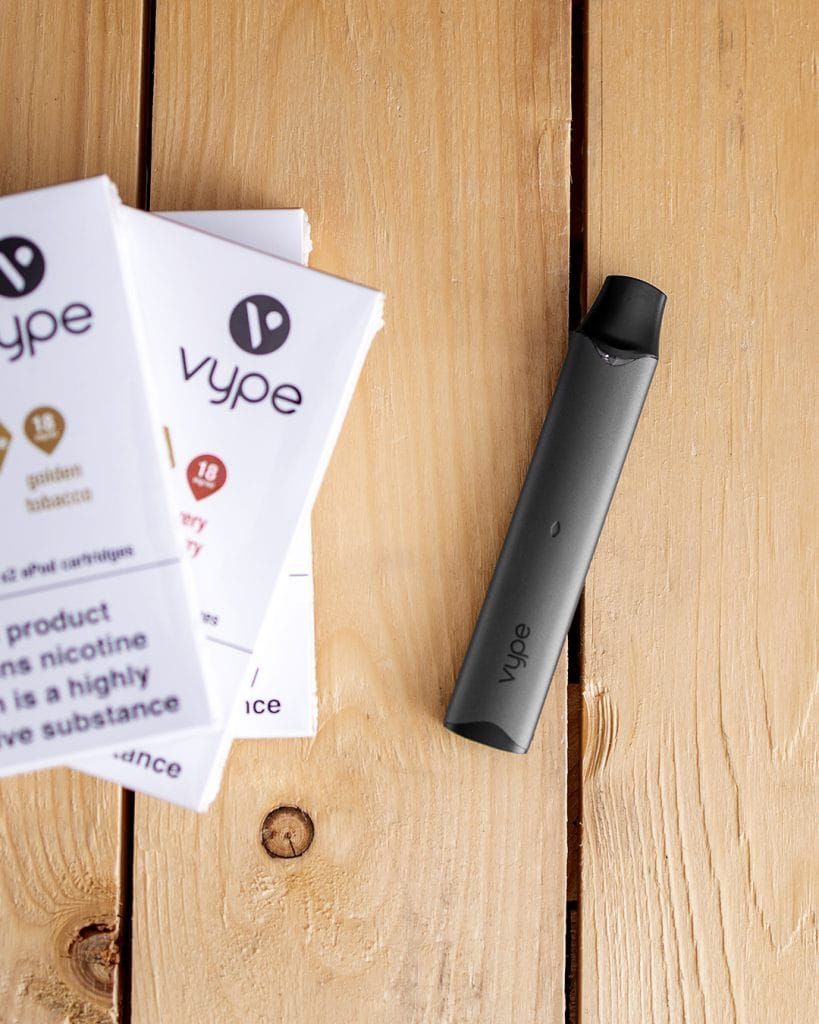 When you're looking to give up smoking once and for all, you might be tempted to try an e-cigarette. You know that vaping is at least 95% less harmful than smoking and that it's great for enjoying all the things you liked about smoking without letting the thousands of harmful chemicals in tobacco into your body, but where do you start? Which device should you buy?

On the other hand, you might be a long-time vaper looking to upgrade your basic kit for something with more flexibility or searching for new e-liquids to try. Whatever your case, long-standing vape brand Vype has a wide range of vape products available, from starter kits and refills to e-liquids you can use in any kit.

Vype Starter Kits
Vype has two flagship starter kits: the Vype ePen 3 and the Vype ePod. Both may look similar, but underneath, there are quite a few differences between these two vapes.
Vype ePod Starter Kit
Pod mods are all the rage right now because they're easy to use and refill and great for on the go, as they're discreet and portable. This pod mod from Vype is a great starter kit that new vapers can "plug 'n' play" — just pop in a pod and you're off!

If you're looking to vape discreetly, there's no need to worry with this pod, which gives you a medium-small cloud and is super quiet (forget about a loud crackling sound with this vape). And at just 105mm tall, it fits as snugly in the palm of your hand as it does your pocket.

There's more to this Vype starter kit than its portability, though. This mouth-to-lung device is perfect for ex-smokers, as it delivers a hit not unlike what you'd get from smoking. This is, in large part, due to its compatible refills, which are made with Vype vPro nicotine salts. Nicotine salts come from the leaves of the tobacco plant and, unlike freebase nicotine, which is the regular nicotine added to other types of e-liquid, nic salts deliver a smoother hit. These are perfect for new vapers using vaping to quit smoking, as the nicotine hit is incredibly similar, and nicotine salts are thought to be absorbed into the body much faster.

The Vype ePod starter kit is compatible with its vPro nic salts pods, with each containing 1.9ml of juice (more on that below!). There are no buttons to press with this draw-activated kit: just click in a pod, inhale and go! With its 350mAh battery, you'll get around 190 puffs from a full charge — more than enough to take you through your day.

Vype ePen 3
The third iteration of the popular Vype ePen, this Vype starter kit is a whole new take on a classic pod mod. The ePen 3 has a bigger battery than the ePod, so if you're looking for a vape that can comfortably take you through the day and beyond, this 650mAh battery will do it.

The Vype ePen 3 may be compact, but that doesn't mean it compromises on performance. Operation is easy: just slot in your chosen pod and once it clicks in place, you're ready to go. If you're currently using a starter vape and looking to upgrade to this easy-to-use pod mod, you might be familiar with holding down a fire button to vape. Using the Vype ePen 3 is no different, while turning the device on and off is done with just three clicks in quick succession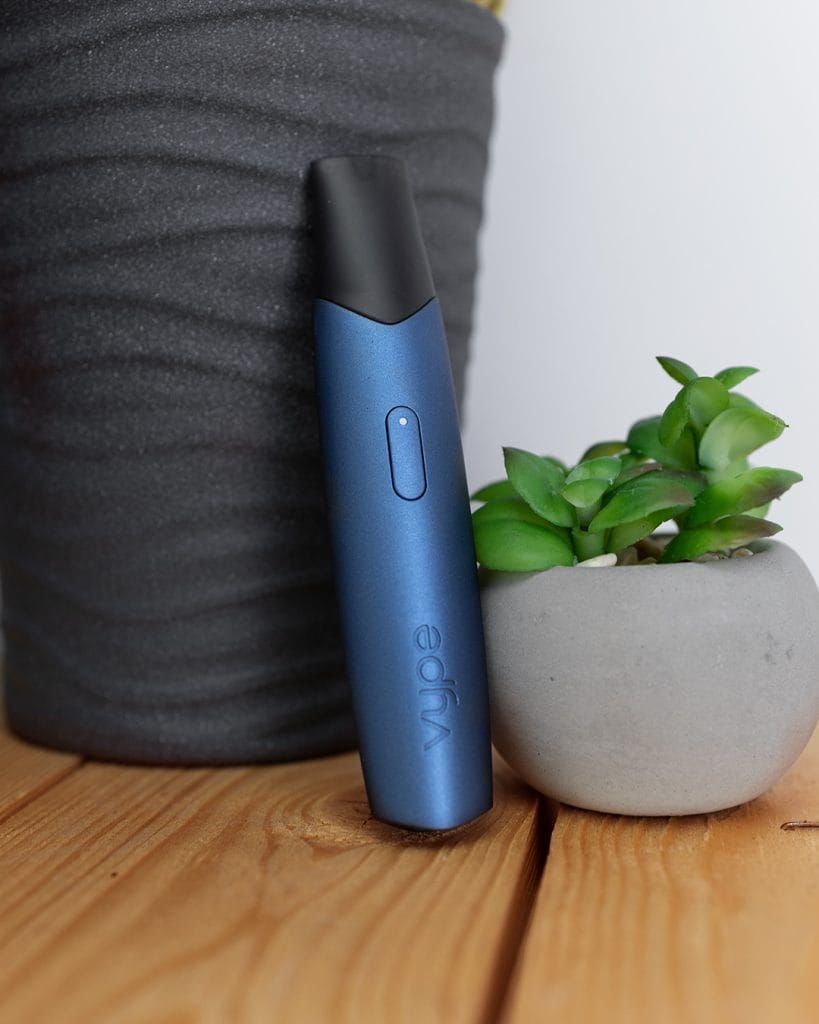 One of the biggest draws of this Vype starter kit is the ability to swap pods on the go. While tank systems offer incredible flexibility and control, if you want to try a new flavour, you need to vape the e-liquid in your tank before you can top up. With the ePen, if you're fed up with tobacco and want to vape a fruity tropical mix, all it takes is a quick switch. And, as the liquid is pre-filled in the leak-free pods, there's no need for messy refilling on the go.

When it comes to the pods themselves, Vype offers a wide range of flavours to suit everyone, whether you like traditional tobacco or menthol flavours or fancy trying a fruity vape. Each pod contains 2ml of e-liquid — only 0.1ml more than the Vype ePods — so if you're hovering between these two Vype starter kits, there's not a lot in it when it comes to liquid capacity.

When deciding between the Vype ePod or ePen 3, your choice will ultimately come down to battery life, the flavours you want to vape and whether you prefer a wider range of nicotine salts e-liquids.

If you're leaning towards the ePen 3 but you don't want to sacrifice the intense hit that comes from nic salts e-liquid, you do have a third option: the ePen 3 vPro, which comes with two nicotine salts pods so that you can enjoy the smooth throat hit and authentic nicotine buzz from the moment you switch on your new vape.

Vype Refills: What Flavours Can You Get?
So you've settled on either a Vype ePen 3 or the ePod, but what pod refills can you get? Vype has a wide range of flavours available, depending on your Vype starter kit of choice.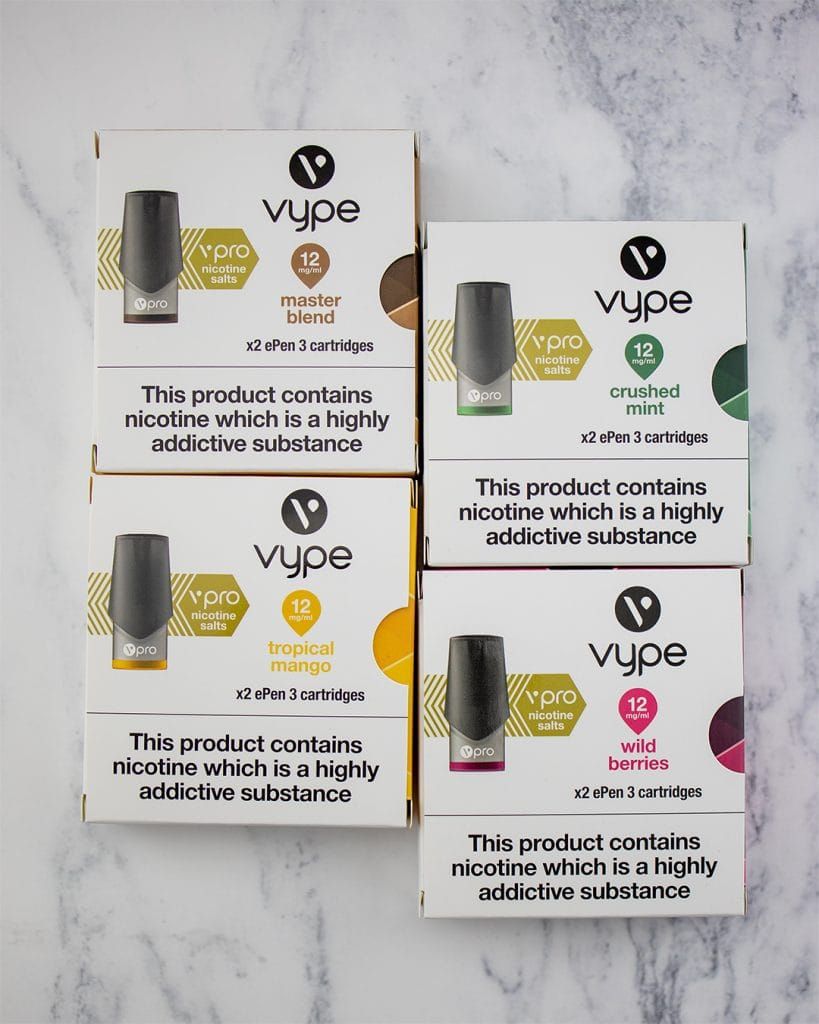 Vype ePod
Every ePod in the Vype range contains nicotine salts, giving you a variety of flavours with a smooth throat hit you'll love. Here's a rundown of our top ePod refills, each available with 12mg and 18mg of nicotine:

Golden Tobacco: Get around 275 puffs from each pod packed full of dry-smoked American tobacco with a hint of golden caramel. With this full-bodied flavour, you'll get the smokiness of tobacco along with a honey-like sweet finish.

Very Berry: This Very Berry ePod is a sweet infusion of red, purple and black forest berries followed by a syrupy sweetness and finished off with a slight sourness. This juicy vape will take your taste buds on a rollercoaster as you cycle through the different taste sensations.

Vanilla Medley: Vanilla Medley is a delicious combination of vanilla, honey and cinnamon, perfect for a milder all-day vape. Like all Vype ePods, this is compatible only with the Vype ePod starter kit.
Chilled Mint: If you can't get enough of mint and menthol, you'll love Chilled Mint, which combines peppermint and menthol for an icy-cool vape that you'll feel on your tongue long after exhaling.

Tropical Mango: If you're looking for an intense vape flavour that perfectly complements the nicotine salt base, Tropical Mango more than delivers. This sweet mango e-liquid isn't sickly or sour, so even though you can swap out your pod whenever you like, it's unlikely you'll want to!

Garden Strawberry: Every puff of the Garden Strawberry ePod delivers the authentic sweetness of freshly picked strawberries. Your mouth will be watering for more with this crisp and juicy summer vape you can enjoy all year round.

Vype ePen 3
The Vype ePen 3 has such a wide range of pods available that they deserve a blog post of their own, so we've rounded up our top picks from each flavour profile. Whether you stick to classic flavours, you like something fruity or you're after the perfect after-dinner dessert vape, you'll find the right ePen 3 pod for you.

Tobacco: Choose Master Blend and get 200 puffs of authentic dry-roasted tobacco with an undertone of mixed spice. If you're looking to add an extra something to your tobacco vape, you'll love Rich Tobacco, which takes Vype's signature tobacco blend and adds a dollop of luxurious cream for a tasty all-day vape. Infused with nicotine salts, both of these flavours guarantee a smooth, satisfying vape.

Menthol: We love all the menthol and minty offerings for the Vype ePen 3, but we especially like Vype's Crushed Mint pod, which puts a refreshing spin on the classic menthol blend by combining a cool blast of peppermint with sweet and creamy vanilla.

Fruity: When it comes to picking a fruity vape, you're spoiled for choice. Pick Honeydew Splash for the sweetness of honey combined with a mellow bite of melon, or choose Peach Swirl for a floral and sweet peach blend that smells as good as it tastes.

Dessert: Why vape Coconut Panna Cotta just for dessert when you can vape it all day? This luxurious vape is silky smooth and so creamy that you won't want to put it down. Enjoy toasted coconut and vanilla topped off with a sprinkling of brown sugar.

Spicy: Straddling the line between fruit, dessert and spice, Vype's Baked Apple pod is a blend of green apple, golden biscuit and cinnamon. Our reviewers say it's just like vaping an apple pie — it doesn't get much better than that.

Vype E-Liquids: A Wide Range of Choice Whatever Your Favourite Flavour Profile
You might not be able to refill the pods that come with Vype's starter kits, but that doesn't mean you can't enjoy the fruits of Vype's labour. Vype has earned its reputation as one of the best vape brands through years of investment into creating the best possible vape.

If you're frequently topping up your vape tank, clearomiser or refillable pod mod with bottles of the same e-liquid, Vype opens a whole world of new vaping flavours to you.

Vype e-liquids range from sweet tobacco infused with nic salts to wild and wacky flavours like Smoked Whiskey, which boasts an oak-aged whiskey base with subtle notes of vanilla, and Tequila Sunrise, a juicy blend of tequila, orange and pomegranate inspired by the fruity cocktail.

If these boozy blends don't take your fancy, you might enjoy Apple Custard, a dessert vape combining cinnamon apple and baked biscuit with vanilla and toffee, or Banaberry Blend, a fruity vape mixing banana with strawberry and tying it together with a subtle hint of vanilla.

Whatever your situation, whether you're shopping for your first starter kit or looking for a new e-liquid to tickle your taste buds, Vype offers it all.

Looking to get vaping with a Vype starter kit or looking for the best flavours for your pod mod, vape pen or box mod? Shop Vype e-liquids, vape kits and refills at the Electric Tobacconist store. Get multi-buy discounts on Vype refills, three for £10 deals on Vype e-liquids and free delivery on all orders over £10!