← Back
Why the Tobacco Products Directive Can't Stop The £1 E-Liquid Market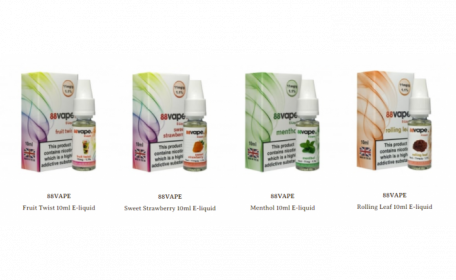 As most people are already aware, the
Tobacco Products Directive
(TPD) came into effect during May of this year. While everyone in the industry was apprehensive of the damage it could have caused, it's still quite unclear as to what the fallout will be.
Recent statistics
suggest that the global electronic cigarette market is set to reach over £34.2 billion within the next seven years, rising from £4.7 billion in 2016. It's difficult to imagine that that the UK's electronic cigarette market is going to shrink anytime soon, even with the TPD changing the game. We predict that these new market regulations will have little long-term effect on electronic cigarette trends, but we'll have to wait and see.
One area in particular that was estimated to be greatly disrupted by the TPD was the £1 e-liquid market. Because of the cost of registering every flavour of £1 e-liquid with the
Medicines and Healthcare products Regulatory Agency
(MHRA), the profit margin would be reduced and make these successful products a non-viable business. However, it seems that because of their popularity, brands like
88Vape
have weathered the storm and are still producing their much-loved £1 e-liquid range.
The Importance of the £1 E-Liquid

£1 e-liquid is significant for two reasons. Primarily, this is due to the fact £1 e-liquid is just so cheap! Because of its low price, £1 e-liquid is a great way to try vaping for the first time in a financially risk-free way. You don't have to spend much money to be able to try out a few flavours, so you can really see if vaping is for you without breaking the bank.
£1 e-liquid is also important in allowing anyone to quit smoking. This is one of the
most important roles of electronic cigarettes
; they are, first and foremost, a cessation device for those smoking tobacco cigarettes. Even if you had a very low cigarette consumption and only spent £10 a week on smoking, £1 e-liquid could still offer you a cheaper alternative.
In fact, £1 e-liquid should be better supported as an essential tool for those looking to quit smoking. Any young industry can be seriously damaged by regulations, as it can be difficult to gauge the effects they have. We hope that the government considers this the next time they make any decisions regarding the future of the £1 e-liquid market.
The Best E-Liquids of 2017
Of course, the popular £1 e-liquid is actually only a small percentage of the entire e-liquid market. With such a variety of flavours, it can be quite difficult to find your favourite. This is why we've developed a comprehensive list of all the
best e-liquids 2018 has to offer
. Hopefully, this will give you useful insight into what to look for when buying your e-liquids and — for those of you who are new to vaping — a better understanding of what goes in your e-liquid.
E-liquids don't just serve to produce delicious vapour for you to enjoy; they can also help in the act of quitting smoking. Because of the variety of flavours available, e-liquids can even help with
binge eating and other cravings
that often form when you quit smoking tobacco cigarettes.
We are very lucky that electronic cigarettes have provided us with such an effective tobacco cessation device. In fact, more than half of the UK's 2.9 million electronic cigarette users
have quit smoking cigarettes completely
. If you know someone who hasn't tried an e-cigarette yet, make sure they do — and get them started with some tasty £1 e-liquid!
Regardless of how long you've been vaping, the
88Vape range of £1 e-liquid
is sure to get you raving about its great flavour and value. Spend £10 today and get FREE delivery!