← Back
World No Tobacco Day: Breathe Easy with Vaping!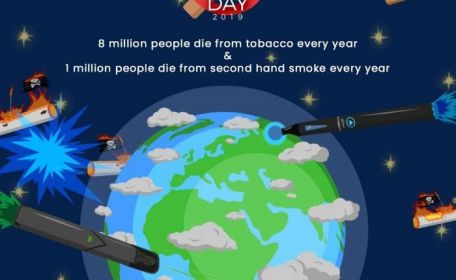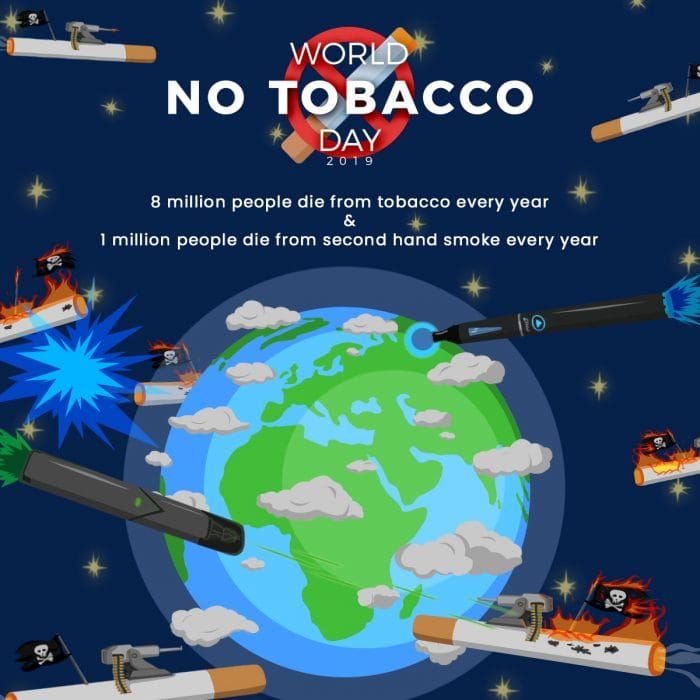 Today is World No Tobacco Day.
Tobacco kills one person every 4 seconds. As a substance, tobacco is thought to account for over 8 million deaths every year, making up a significant percentage of all global deaths.
If a disease was spreading and causing this many deaths a year, it would be a top priority to eradicate it as quickly as possible. Fortunately, the World Health Organization (WHO) has taken the mantle and launched a huge campaign to inform people about the risks of smoking tobacco.
A quick reminder: the dangers of tobacco stem from the hundreds of chemicals it contains. While it is an addictive substance, nicotine alone is not a carcinogen.
The purpose of this post is to inform you of the dangers of smoking as well as the numerous advantages of quitting - a task which is becoming easier thanks to e-cigarettes!
The Facts
If you smoke, you are:
2-4 times more likely to develop Coronary Heart disease, 2-4 times more likely to suffer from a stroke and 25 times more likely to develop lung cancer (than the average person).
Statistically less fertile than the average person, and your baby is less likely to be healthy upon birth.
At greater risk of developing oral hygiene issues, including gum disease and tooth loss.
More likely to suffer from stress and mental health issues, including anxiety and depression.
All of that may sound scary, but can easily be avoided (and often reversed!) with one simple change: stop smoking!
From the moment you put down your last cigarette, you begin to get healthier. After 5 years of being smoke-free your chances of contracting most of the above ailments drops significantly. Research suggests you're also more likely to feel happier!
In the spirit of World No Tobacco Day, we're pushing to help smokers quit for good. Vaping has been found to be the most effective way of abstaining from cigarette smoking. Happy days!
So where should you start?
You'll want to buy a device that is designed to have a reasonably high nicotine content; this way you'll keep your cravings at bay.
Many find emulating the look, feel and taste of a cigarette is effective in their journey to being smoke-free. If that sounds up your street, check out the Hoxton Classic!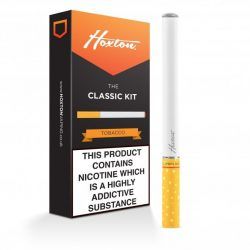 Shop Hoxton Classic >
You may want to steer away from the cigarette look with a device that has a sleek feel and features brand new technology. If so, check out the HEXA Pro: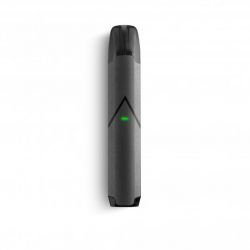 Shop HEXA >
With thousands of flavoured e-liquids available, a refillable kit can be an excellent way of sampling the best - sweet coffee blends, punchy fruit flavours and smokey tobacco offerings are yours for the taking with the Caliburn pod mod: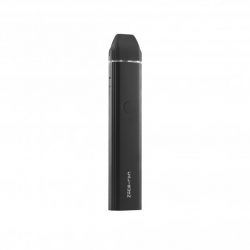 Shop Caliburn >
We love to hear your stories of how you quit smoking with our help, and we'd love even more to hear that you've helped a friend do the same. To make this easier we offer a 10% discount for you and a friend that you refer to shop with us. Find out more about how this works by
clicking here
.
References:
https://apps.who.int/iris/bitstream/handle/10665/312260/WHO-NMH-PND-2019.3-eng.pdf
https://www.cdc.gov/tobacco/data_statistics/fact_sheets/health_effects/effects_cig_smoking/index.htm
https://www.nhs.uk/live-well/quit-smoking/stopping-smoking-mental-health-benefits/