← Back
10 Best Vape Pens for Every Type of Vaper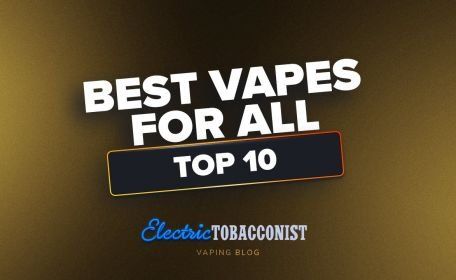 Looking for a great vape pen? No matter what kind of vaper you are — and even if you're just starting — we've got you covered.
Vape pens are a great choice for every kind of vaper because they're relatively simple, easy to use, and you can carry them around with no trouble. They're particularly good for people who have quit smoking and transitioned to vaping because they give you the same kind of tactile feel you get from holding a cigarette.
Vape pens are popular because they have an intuitive shape and are easy to just slip into a pocket, and you can use almost any type of e-liquid with them, as most are compatible with the various kinds of vape pens.

The newer models that have recently come out can be customised with various settings, of the kind found on more expensive box mod devices, including wattage and airflow, but for a much lower price. Plus, vape pens have a moderate to large battery life, so you'll at least get a day's vaping before having to recharge.
There are lots of amazing vape pens on the market, and we stock many of the best here at Electric Tobacconist. We've compiled this list of the top 10 vape pens we sell that are incredibly popular with our customers. If you're using a different type of e-cigarette, you might like to try one of these. If you're new to vaping or considering taking it up and you're not sure what to buy, our guide will help you choose.
Contents:
10 Best Vape Pens for 2020
1. VAPOURIZ FUSE
and HOXTON Original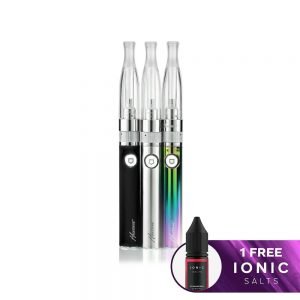 We're combining these two in joint first place because they're both vape pen classics, similar in design, style and function. They're ideal vape starter kits for those new to vaping as they have everything you need to get you started with no fuss.
Both have a simple one-button turn-on, for instance, and both have high-quality clearomisers (or "tanks") that are easy to fill with your favourite e-liquid. Each has a 650mAh battery, which is enough to get you through about a day of vaping, depending on how much you vape.
The FUSE and the Original are designed to last for ages and, with a 10-second cut-off built into both devices (along with short-circuit protection), you won't have to worry about them malfunctioning.
BUY YOUR VAPOURIZ FUSE OR HOXTON ORIGINAL NOW
---
2. INNOKIN Endura T18 II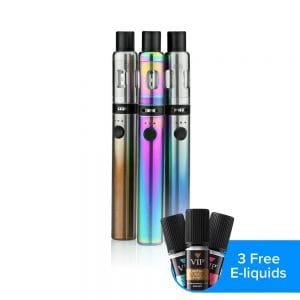 This awesome vape pen is well named because it clearly does endure. The Endura T18 II is the successor to the popular T18E and comes with lots more great features packed in. It includes customisation options that you don't normally find in other vape pens, due to its simple design.
You get a four-point adjustable airflow that lets you set how much vapour you'd like to inhale on the draw. You also get three wattage settings, a tank with ample 2.0ml capacity and a hefty 1300mAh battery that will keep you vaping for a full day and beyond. It's also available in a mini-version with almost all the same great features!
GET THE INNOKIN ENDURA T18 II
---
3. INNOKIN Go S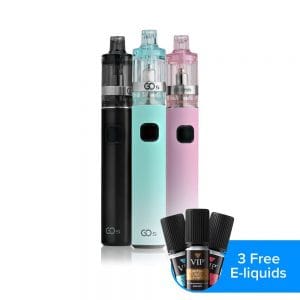 Love your vape but don't care for coil changes? Then the INNOKIN Go S vape pen starter kit is for you. The 2ml tank is disposable, so you don't need to worry about swapping out coils. You also don't have to concern yourself with complicated settings because this simple yet powerful vape pen is designed for ease of use.
The starter kit comes with two Go S tanks, and you can order a few more so you don't run out. It's powered by a 1500mAh battery that's more than enough for a day of vaping before having to recharge. You'll enjoy a constant 13W output that delivers a sublime vaping experience. It's the best of the pod mod and vape pen worlds.
ORDER THE INNOKIN GO S
---
4. ASPIRE PockeX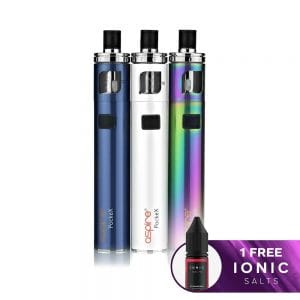 This is one vape pen that's been around for a while and is certainly tried and tested — and beloved — by all kinds of vapers. A popular all-rounder, the ASPIRE PockeX is compact, powerful and simple to use, making it the perfect vape pen for those vaping for the first time.
The 2ml tank is filled from the top and has a simple coil replacement feature so that you don't need loads of technical knowledge about how to swap out coils. It's also designed to be leak-resistant, giving you peace of mind that e-liquid won't seep out and ruin your pockets. The 1500mAh battery is more than enough to get you through the day, and this discreet vape pen comes in five lush colours.
BUY THE ASPIRE POCKEX
---
5. SMOK Nfix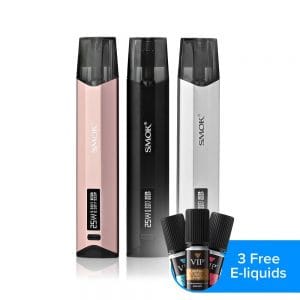 Getting your vaping fix doesn't come any better than with the SMOK Nfix: a mouth-to-lung device that's technically a pod mod, but can also be classed as a vape pen. It's designed to be highly durable so that it lasts longer than other pod mods, and the 700mAh battery recharges faster.
What we like about the Nfix is that you can choose your wattage by just clicking the power button three times. We also like that it's a refillable pod mod that comes with two Nfix Pods with an 0.8ohm coil that gives great flavour and a smooth vaping experience. Filling the tank couldn't be easier — just place your e-liquid bottle into the slot and you're all topped up and good to go.
BUY THE SMOK Nfix
---
6. NZO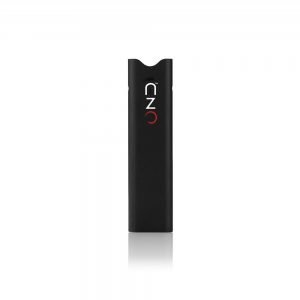 Relatively new to the vaping market is the cool-looking NZO, which is also technically a pod mod, but we include it in our vape pens list because it's simple and designed for ease of use. It's a next-generation pod mod and the mods contain 1.75ml of e-liquid that's based on nicotine salts to give you a fast and enjoyable hit in a range of delicious flavours, including fruit, menthol and cucumber. Just switch out the pods when one runs out.
The 400mAh battery provides enough power to let you vape all day. To start vaping, you just draw on the device. It really couldn't be any simpler, stylish or enjoyable — another great choice for people looking for their first vape.
GET YOUR NZO NOW
---
7. Vuse ePen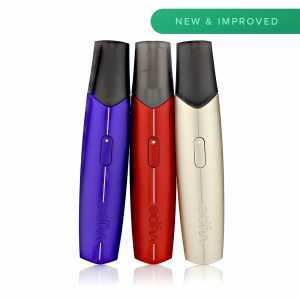 The ePen 3 from Vype (now Vuse) is among the top-rated vape pens that our customers buy and for good reason as it's an upgrade on previous versions of this great vape kit. The new and improved functions include faster charging time for the 650mAh battery that's now 90 minutes — half an hour quicker than the original ePen.
There's also an intelligent LED that tells you what the battery life is after each puff. Overall, the look and feel of this highly popular pod mod has been improved, so it's sleeker and more attractive. The pods, which come in over 20 great flavours, are plug-and-play and are not included in this vaping starter kit, so you'll need to order separately.
PURCHASE THE VUSE EPEN
---
8. BLU Pro Starter Kit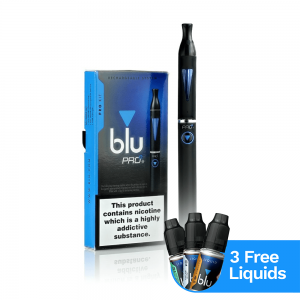 This is also a top choice for people searching for their first e-cigarette, as well as for seasoned vapers — and it's one of the bestselling e-cigs in the UK today. The Pro is activated by just pressing the button, and you'll know how much power is left in the 1100mAh battery as it's indicated by five LED lights at the base of the device. If you see just one light, it means you have around 20% power left and you'll soon need to recharge via the USB cable that's supplied. Charging is fast, taking around two hours.
There's lots of protection built into this little vaping beauty including a 10-second cut-off so that burnt coils can't be activated accidentally. The tank is fully replaceable, so you don't need to change coils and it comes with overcharge protection, so you'll get lots of life out of your sturdy BLU Pro Starter Kit.
BUY YOUR BLU PRO STARTER KIT
---
9. VYPE X McLaren ePen 3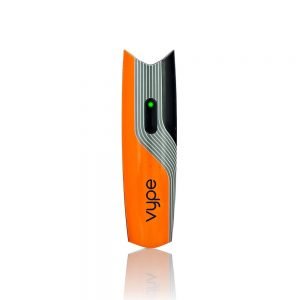 Astounding design and functionality are the hallmarks of the VYPE X McClaren ePen 3, which — again — is actually a pod mod. It's also an excellent choice for those of you looking for a solid, reliable and high-performing vape pen. It will fit comfortably in your hand and pocket, and the sleek and attractive design is based on Formula One racing — letting you truly rev-up your vaping.
The device houses a 650mAh battery, which has enough power to allow you to vape all day and to generate lots of delicious vapour. The pods are plug-and-play, so there's no messing around with refills or trying to remove tricky tanks and install new ones. They're not included in the kit, however, so you'll need to order ePen 3 pods separately.
SHOP VYPE (NOW VUSE)
---
10. LOGIC Pro Kit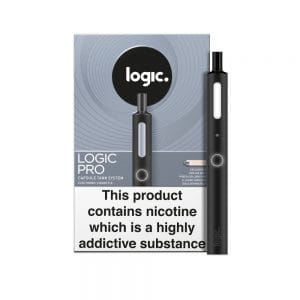 Another stellar choice for all kinds of vapers — new and experienced alike — is the LOGIC Pro Kit, which has everything you need to get vaping, easily and in a flash. It's a vape pen built around pod mod technology so that you can enjoy the benefits of both devices in one. Pressing the activation button five times in a row gets you going, and you'll get around a day of vaping from the 650mAh Lithium-ion battery before having to recharge, which takes around two hours.
The Pro has interchangeable capsules — or pods — located between the battery and the mouthpiece, and a little window lets you see how much e-liquid you have left before having to swap out the capsule for a new one. The pods are also not included with this device, so you'll need to buy them at the same time you order this vape pen.
GET YOUR LOGIC PRO KIT NOW
---
Looking for more vape pen inspiration? Check out our extensive range — some come with three FREE e-liquids — and order a great new vape pen today!