← Back
What Are Bar E-liquids? The Latest Vaping Sensation, Explained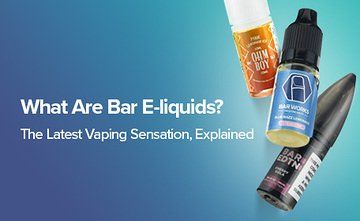 It's no secret that 2022 was most definitely the year of disposable vapes. From Elf Bar and Crystal Bar to Elux and IVG Bar, almost all vapers indulged in this surging trend and the exquisite tastes on offer.
However, this year, consumers realise that disposables are costly, considering how long they last. So the vaping industry put their thinking hats on to devise a cost-efficient alternative - Bar e-liquids. The exact naming of this e-liquid type varies, as the industry as a whole is yet to settle on a fixed term, so look out for any naming that refers to 'bar style' or mentions double or twice the flavour.
Now, you're probably wondering what I'm talking about, so allow me to explain. Bar e-liquids offer the same flavours, intensity and concentrates found in disposable vapes, enabling you to enjoy a similar vaping experience without constantly spending so much money on replacing disposables every so often.
Thanks to this much-needed invention, you can now enjoy disposable flavour profiles that were never found in e-juice, such as Blue Razz Lemonade and Kiwi Passionfruit Guava, in an e-liquid format with a refillable vape kit.
What Are Bar E-liquids?
The word "Bar" is synonymous with the term "disposable bar"; therefore, it just means that the e-liquid flavour is the same as its disposable vape counterpart.
Bar e-liquids contain a 50/50 nicotine salt formula. Furthermore, the same concentrates in disposable vape juice are added to bar e-liquid, resulting in the same intensity and taste sensation.
If you need clarification on what nicotine salts are, they are essentially a nicotine formula that naturally forms in tobacco leaves. Nicotine salts provide a smooth inhale with a fast-acting rush, making them the most efficient juice type to deliver nicotine to your body.
Cons Of Disposables
Cost
As a disposable contains 2ml of e-liquid per bar, one 10ml bar e-liquid is equivalent to five disposables, per the diagram below. As a result, you get much more mileage out of a single e-liquid bottle, and for a much lower cost.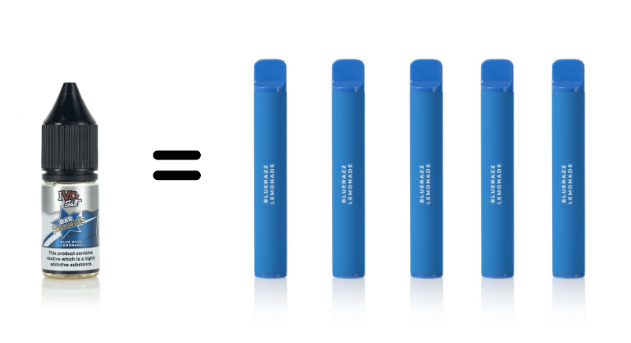 Therefore, what might appear to be a great deal at just £4-6 per disposable vape - considering how often you need to replace these - is much more costly than refillable vape devices that are designed to be reused. Yes, the initial investment might be a little more, but if you exclusively use disposable vapes, a refillable kit will pay for itself several times over in only a few weeks. Think of it like a Rail Card - the upfront cost might be off-putting but the money you're saving on a daily basis quickly adds up.
Environment
Due to the popularity of vape bars, you will stumble across disposable vape waste and packaging anywhere you go.
As most of these products contain non-recyclable materials, it leads us to ponder how this can impact the environment, especially when climate change is becoming such a big crisis.
By buying a refillable kit with bar salts, you'll be cutting down on the amount of single-use plastics and batteries that you inevitably send to landfills, and you'll be contributing to the increase of a healthy environment. In addition, as the volume of materials used to make a Bar e-liquid bottle is significantly less and can be reused for other purposes once the e-liquid has run out, contributing to the reduce, reuse and recycle incentive.
What Devices Can I Use With Bar E-liquids?
You can use these e-liquids in any device; however, the most compatible kits are those suited to mouth-to-lung vaping: vape pens and pod systems. The reason is that nicotine salts are available in higher strengths and have a 50/50 PG/VG ratio, which can be too harsh for chunky box mods designed to generate big clouds. Bar liquids provide a smooth and potent draw even in low-power kits.
Elf Bar Elfliq
Elfliq juices are one of our top-selling brands of Bar e-liquids. The flavours are inspired by the Elf Bar 600 disposable range, and in some cases are exact replicas. These include:
Blueberry
Watermelon
Spearmint
Pink Lemonade
Pink Grapefruit
Kiwi Passionfruit Guava
Elfbull Ice
Cream Tobacco
Cotton Candy Ice
Blue Razz Lemonade
Blueberry Sour Raspberry
Apple Peach
I've decided to try out the flavours and rank the best three. Hopefully, this is a helpful guide for you to start your bar e-liquid journey.
Pink Grapefruit
In third place, I've ranked Pink Grapefruit. This juice pleasantly surprised me as I thought grapefruit had a much sharper and citrus taste; however, this flavour was pleasantly sweet with a rich and floral finish. Although the tang was still present, Elfliq balanced it well with the other undertones of sweet fruit and mild menthol, making it the ideal all-day vape for all fruit fans.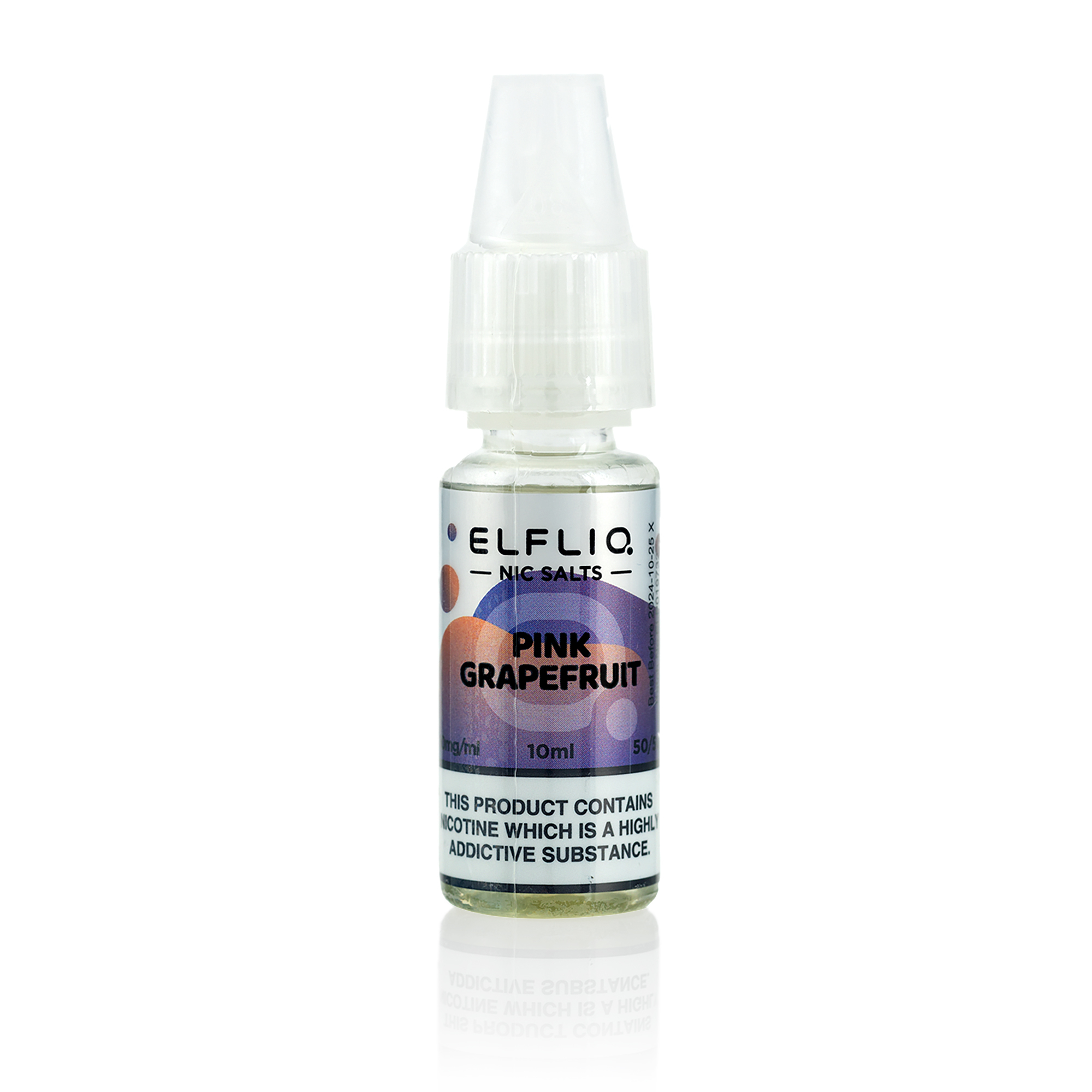 Blue Razz Lemonade
In second place comes Blue Razz Lemonade. The e-liquid version of this flavour is much sweeter and more inviting than the disposable version. Citrusy lemonade notes are infused with rich blue raspberries to create a sweet and sour taste that delivers the best of both flavour groups. I noticed when I would vape this flavour in a disposable, the taste would diminish towards the end of its life, whereas I don't have to worry about this happening as it's an e-liquid.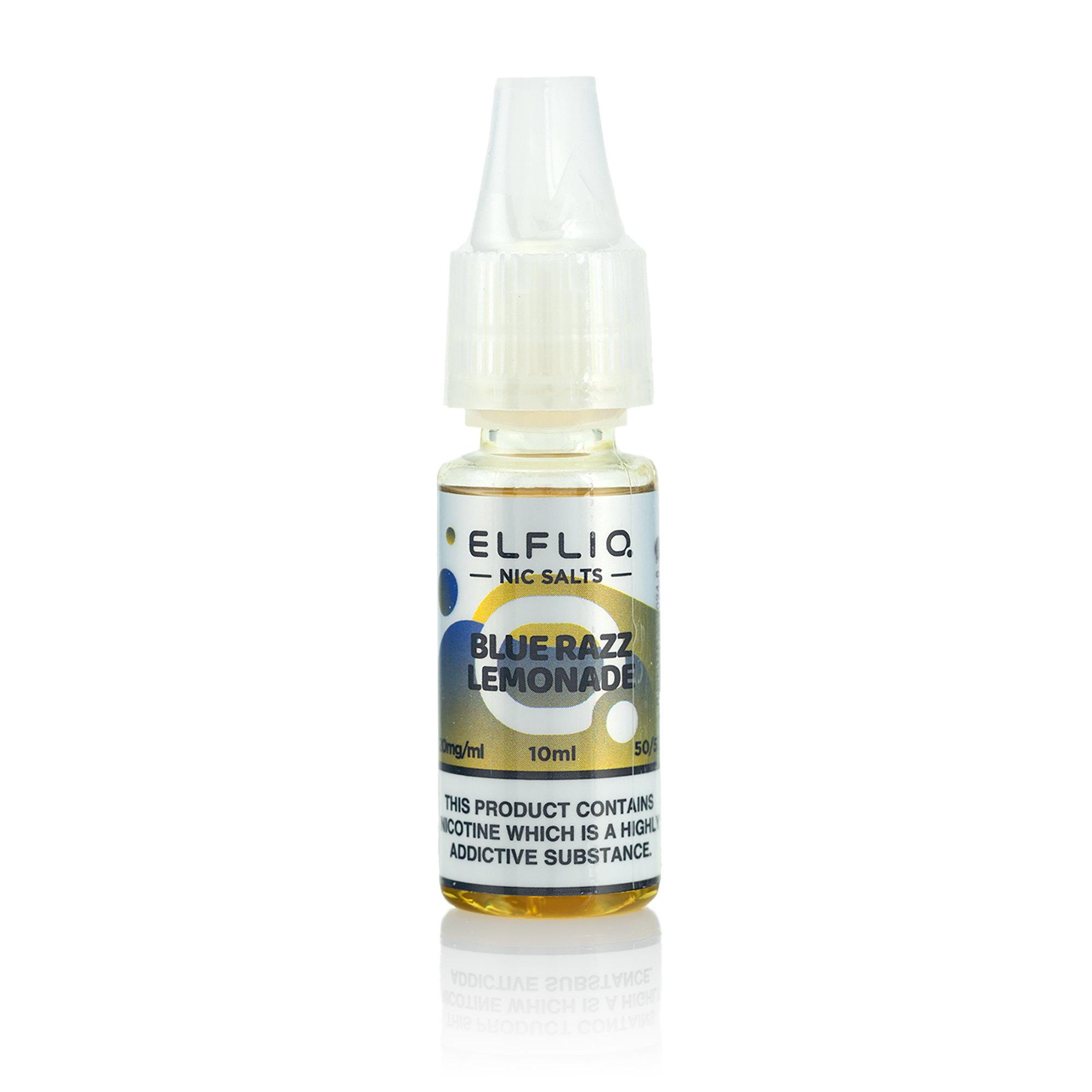 Pink Lemonade
In first place, I ranked Pink Lemonade. I know what you're thinking - I couldn't have picked a more basic flavour. So many vape brands offer Pink Lemonade, but only a few do it right. Elfliq is one of the brands that captured the essence of a tasty Pink Lemonade flavour and perfectly replicated everyone's favourite summer beverage.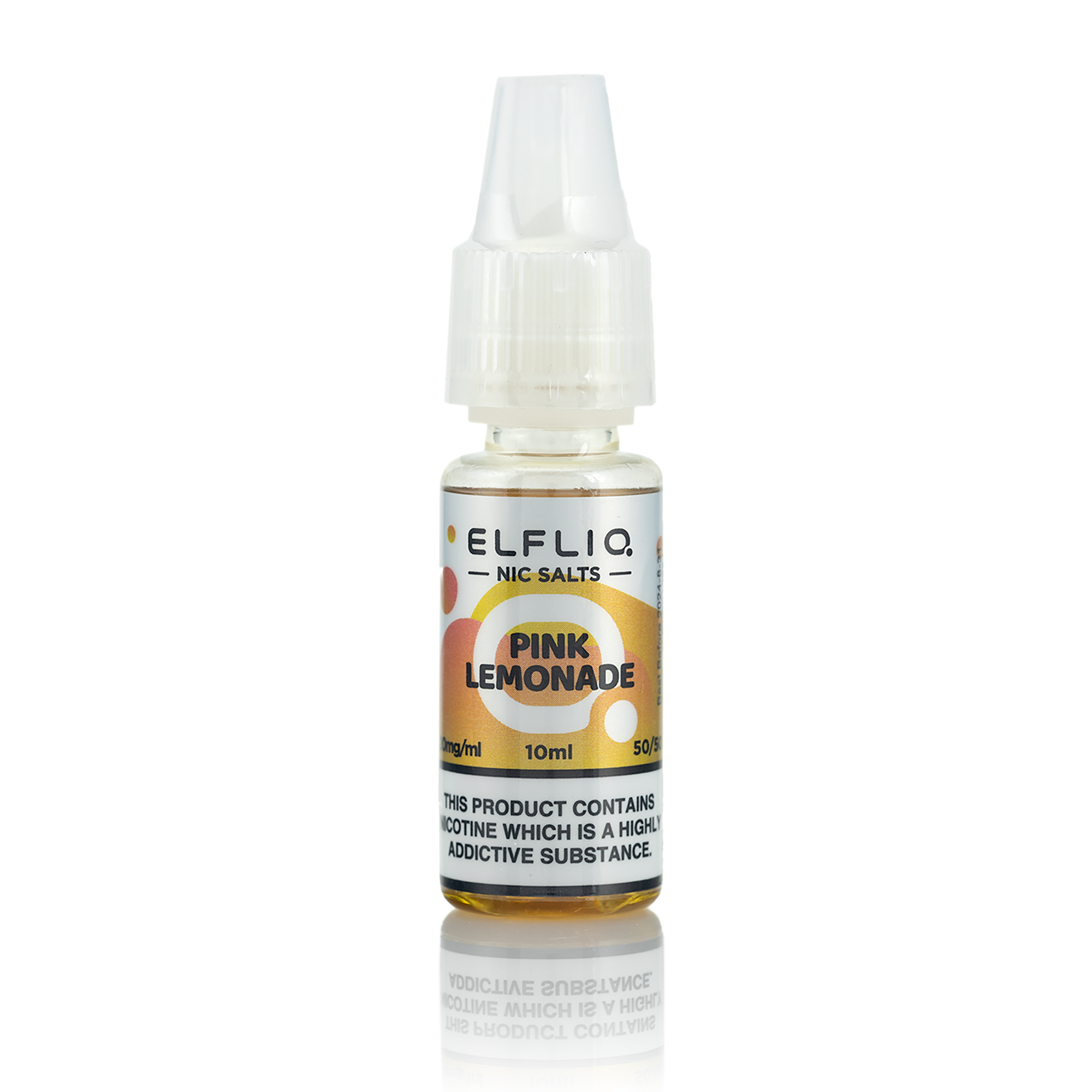 Shop Elf Bar Elfliq
Riot Bar EDTN
Another best-selling e-liquid range would be the Bar EDTN juices by Riot. Riot E-Liquid are renowned for their delectable flavours and have made a name for themselves within the vaping community over the last few years. This range specifically is also modelled after the Riot Bar disposables. There are a total of 15 flavours, which include:
Blueberry Sour Raspberry
Cherry Fizz
Pink Lemonade
Blue Raspberry
Mango Vanilla
Watermelon Ice
Cherry Cola
Grape Ice
Peach Ice Tea
Strawberry Blueberry Ice
Mango Peach Pineapple
Guava, Passionfruit & Pineapple
Sour Cherry Apple
Strawberry Energy
Sour Strawberry
Blue Raspberry
In third place, I suggest Blue Raspberry as it perfectly balances the sweetness and tang of candied blue raspberries. With a subtle hint of menthol, this nostalgic flavour is refreshing on the palate and makes a great all-day vape.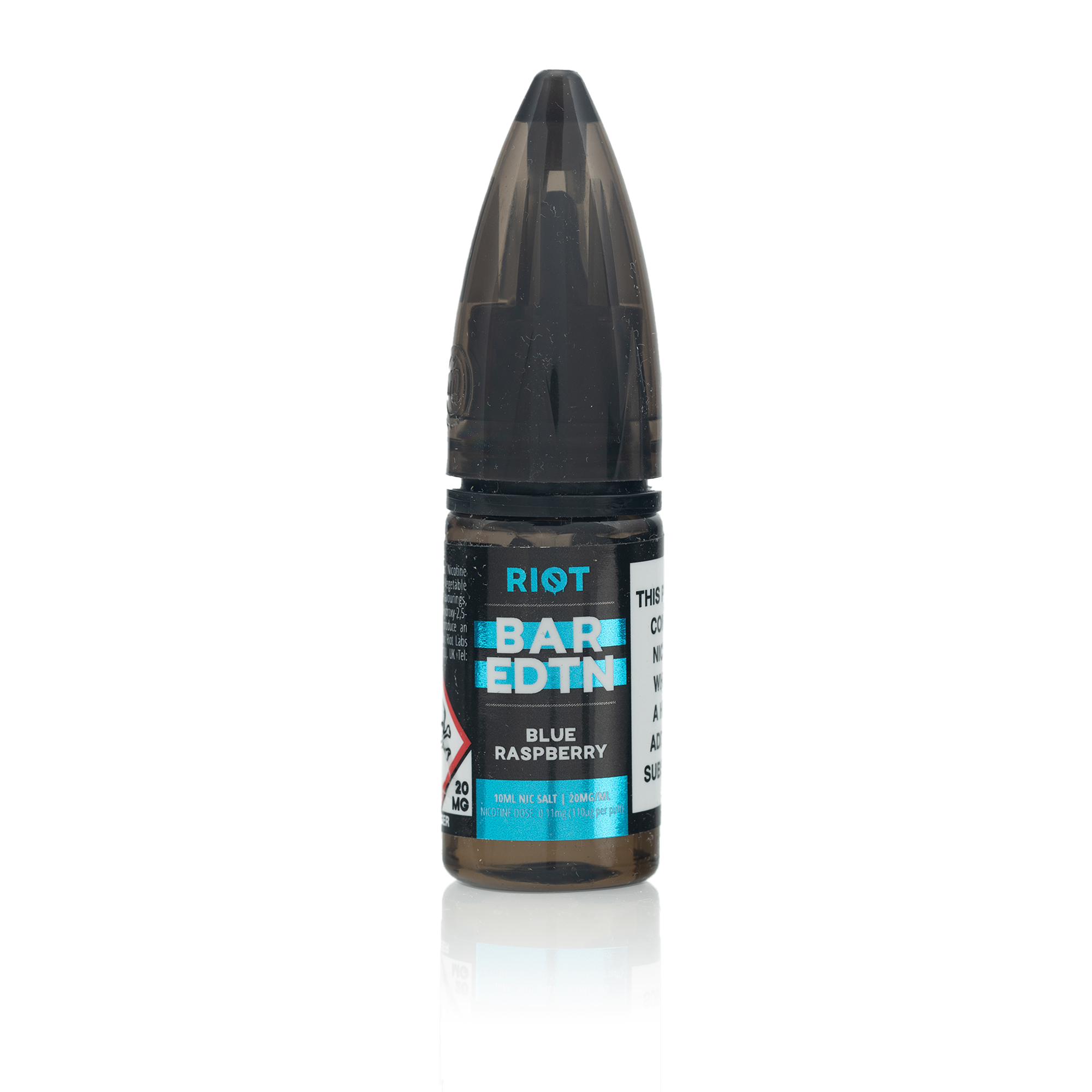 Peach Ice Tea
I've decided to place Peach Ice Tea as second. This flavour is unique and challenging to capture in e-liquid form; however, Riot has knocked it out of the park. Peach tends to come across quite harshly; however, the Riot Bar EDTN manages to make this flavour vape smoothly and still has Peach play the lead role. In addition, the Ice Tea component delivers a menthol hit and an aromatic tea leaf finish, adding to the refreshing qualities of this taste sensation.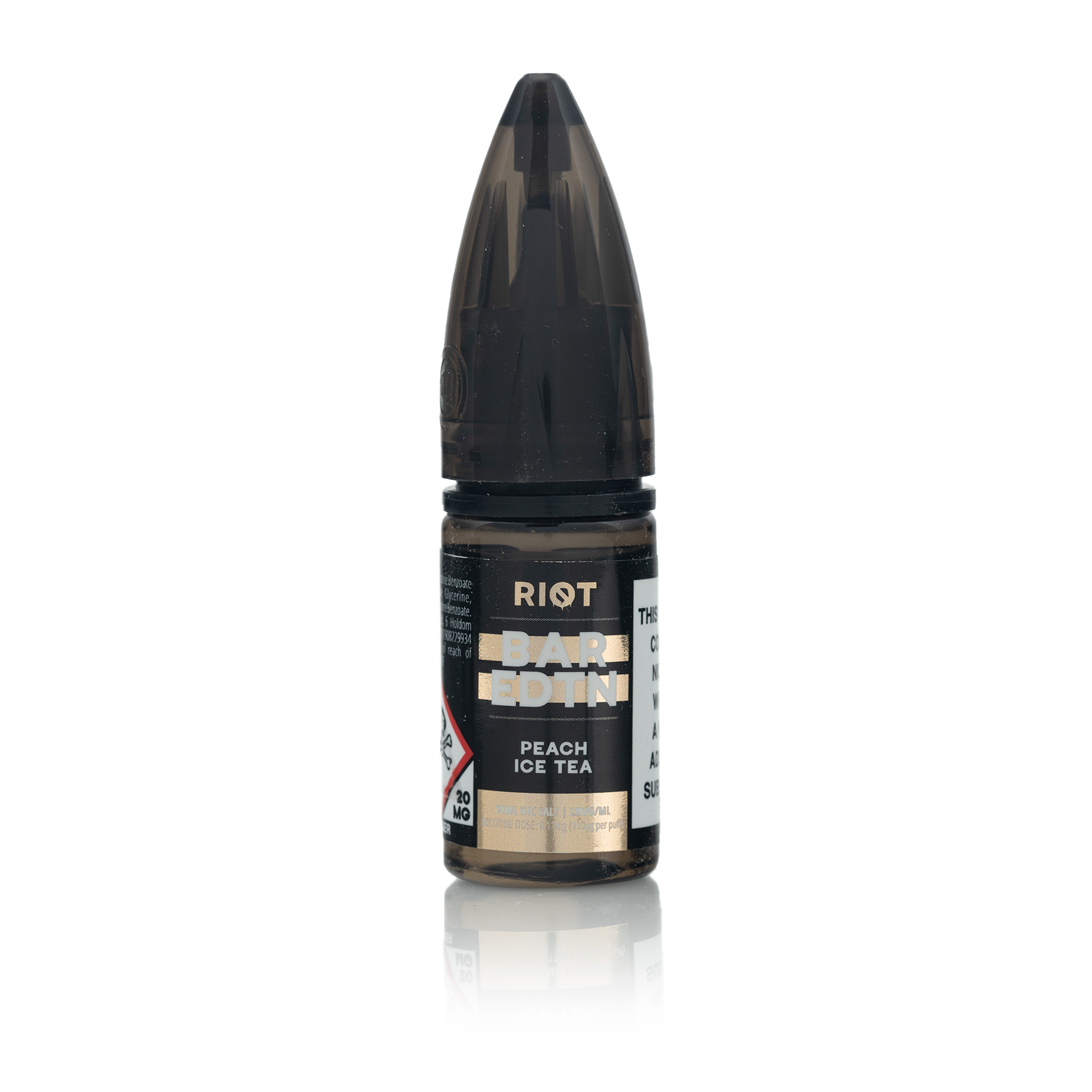 Guava, Passionfruit & Pineapple
In first place, I had to put Guava, Passionfruit & Pineapple. Riot is famous for its tropical flavours, and this one is no exception. This flavour consists of a hearty blend of exotic fruit, forming a fresh and tangy taste that satisfies the taste buds with every puff. So naturally, you will want to take advantage of this tropical medley of fruity goodness.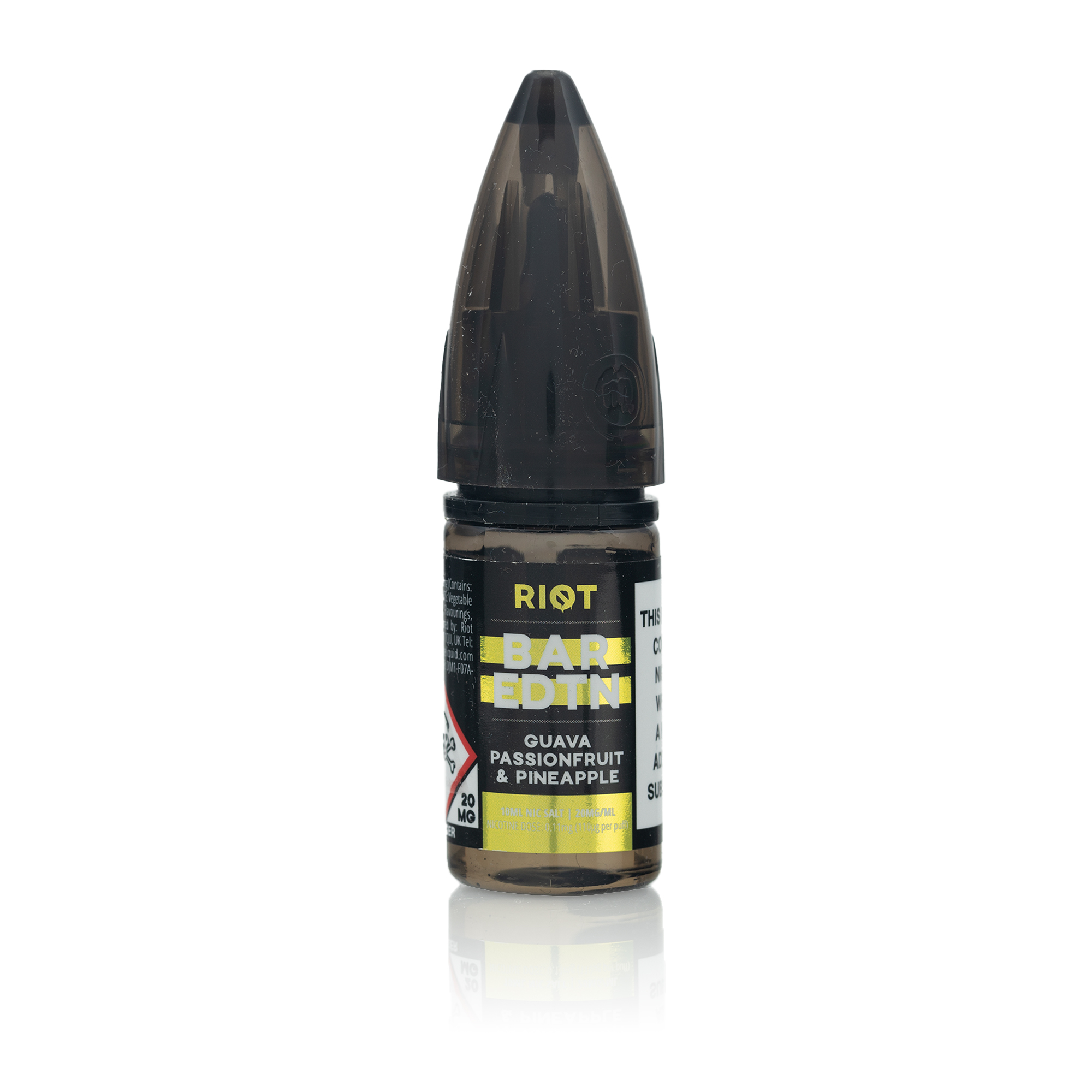 Shop Riot Bar EDTN
Vampire Vape Bar Salts
Another favourite among our customers is the Vampire Vape Bar Salts collection. Vampire Vape has gained notoriety thanks to its extensive range of e-juices, leading to the brand becoming a household name within the vaping community. Trust me, at least every vaper in the UK has tried Vampire Vape liquids at least once throughout their journey. Their Bar Salts range is modelled after their joint disposables collaboration with Geek Bar. This collection only features seven flavours; however, Vampire Vape has promised more new flavours on the horizon. These already existing flavours include:
Cola
Grape
NRG Ice
Watermelon
Pink Lemonade
Strawberry Ice
Kiwi Passionfruit Guava
Cola
I've ranked Cola in third place as it had a very authentic and robust taste that reminded me of tangy confectionery we all loved from back in the day. It harbours a very syrupy taste that lingers on the palate, but it also has some subtle menthol components, creating an overall layered vape. Simply put, it's fresh cola.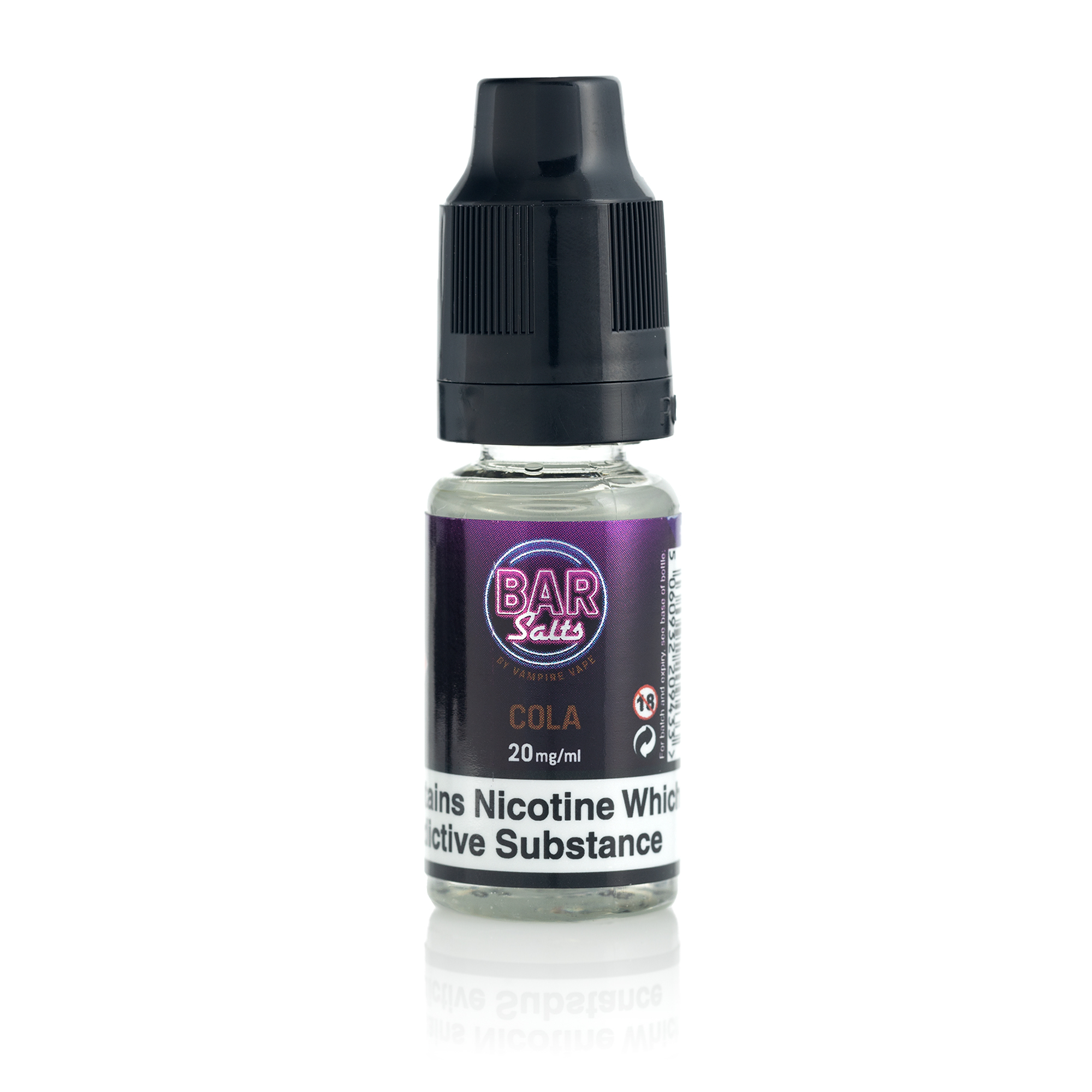 Watermelon
In second place, I've put Watermelon due to its aqueous finish that freshened my taste buds. Watermelon is a classic taste in almost every vaper's juice collection. The Bar Salts rendition of this flavour proves why! Standalone notes of juicy watermelons make this e-liquid ideal for all fruit lovers.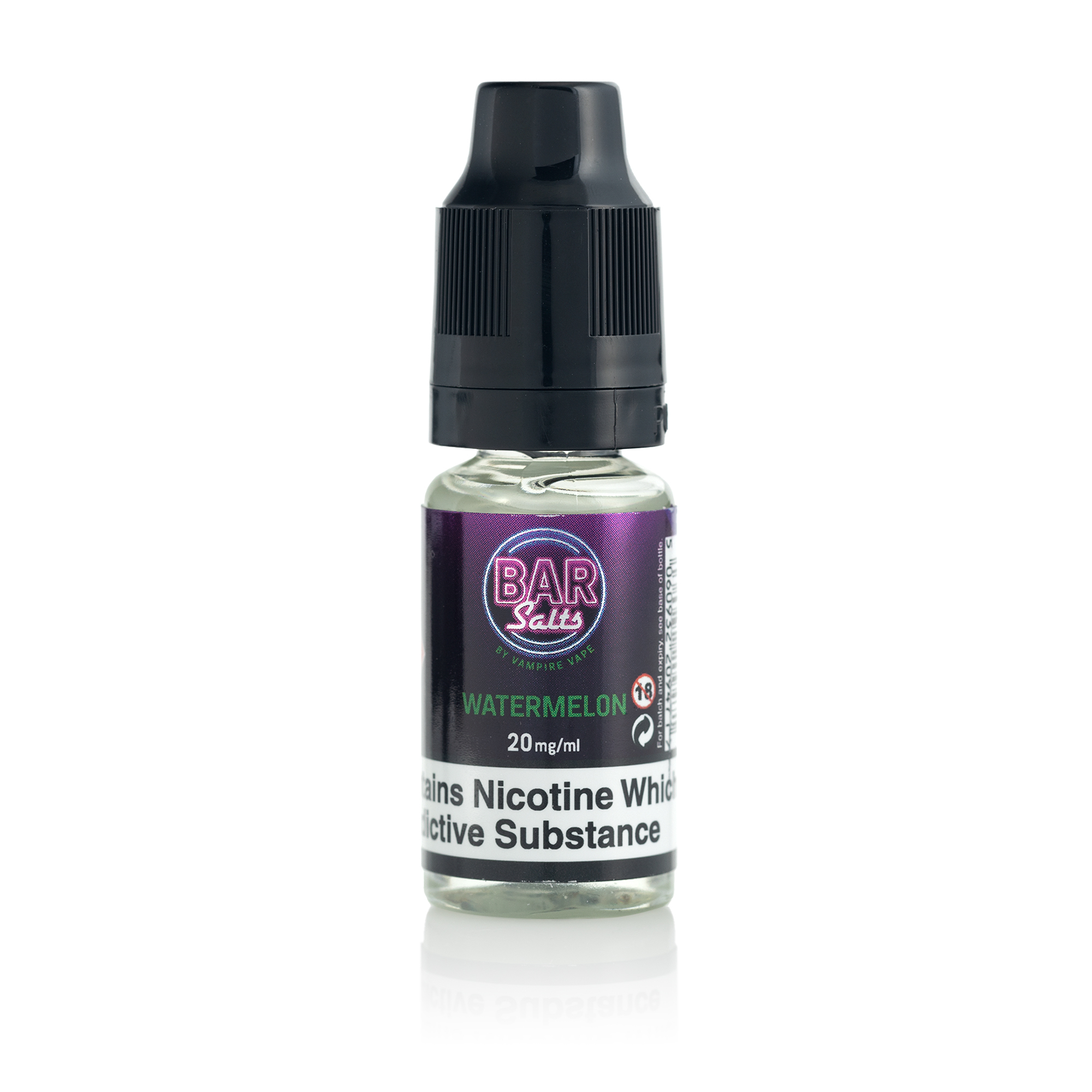 Kiwi Passionfruit Guava
Kiwi Passionfruit Guava is an all-time favourite for disposable vape flavours. The e-liquid variant is much more powerful and juicy, earning first place on my list. You can distinguish every flavour note when vaping, resulting in a perfectly layered and balanced draw. Mellow kiwis harmoniously connect each component, creamy guavas warm the palate up, and tart passion fruits provide that extra kick of mouth-watering tang. This tropical treat wins the race for me!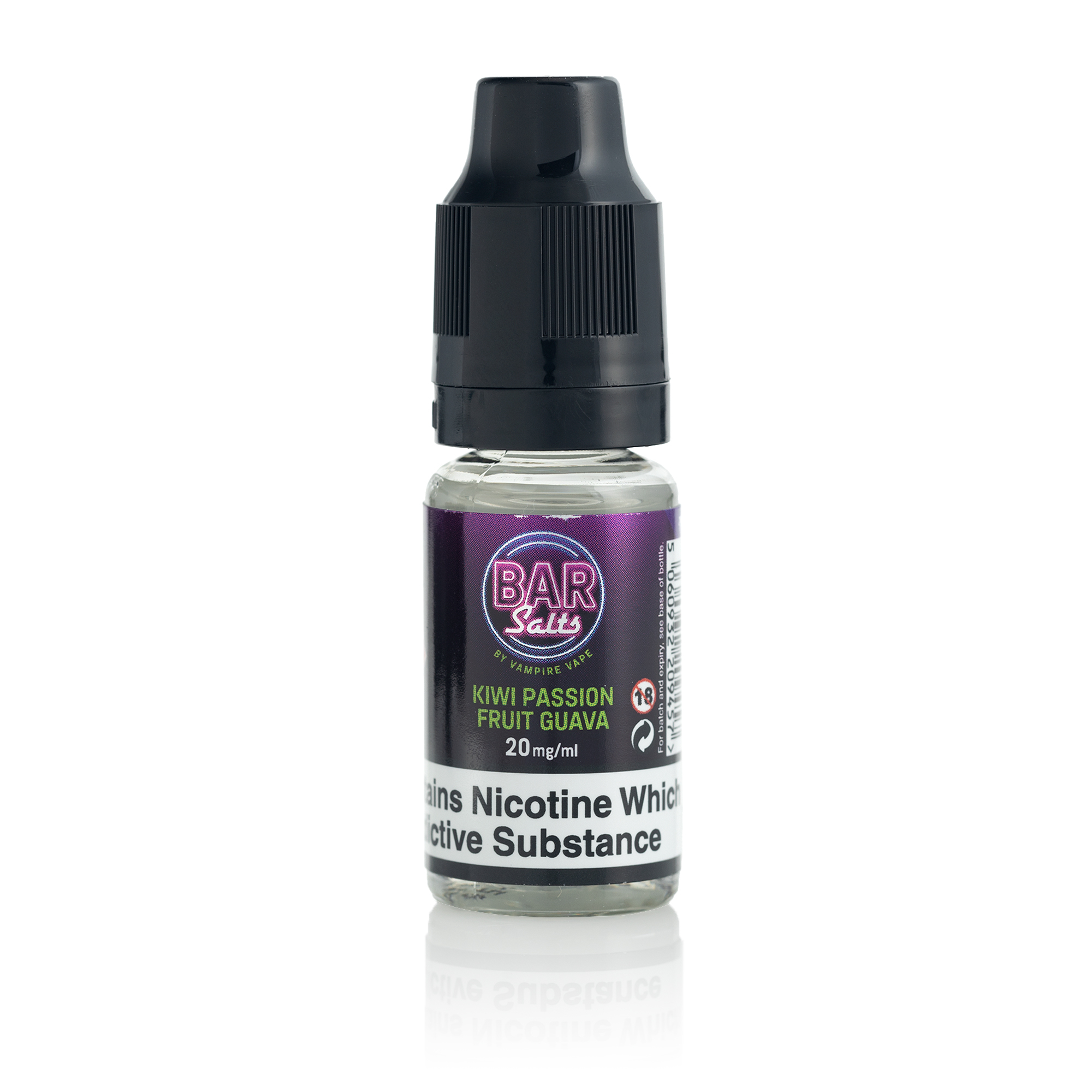 Shop Vampire Vape Bar Salts
Summary
After trying out a series of Bar e-liquids, I can confirm that these juices offer a similar, if not the same, type of intensity and flavour/vapour production. What makes this even better is that you are saving more money and reducing waste by cutting out the disposables and indulging in the bar e-liquid trend.
So why not put down the disposable vapes, dust off the refillable vape device you had rammed in the back of your cabinet, and try out Bar e-liquids today?