← Back
Stoptober: A Change in E-Cigarette Reputation?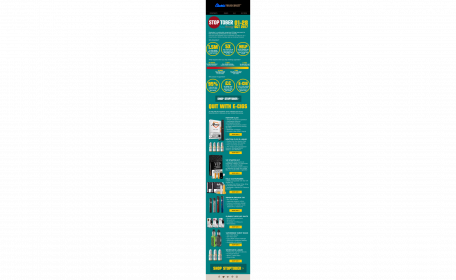 The UK's most popular anti-smoking campaign has used an e-cigarette in its anti-smoking ad. Does this signal a change of attitude towards the vaping industry?
While fierce debate still rages on about the health impacts of e-cigarettes, an unexpected surprise has dropped onto our TV screens in the shape of
Quit Smoking's Stoptober advert
.
In the advert, a man is seen vaping with a
box mod e-cigarette
. This may confuse some of those who aren't clued up on e-cigs and even seem to oppose the views of various governments. However, when looking at this year's smoking statistics, it becomes far clearer why this decision has been made.
With
nearly 20% of ex-smokers quitting with the help of c-cigs
and with
e-cigs considered 95% safer than regular cigarettes
, it's clear that many are seeing the benefits of using them to quit smoking.

Do e-cigarettes make it easier to quit smoking?
Unfortunately, answering this question is not as simple as saying yes or no, as every person quits in their own way and there are many factors involved. For some, using an
e-cigarette
to help them quit works flawlessly. To others, the habit of smoking itself is too tempting for e-cigarettes to satisfy.
With that said, according to the Quit Smoking campaign statistics,
53% of the people who signed up for the campaign last year used e-cigarettes
to help them kick the habit. Many other associations have pointed out the striking success rate of using e-cigarettes as a way to help quit smoking, including
University College London
and the
British Medical Journal
.
Vape liquids
also offer you a choice of
what you vape
, not just whether you do or don't. This means you can choose whether your vape liquid will have nicotine in and how much. If you're aiming to cut down, you can gradually lessen the amount of nicotine in the liquid, instead of trying to cut down on the number of cigarettes you smoke each day. The latter has been shown to help
lower the difficulty of quitting outright
, but using e-cigs and e-liquid allows you to maintain the hand-to-mouth habit created by smoking, whilst still gradually cutting down your nicotine intake.
Are e-cigarettes still unhealthy?
Whilst there are still skeptics, e-cigarettes are generally considered to be
far healthier than smoking
. This is due to the vapour from e-cigarettes not containing many of the
toxic and carcinogenic materials
that regular cigarettes contain. The
ingredients list for e-liquid
, meanwhile, is far simpler and healthier.
More and more studies will be conducted over the coming years to further establish the healthiness of using e-cigarettes. However, early analysis is positive and the proof lies in the statistics mentioned above about former smokers living healthier lives through e-cigs.
It's important to keep in mind that proving that using e-cigs is completely healthy is not the goal. The likes of chocolate or fizzy drinks would never be considered "completely healthy", but they're socially accepted and mass-produced. The goal is to establish that e-cigs are safe and beneficial for those looking to quit smoking.
Of course, if you don't smoke or vape already, it'll be better for you to keep doing what you're doing. But, if you're looking to break away from smoking and the methods provided by the NHS haven't been successful, e-cigarettes may well be a route away from the habit.
Why is Stoptober backing e-cigs if they're not deemed totally healthy?
The inclusion of nicotine in many e-liquids for e-cigarettes means some vapers are indeed consuming something that can impact your health, if not used sensibly. However, the statistics are compared to those who don't smoke or vape at all. Given the damage that smoking cigarettes does to your body, it seems like the Quit Smoking campaign is seeing this as a worthwhile compromise for those who struggle to cut it out completely.
Will e-cigarettes be available via the NHS?
With over 100,000 preventable deaths occurring each year as a result of smoking-related diseases, the
NHS is dedicated to offering support for those who want to quit smoking
. However, e-cigarettes aren't available on the NHS yet.
This may change in the future, but until the UK government formally backs the use of e-cigarettes, it's understandable why the NHS may wish to avoid offering them as a way to quit smoking. That said, many doctors and health professionals are suggesting e-cigarettes as a healthier alternative to smoking.
Looking to join in with Stoptober? Want to try an e-cigarette to help you quit? Browse Electric Tobacconist's huge range of vaping products on our
online vape store
— and remember, we offer FREE delivery on orders over £10.