← Back
What Are the Best E-Liquids Available in the UK in 2020?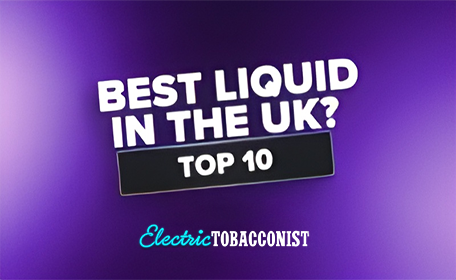 Wondering what the best e-liquids of 2020 are? Find out in our guide!
New and exciting e-liquids are coming out all the time, but one of the best things about vaping is that you don't have to settle for one — you can try as many as you like!
But with so much choice, from one-pound liquid to premium brands, where do you start when you're looking for the best e-liquids in the UK?
At the Electric Tobacconist, we have our finger firmly on the pulse of the best e-liquid brands, whether you're looking for a top-quality yet cheap vape juice that delivers a throaty nic hit or you're happy to pay a bit more for the best juice money can buy.
We're always stocking our cyber-shelves with the best liquid brands and the most awesome flavours and blends. All-day vape (ADV), nic-free, nic salts and sub-ohm juice — whatever you vape, here's our pick of the best e-liquids of 2020.
Popular Juice Flavours: The Best E-Liquids, Whatever Your Taste
Some e-liquid flavours will never fall out of favour. If you're a former smoker who loves the taste of tobacco, you can shop a wide range of tobacco flavours that offer the same taste minus all the nasties in cigarettes. Another popular vape flavour is menthol, which replicates that unmistakable minty taste — even down to the cool blast at the back of your throat — and with menthol cigarettes now banned in the UK, now may be the perfect time to give up smoking and switch to vaping.
And this wouldn't be a blog about the best e-liquids in the UK without mentioning the vast constellation of fruity and dessert flavours on offer. From fruity concoctions like strawberry, raspberry, cherry and grape to delicious desserts including coconut macaroon, berry crumble and cookie dough, if you can imagine it, there's more than likely a luscious liquid to match.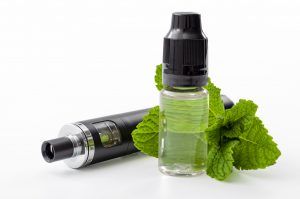 ---
Best Tobacco E-Liquids Available in the UK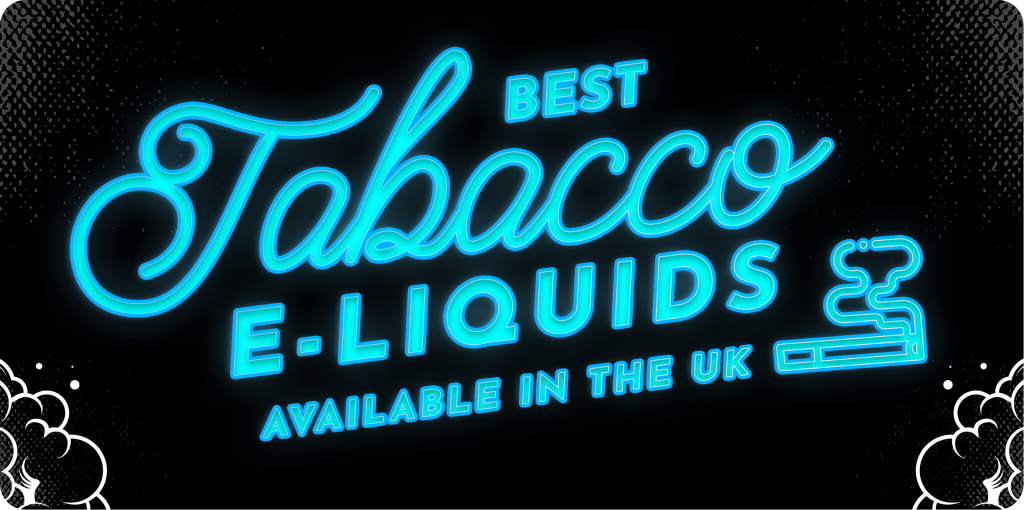 It's the most popular of e-liquid flavours, and it's not hard to see why. Recent quitters who have made the switch to vaping might vape tobacco e-liquid because it provides a similar taste to a cigarette, with some even tasting identical to your favourite cigarette or tobacco brand. Long-time vapers also find themselves returning to this iconic flavour to enjoy the familiar taste. And with tobacco e-liquids ranging from the authentic to the more adventurous, with more complex blends adding honey, caramel and hazelnut to the mix, there's a tobacco liquid suitable for every vaper.
VIP British Gold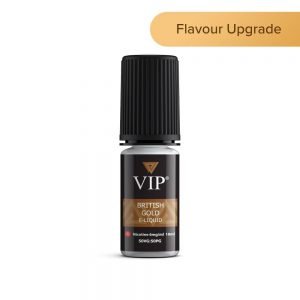 This new and improved recipe from e-liquid giant VIP has brought its classic British Gold flavour to the masses with a 50/50 PG/VG blend, and it's certainly proved a hit with vapers.
This popular e-liquid delivers a rich, authentic tobacco taste that purists will love. It's little wonder that this blend isn't just an Electric Tobacconist bestseller but also a roaring success worldwide. It's available with 3mg, 6mg, 12mg and 18mg of nicotine, so whether you prefer a little bit of nic to get you through the day or a more substantial throat hit, British Gold will satisfy. Whichever nicotine strength you choose, a smooth, balanced and tasty vape is guaranteed.
Shop VIP British Gold
Vapouriz Classic Tobacco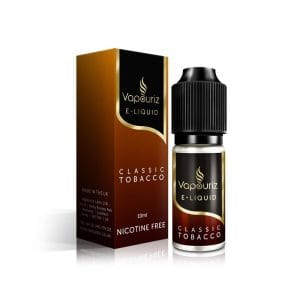 For vapers big on flavour, the Classic Tobacco e-liquid from popular juice brand Vapouriz doesn't disappoint. Its 80% PG, 20% VG blend delivers buckets of authentic tobacco flavour without any harshness, giving you a wonderfully smooth vape every time. This makes it an excellent ADV, especially for first-time vapers looking for a flavour reminiscent of a cigarette.
Classic Tobacco is available in four nicotine strengths. Former smokers will get the hit they need from either 12mg or 18mg of nicotine, while those who have gradually reduced the nic in their vapes can enjoy this great flavour with 6mg of nicotine. And if you don't vape nicotine at all but still like to enjoy a rich tobacco vape, Vapouriz has you covered with its nic-free option.
Shop Vapouriz Classic Tobacco
---
Best Menthol E-Liquids in 2020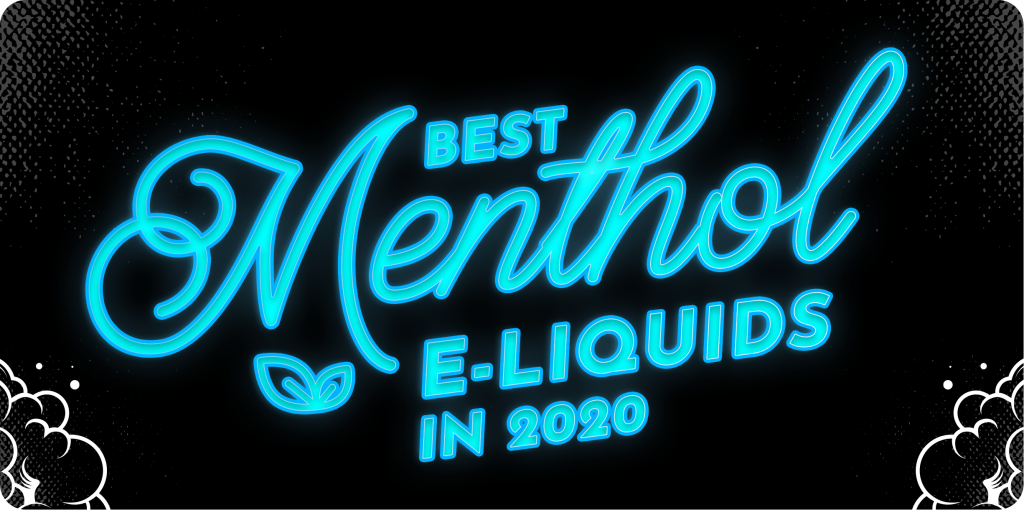 Almost every e-liquid brand (or, at least, the best ones), includes menthol in its line-up of flavours, and this popular flavour is unlikely to be going anywhere. With smokers no longer able to buy menthol cigarettes, there's the chance we might see even more icy flavours pop up on the market as fans of a chilling blast of air look to get it from a vape instead.
As with tobacco, menthol flavours on the market vary wildly, from traditional mint offerings to fruit blends that deliver a sweet vape with a cool, sharp finish.
VIP Triple Menthol Ice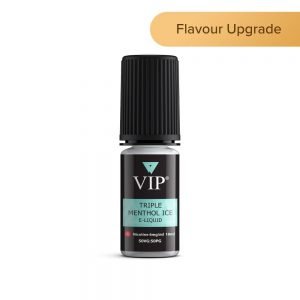 Vapers who have tried VIP's tobacco e-liquids won't be surprised to see the brand topping the bestsellers list in the menthol category too. This 50/50 juice is perfect for all devices and comes in a cool choice of five nicotine strengths: nic-free, 3mg, 6mg, 12mg and 18mg.
When this e-liquid says "triple menthol", it means it. It's perfect for vapers who love an extra-strong minty kick, with a refreshing aftertaste you'll enjoy long after exhaling.
Shop VIP Triple Menthol Ice
Webster's Double Menthol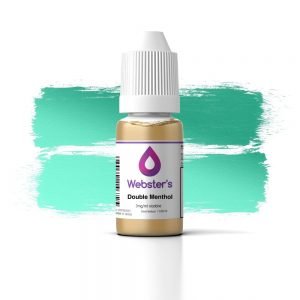 This menthol e-liquid may be cheap, but that doesn't make it any less enjoyable. This isn't just one of the best e-liquids for flavour but one of the best e-liquids of 2020, full stop.
Part of Webster's One Pound Wonder range, Double Menthol delivers double the mintiness of regular menthol on the inhale and an icy blast on the exhale that will knock your socks off.
What's special about this e-liquid is that the PG/VG ratios differ depending on the nicotine strength you go for. Choose 18mg for a PG-heavy blend that delivers a solid throat hit to complement the higher nic content. 12mg contains a 50/50 mix that offers medium throat hit and vapour production, and the lower-nic juices contain a higher percentage of VG. Webster's nic-free and 3mg liquids contain a 60/40 VG/PG blend, delivering a weaker throat hit but huge clouds of vapour.
The flexibility of this vape juice makes it perfect for new and experienced vapers alike. New vapers will get a nicotine and throat hit that will satisfy, while long-time vapers who enjoy a sub-ohm vape can choose a lower nicotine strength and get a thick VG-heavy vape that delivers all the flavour and vapour satisfaction they want.
This all comes at a great price too because, you guessed it, this One Pound Wonder costs just £1. Webster's shows that the best e-liquids don't have to break the bank.
Shop Webster's One Pound Wonder Double Menthol
---
Best Fruity Flavours Available in the UK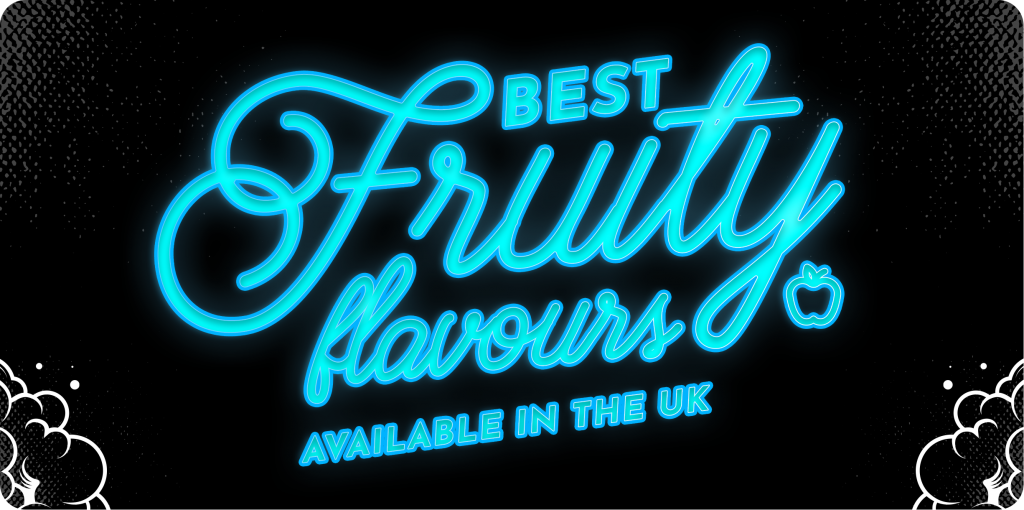 When it comes to the best e-liquids in the UK, few can hold a candle to these fruity creations. Whether you like something sweet, something fizzy, or something so sour it'll leave you tongue-tied, this diverse range of e-liquids — perhaps the most diverse of all — contains the perfect vape for you.
Riot Salts Cherry Fizzle
This delicious cherry vape with a fizzy aftertaste is one great riot, literally. It's a tangy taste bud tingler available with 5mg, 10mg and 20mg of nicotine. This means there's something to satisfy every vaper, especially those reducing their nicotine dose who find that moving from 6mg to 3mg is too big a step down.
What's also unique about Riot Salts is its nic salts and freebase nicotine formula. Nicotine salts are especially favoured by vapers who have quit smoking because they offer a smooth throat hit and deliver nicotine into the bloodstream much faster than freebase nicotine. As such, this makes it easier for new vapers to make the switch completely. Freebase nicotine is nicotine in its purest form, and it allows for more flavour complexity and vapour production. The trade-off is that vaping freebase nicotine can result in a harsh throat hit, which is off-putting to some vapers.
Riot Salts offers the best of both worlds with a hybrid formula that's 50% freebase and 50% nic salts, giving you a smooth and flavoursome vape that satisfies your cravings.
Shop Riot Salts Cherry Fizzle
Pinkman by Vampire Vape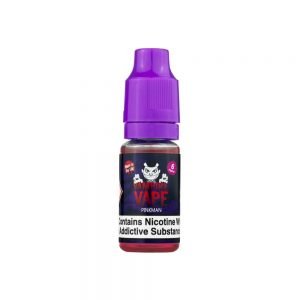 Inspired by the character in the popular series Breaking Bad, this top-secret formula creates one of the best e-liquids for fans of a fruity vape.
This mixed fruit blend is so flavoursome that you'll struggle to put your finger on all the subtle flavours beneath the surface, but there's a reason this vape has proved a bestseller time and time again and accumulated dozens of five-star reviews: it tastes great.
Pinkman is a 60/40 PG/VG blend, perfect for mouth-to-lung (MTL) vapers who love buckets of flavour and a strong throat hit, whether you enjoy 18mg of nicotine or none at all. But if you're looking for a more authentic nicotine hit or you're not willing to part with your high-wattage box mod but still want to enjoy this tantalising fruit e-liquid, you're in luck! Pinkman is also available as a nic salt blend and as a 70% VG sub-ohm liquid!
Shop Pinkman by Vampire Vape
---
Best Dessert Flavours in 2020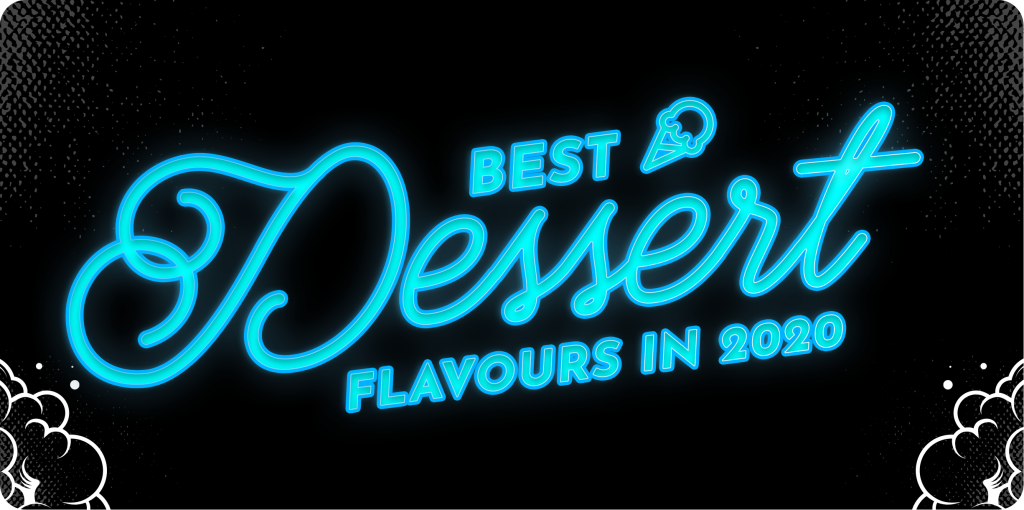 Dessert vapes have come a long way since they first appeared on the market, and whether you enjoy creamy custard, cookie dough or an almond sponge with icing and jam, there's a mouth-watering vape equivalent that tastes just like the real thing.
Button Junkie Vulture Punch
This popular e-liquid flavour is a powerful punch of custard, strawberry and vanilla that's sure to please any palate, and this vaping indulgence from Button Junkie is only made sweeter with the addition of caramelised brown sugar.
Vulture Punch is a dessert vape best suited to vapers who like a strong, satisfying nicotine hit. Available with 10mg and 20mg of nicotine, this bestselling e-liquid also boasts a hybrid formula of freebase nicotine (80%) and nic salts (20%). What does this mean for you? A smooth, satisfying throat hit with none of the harshness, plus the nicotine you need direct to your bloodstream.
Shop Vulture Punch by Button Junkie
Dinner Lady Lemon Tart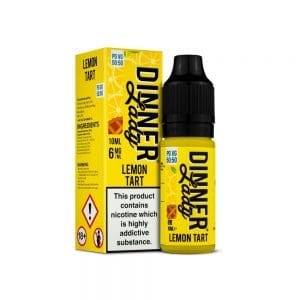 Few vapers who are familiar with Lemon Tart from Dinner Lady would contest its place on our list of best e-liquids — dessert or otherwise. This cult flavour from the Lancashire brand has bagged multiple awards, including the prestigious "Best Dessert" gong at UK vaping expo Vape Jam in 2018. But what does it taste like? Packing premium ingredients into an affordable package, Lemon Tart gives you the distinct zest of lemon curd on the inhale with rich buttery pastry and a hint of meringue on the exhale.
This 50/50 vape is perfect for your favourite pod mod or tank with a high-resistance coil. And as it's available with 3mg, 6mg, 12mg and 18mg, you can enjoy this vape whatever your preferred nic strength.
But this wouldn't be a multi-award winning brand if it offered such a limited choice to vapers. For cloud-chasers looking for the best sub-ohm vape, Lemon Tart is available as a short fill, and if you're a fan of intense nicotine salts, Dinner Lady has you covered too.
Shop Dinner Lady Lemon Tart
---
The Best Short Fills Available in the UK in 2020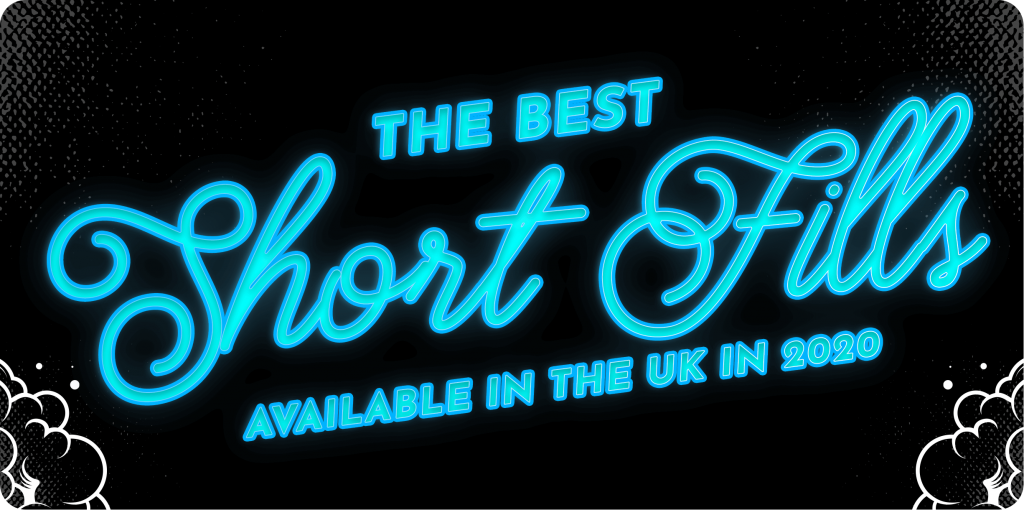 Want more control over how much nicotine is in your juice, or want to upgrade your standard 10ml bottles of juice to something bigger and better? Short fills are larger bottles, typically 40ml upwards, of zero-nic juice. Unlike traditional nicotine-free e-liquid, short fills are designed to be topped up with a nicotine shot, and the space at the top of every bottle is where these e-liquids get their name.
Short fills come in a wide range of VG-to-PG ratios, making them suitable for every type of vaper, whatever your go-to device. Vapers looking to chuck huge clouds and enjoy a smooth vape will love a high-VG juice. The VG in these vapes makes them thicker, which means they're best paired with a low-resistance (also known as sub-ohm) coil and vaped at a higher wattage. Vapers who enjoy that "kick" at the back of their throat, along with great flavour, will get the most out of high-PG e-liquids, which are best suited to clearomisers and pods, and tanks compatible with high-resistance coils. And for those who enjoy a balanced vape, a growing range of 50/50 short fills means you can enjoy the convenience and savings of vaping short fills over 10ml bottles pre-filled with nicotine.
ULTD Raspberry Twist Short Fill E-Liquid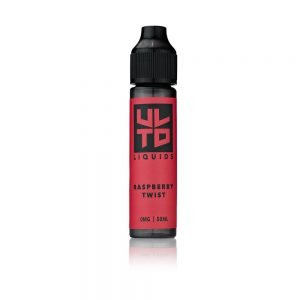 The Raspberry Twist Short Fill from ECigWizard's ULTD sub-ohm liquid range packs 50ml of sweet and tangy raspberry, and it tastes just like the real thing. There's 10ml extra space in the bottle to add your nic shot of choice, which will give you 60ml of 3mg e-liquid. This 80 VG blend is perfect for vaping at high wattages using your favourite box mod, giving you plumes of vapour with every puff. Other flavours in the ULTD range include Getsome Grape, Citrus Seven (a refreshing blend of lemon and lime reminiscent of a soft drink) and Slushberry — a blue raspberry vape that's just like the ice-cool soft drink you love in the summer.
Shop ULTD Raspberry Twist
Padstow Blends Coffee Custard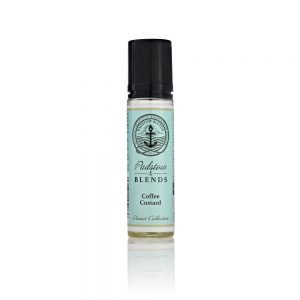 Vanilla latte. Caramel cappuccino. Cinnamon coconut latte. Caramel cappuccino. Classic coffee and cream. There's no denying that the distinct flavour of coffee and a taste of something sweet are a match made in heaven. This 50/50 Coffee Custard vape from Padstow Blends delivers bitter black coffee sweetened with a delicious helping of creamy custard and finished off with the distinct aroma of vanilla.
It's a rich, luxurious vape perfect for after-dinner or a special breakfast treat.
This short fill packs 40ml of 0mg nicotine juice into a 60ml bottle. That leaves a gap of 20ml for you to tailor your vape juice to you. Add two 10ml 18mg nicotine shots for a 6mg vape, or add a single nic shot plus the free VG shot included for a 3mg vape.
Shop Padstow Blends Coffee Custard
---
Not sure how many nic shots you need for your short fill? Find out in our easy-to-use short fill calculator!
---
Best Cheap Vape Juice in 2020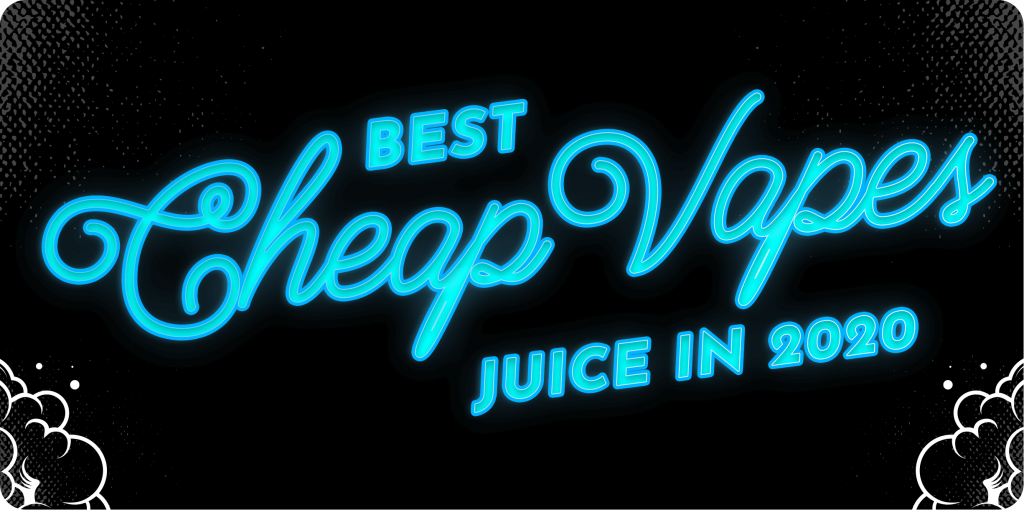 Buying cheap e-liquid doesn't mean you need to compromise on flavour, and if there's one thing the two cheap vape brands featured below offer in spades, it's flavour. These £1 liquids are perfect for new vapers who want to try vaping but don't want to break the bank, but even experienced vapers come back time and again to these great-tasting flavours that offer something to satisfy everyone, whether you like a classic tobacco vape or something fruity and sweet.
88Vape Rolling Leaf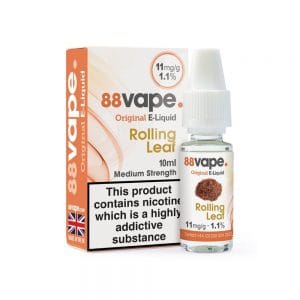 A popular choice for ex-smokers as well as long-time vapers who like the taste of hand-rolled tobacco, Rolling Leaf from affordable brand 88Vape offers a smooth and light all-day vape.
Available with 11mg and 16mg of nicotine, it's perfect for former light to heavy smokers, and with a 20% VG, 80% PG blend, you'll get tons of flavour and a hearty throat hit to make the experience even more authentic. This juice also tastes great mixed with other flavours from the 88Vape range. Mix Rolling Leaf with Menthol for a tobacco vape with a cool finish, or blend with Maidens or Tobacco Nut to create your own tobacco concoction.
And if you prefer more vapour over flavour, 88Vape offers a wide range of 50/50 blends as well as tobacco and fruity flavours with smooth nic salts. And since they all cost just £1, you can stock up without having to wait for payday to roll around.
Shop 88Vape Rolling Leaf
Heizen by Webster's One Pound Wonder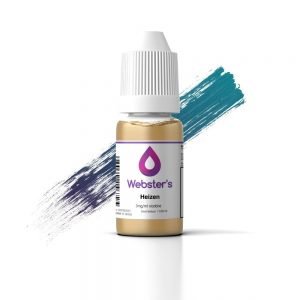 Great quality? Check. Made in the UK? Check. Huge variety of flavours? Check. Cheap? You bet.
The clue is in the name — Webster's One Pound Wonder — and this brand really does have it all. With flavours ranging from British Gold and Fruits of the Forest to Cafe Latte, it's hard to pick a best cheap e-liquid, so we've deferred the decision to you!
Based on thousands of sales and hundreds of 5-star reviews, the bestselling e-liquid from this cheap vape brand is Heizen, an expertly blended cocktail of berries, blue raspberry, aniseed and grape with a sweet hint of mint on every exhale.
Heizen is available with 3mg, 6mg and 12mg of nicotine, and like all flavours in the Webster's range, the PG/VG ratio varies based on the nic strength you choose.
| | | | |
| --- | --- | --- | --- |
| Nicotine Strength | PG/VG Ratio | Throat Hit | Vapour |
| 12mg | 50% VG / 50% PG | Medium | Medium |
| 6mg | 55% VG / 45% PG | Mild | Medium-High |
| 3mg | 60% VG / 40% PG | Low | High |
Our customers love this e-liquid — in fact, many have tried more expensive Heizen flavours and still rate this cheap e-liquid as their top pick. With it being described as "the best ever", "unbeatable", "favourite" and "an absolute bargain", we can't think of a reason not to try it.
Shop Heizen by Webster's One Pound Wonder
---
Best Premium E-Liquid in the UK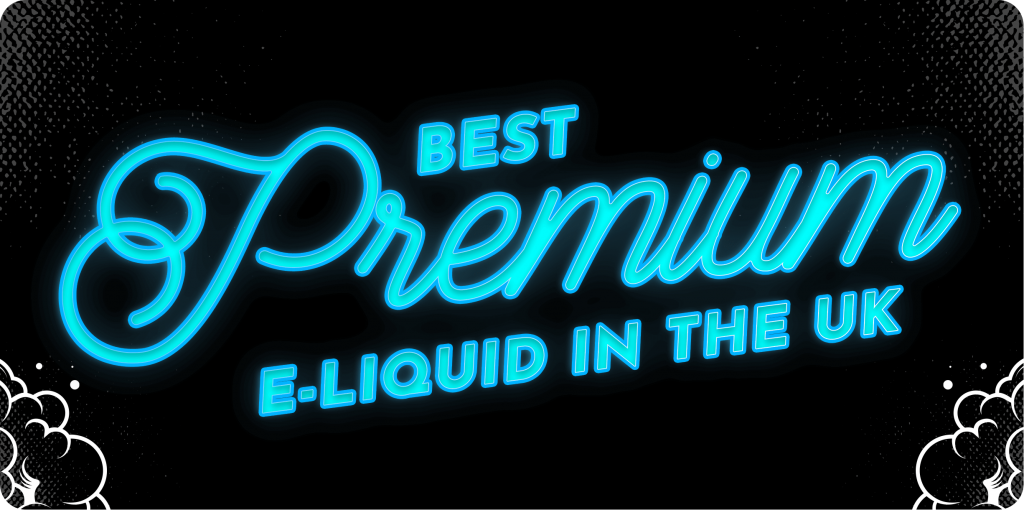 We've already introduced some great-quality e-liquids that don't cost the earth, so what is it that makes an e-juice "premium" apart from a higher price — and why should you choose one when you can get e-liquid that ticks all the boxes for as little as a pound?
Premium e-liquid is typically subject to much more rigorous quality control standards than regular liquid. This ensures a consistent taste with every bottle so that when you vape another, you can be confident that you're going to get the same experience. This is more apparent with e-liquid that boast complex profiles packed with multiple flavours; with a premium juice, you'll enjoy every flavour subtlety the way it was intended. Such testing, often verified by third-party labs, comes at a price, and so it's only natural that these premium e-liquids cost a bit more.
Premium e-liquids are often also made in smaller batches to ensure consistency, upping the overall manufacturing time and cost to get each bottle just right.
Another point to consider when buying premium e-liquid over a cheaper counterpart is the depth and uniqueness of flavour. Premium e-liquid brands might use proprietary flavourings and complex recipes that are harder to replicate, so even when you opt for the same flavour from a cheaper brand, you'll know the difference. That's not to say that the same flavour from multiple vape brands is going to use the same generic recipe, but you'll definitely taste the difference with a premium vape.
So should you choose a premium e-liquid over a cheaper brand? We'd always recommend sampling a premium vape juice or two because you'll enjoy a taste like no other — and it may even become your new favourite. And even if you don't want to vape it all day, having a special e-liquid you can treat yourself to, or a vape you reserve for when you get home from a long day at work, can make vaping even more enjoyable. You can also make your premium juice last longer by using a mouth-to-lung device, such as a pod mod, or vaping at a low wattage. This means you'll produce less vapour, which will make your e-liquid go a long way. You might love chucking clouds in your sub-ohm kit, but they're notorious juice guzzlers, so you'll run out of your premium juice much faster.
Doozy Vape Vanilla Custard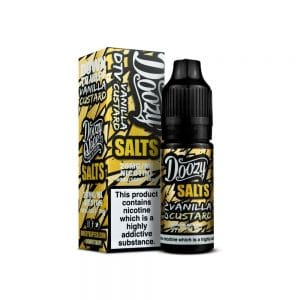 Premium e-liquids are indulgent, so what could be more fitting than a decadent dessert vape? Vanilla Custard, from premium vape brand Doozy, is a sweet, rich treat perfect for any time of the day.
If you're looking for a fruity vape so sweet and juicy that you'd swear it contains real fruit, look no further than Honeydew Blackcurrant from Dr Frost.
This full-bodied vape blends sweet melon with tart blackcurrant, and there's a not-so-secret surprise with every exhale. The clue's in the name because each Dr Frost e-liquid is built upon a signature menthol base, which provides a one-of-a-kind vape you won't see replicated elsewhere.
This 20mg nic salts vape is perfect for ex-smokers or vapers who love a strong, smooth nicotine hit. Prefer less nicotine and still want to enjoy this flavour? Dr Frost has you covered, since you can also buy Honeydew Blackcurrant in 25ml and 100ml short fills
This e-liquid is packed full of complex notes, from its creamy custard base to the floral tones of vanilla that are topped off with lashings of delicious golden syrup.
You can shop Vanilla Custard with either 10mg or 20mg of nicotine salts, which offers intense flavour and a smooth, cigarette-style nic hit.
And while this premium vape tastes great alone, you can take the flavour up a notch by mixing it with your favourite juice. Add in a few drops of tobacco e-liquid and the earthy richness perfectly offsets the vanilla sweetness — plus, it'll make your e-liquid last longer!
Shop Doozy Vape Vanilla Custard
Dr Frost Honeydew Blackcurrant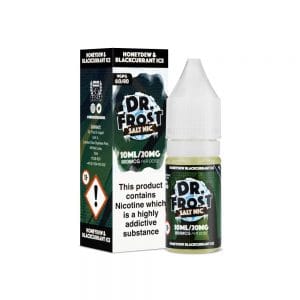 If you're looking for a fruity vape so sweet and juicy that you'd swear it contains real fruit, look no further than Honeydew Blackcurrant from Dr Frost.
This full-bodied vape blends sweet melon with tart blackcurrant, and there's a not-so-secret surprise with every exhale. The clue's in the name because each Dr Frost e-liquid is built upon a signature menthol base, which provides a one-of-a-kind vape you won't see replicated elsewhere.
This 20mg nic salts vape is perfect for ex-smokers or vapers who love a strong, smooth nicotine hit. Prefer less nicotine and still want to enjoy this flavour? Dr Frost has you covered, since you can also buy Honeydew Blackcurrant in 25ml and 100ml short fills.
Shop Dr Frost Honeydew Blackcurrant
---
Choose the Best E-Cig Liquid for Your Device
Now that you've seen our rundown of the best e-liquids in the UK, all that's left to do is choose the right one for you! Electric Tobacconist stocks a wide range of e-liquids, from 50/50 juices to sub-ohm liquids in every imaginable flavour. We've listed our bestsellers of the year, but you'll only know if a flavour is right for you if you browse what's available and give it a try. Shop the best e-liquids of 2020 today and take advantage of multibuy deals and free delivery on orders over £10.